'Rambu Solo': Toraja's farewell ceremony
A. Kurniawan Ulung

The Jakarta Post
North Toraja |

Fri, March 17, 2017

| 11:05 am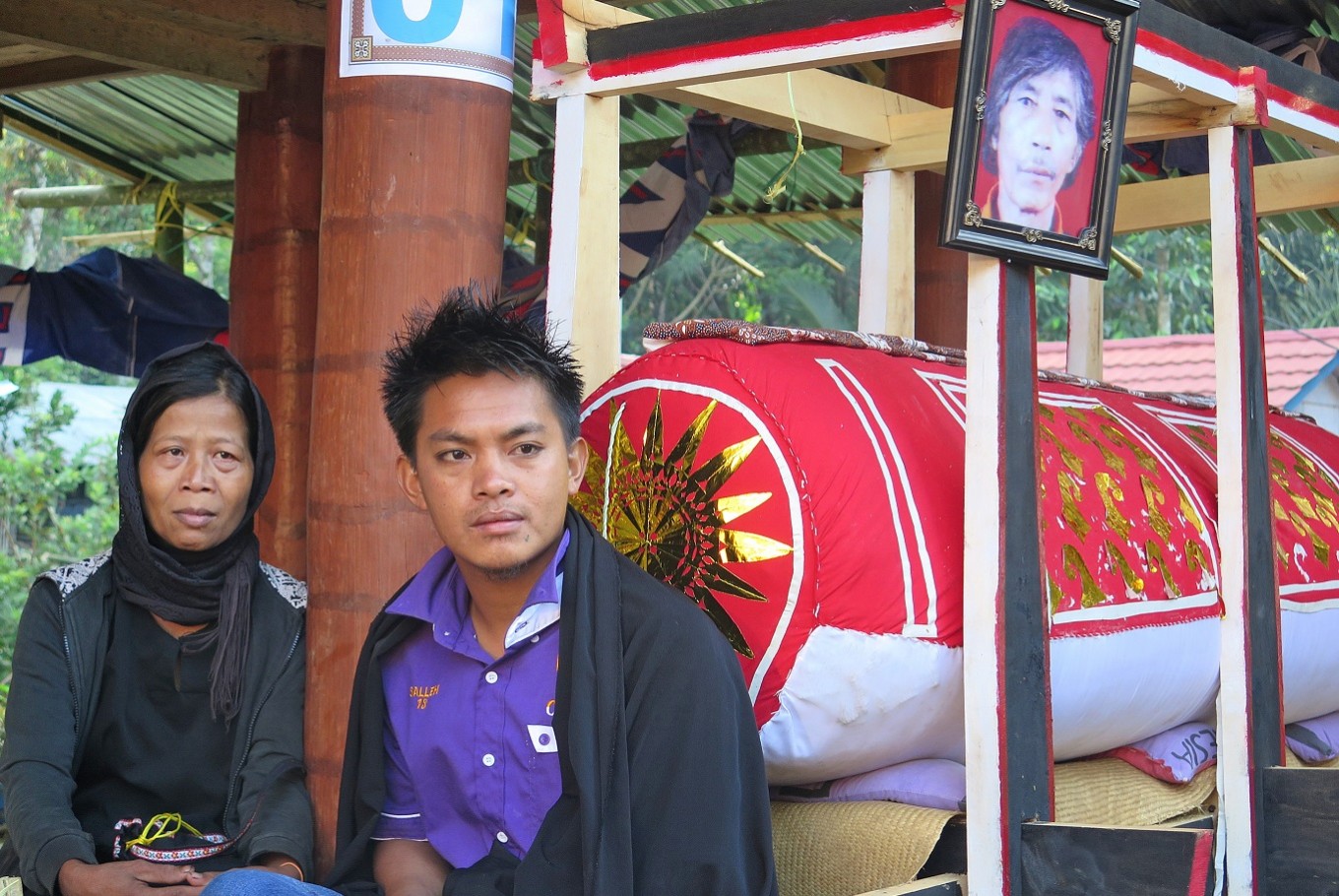 Loving respect: Yohanes Salempang (right) and his mother Tuti Sepang sit beside the corpse of Lukas. (JP/A. Kurniawan Ulung)
Yohanes Salempang was devastated when his father, 67-year-old Lukas Lili, died after falling from a palm tree in July 2016. The latter was in a plantation, picking palm fruits that would be processed into palm wine. He died on the way to the hospital.
Last December, Yohanes and his family held a rambu solo funeral ceremony for Lukas in Tikala district, North Toraja regency, South Sulawesi. The peak of the three-day ceremony was the burial service.
Helped by his friends, Yohanes lifted the bier carrying his dead father. Together, they carried it to a nearby graveyard. The family might grieve over the death of Lukas, but the burial procession was not gloomy at all. The group of young men who carried the bier laughed, shouted, pushed and shoved each other, a scene that may surprise first-timers in Toraja.
They continued to joke around to the point that they almost fell into a rice field to their left.
"They are used to doing it [joking]. The bier will not fall because they know how to stay balanced," said a mourner who walked behind them, adding that they purposely built a fun atmosphere to motivate the spirit of the dead person to be ready to live in a new life.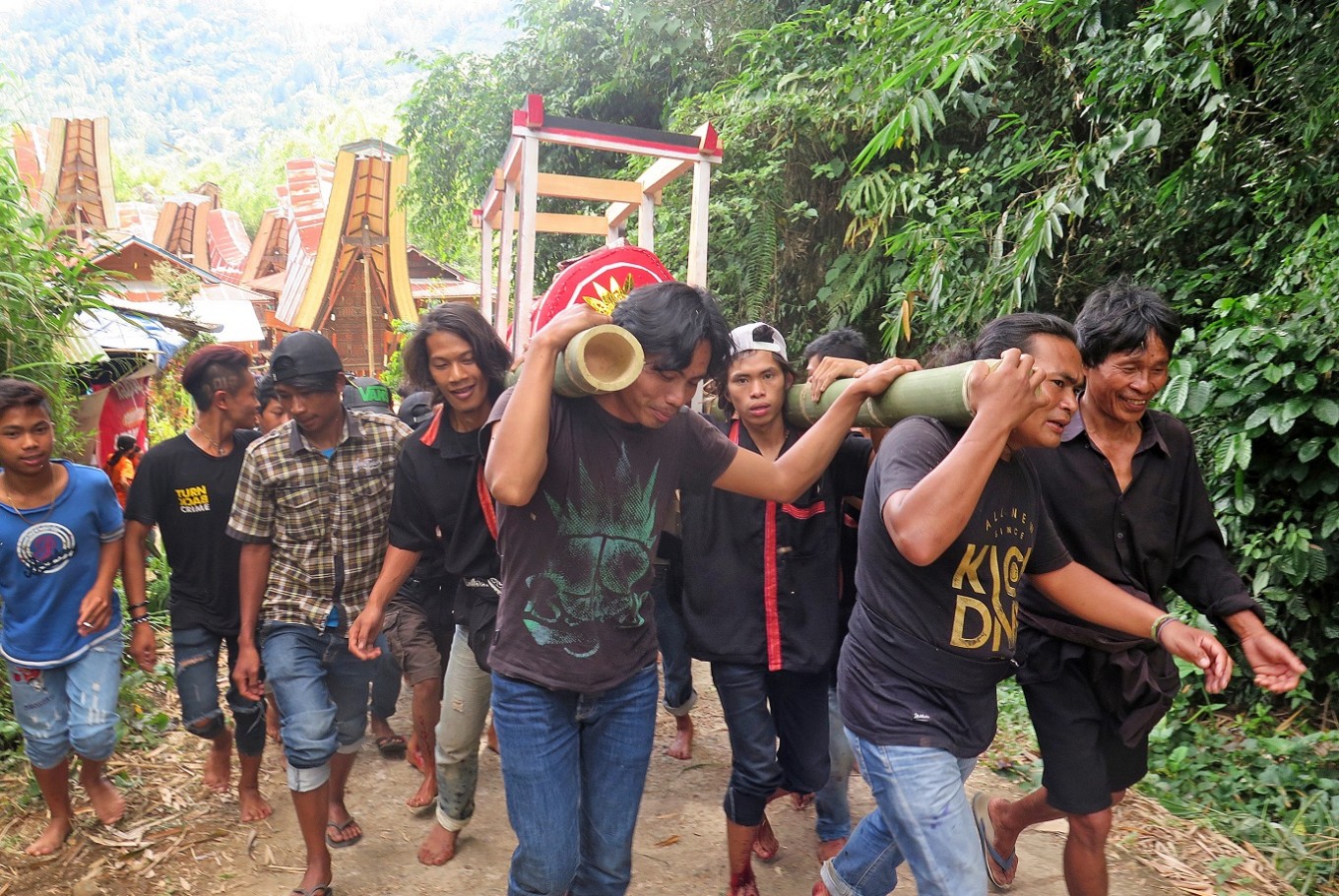 Until the end: Mourners laugh, shout, push and shove each other while carrying the corpse of Lukas Lili upon a bier.(JP/A. Kurniawan Ulung)
Rambu solo is as unique as how Torajan people define death.
For them, death does not always mean goodbye. They believe that a dead person is not yet dead if rambu solo has yet to take place. They deem the deceased as a sick person who is sleeping, or to makula' in local tongue.
Prior to rambu solo, the family laid Lukas' preserved body on his bed. Every day, they visited to his room to say hello and chat or to serve food.
Read also: Respecting the dead in Toraja
People of all religions and races are welcome to attend rambu solo in North Toraja, home to 225,516 people. At least 90 percent of them are Christians.
During the three-day funeral service for Lukas, locals warmly welcomed curious tourists who wanted to watch the procession. They served Torajan coffee, buffalo and pork dishes.
On the first day, Torajan people in the village moved Lukas' corpse from his home to a granary, a procession they called ma' parokko alang. Earlier, they had slaughtered a buffalo, which is one of the main requirements for carrying out the ritual.
When Lukas' body was still at home, his head was positioned to the west, while after he was moved to the granary, his head was to the south.
Torajans believe the head of the deceased should be in the west at home so that if the "sleeping person" wakes up in the morning, he or she can see the sun rising in the east. They also say the west is a symbol of death while the east is a symbol of life.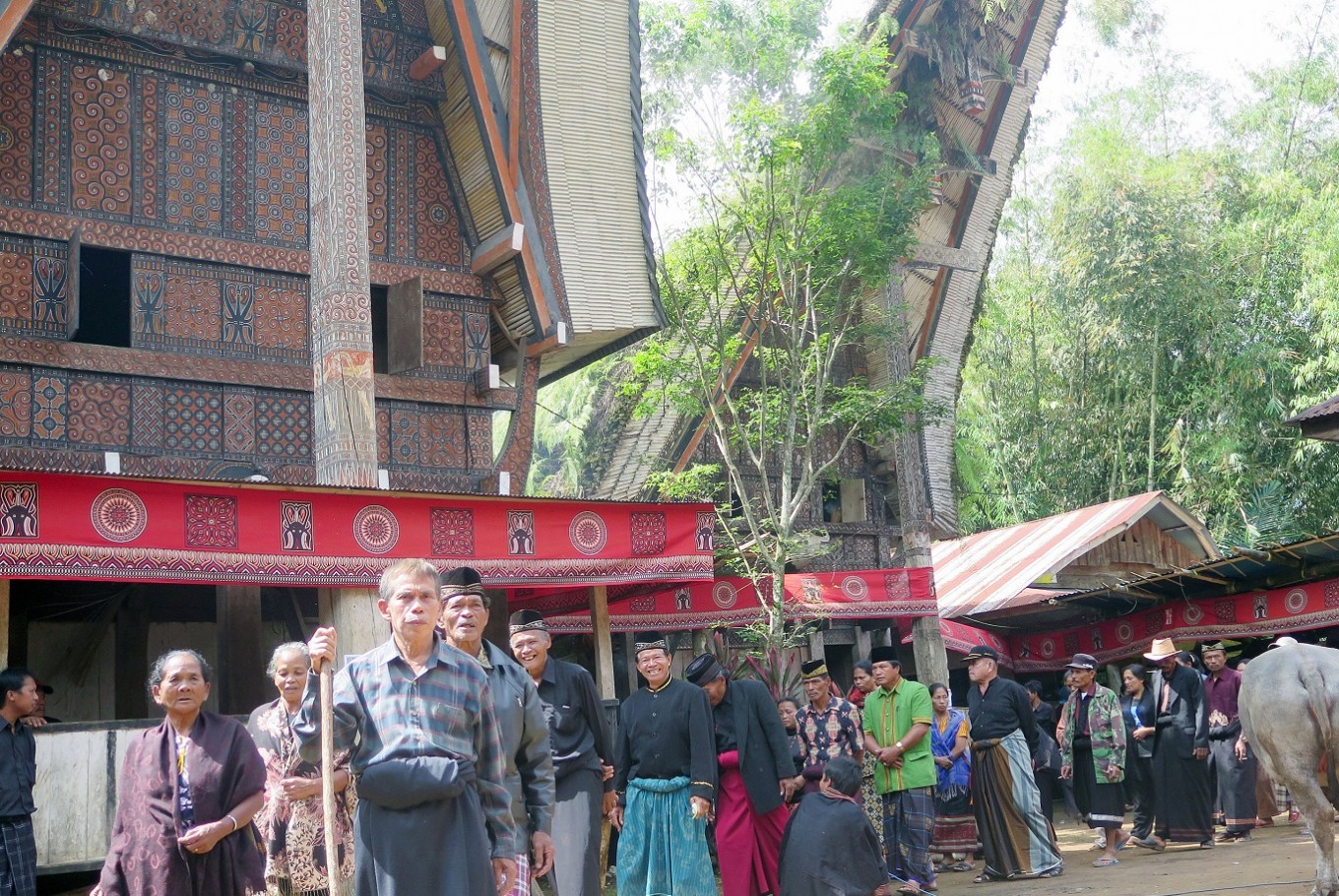 Lending support: Family members and friends of Lukas visit his home in a procession called 'mantarima tamu'.(JP/A. Kurniawan Ulung)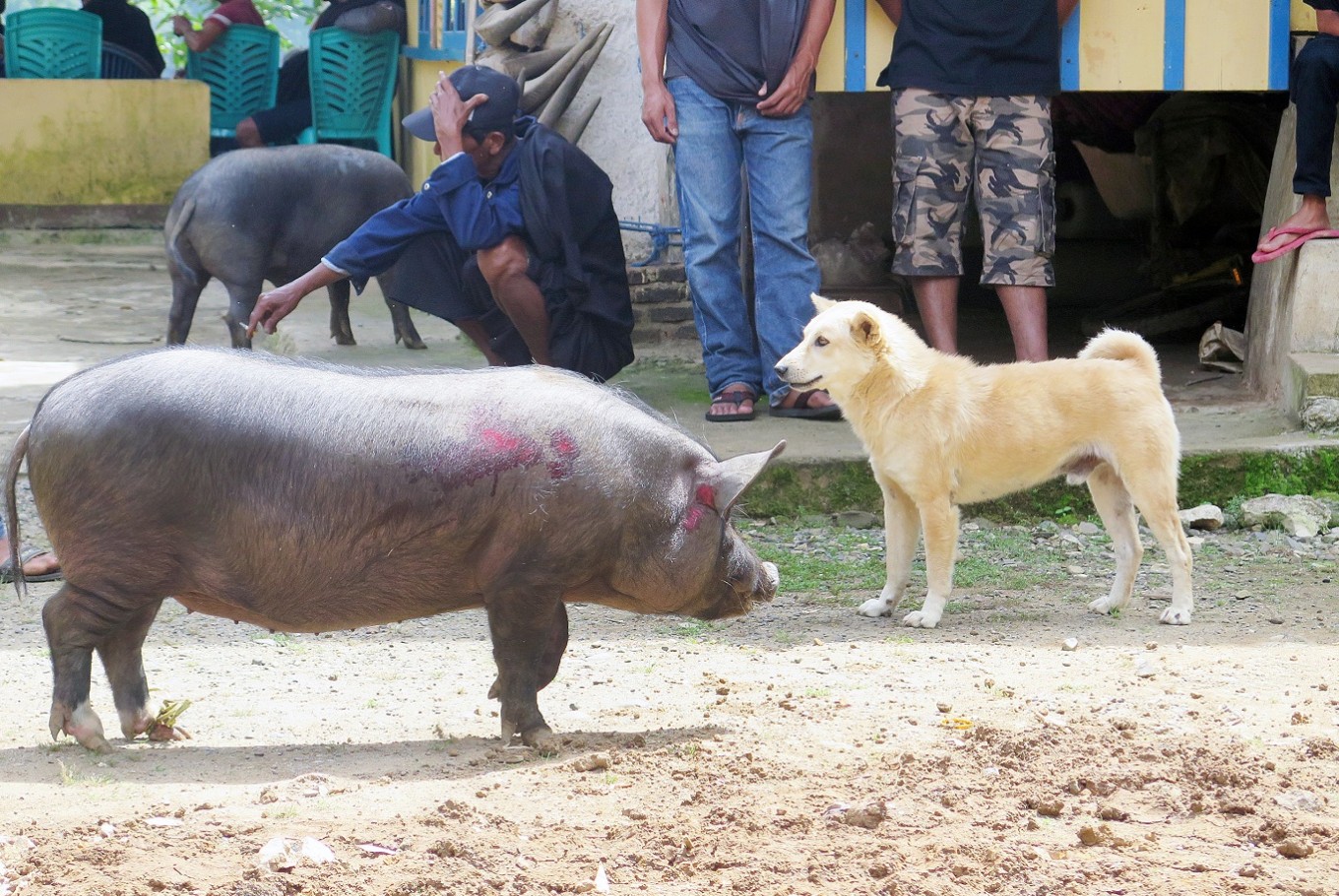 Ritual component: Mourners give pigs to the family of the deceased during the 'rambu solo' funeral ceremony.(JP/A. Kurniawan Ulung)
On the second day, Yohanes held mantarima tamu, where he welcomed relatives, friends and neighbors to his house. Many of them offered livestock, such as pigs, to the grieving family.
The following day, Yohanes' family slaughtered seven buffalo. According to tradition, the family of the deceased is free to determine the number of buffalo they want to sacrifice as long as it is an odd number. Buffalo are the most expensive livestock in the regency and Torajan people will do their best to obtain the animals for rambu solo.
The family cooked some of the buffalo meat and served it to the mourners, including tourists, to strengthen kinship. They also distributed raw buffalo meat to their guests. After that, they made preparations to bury Lukas.
They joined hands in a circle, prayed and sang in a procession called asma'badong. Susan Sangabali, a local Torajan, said after rambu solo was completed, the spirit of the deceased would ride the spirit of one of the slaughtered buffalos to puya, a temporary resting place before heaven.
"The spirits of the remaining buffalos will be consumed by the spirit of the deceased during his trip to puya," he said.
The unique rambu solo ritual should help to attract more tourists to North Toraja, which is 330 kilometers from Makassar, the capital of South Sulawesi. Another new, promising destination in North Toraja is Lolai village. Known as negeri di atas awan (land above the clouds), the village, located at 1,300 meters above sea level, boasts a majestic view of white clouds blanketing the mountainous area.
Despite the great potential, the regency only enjoys a small slice of the visitors to South Sulawesi province.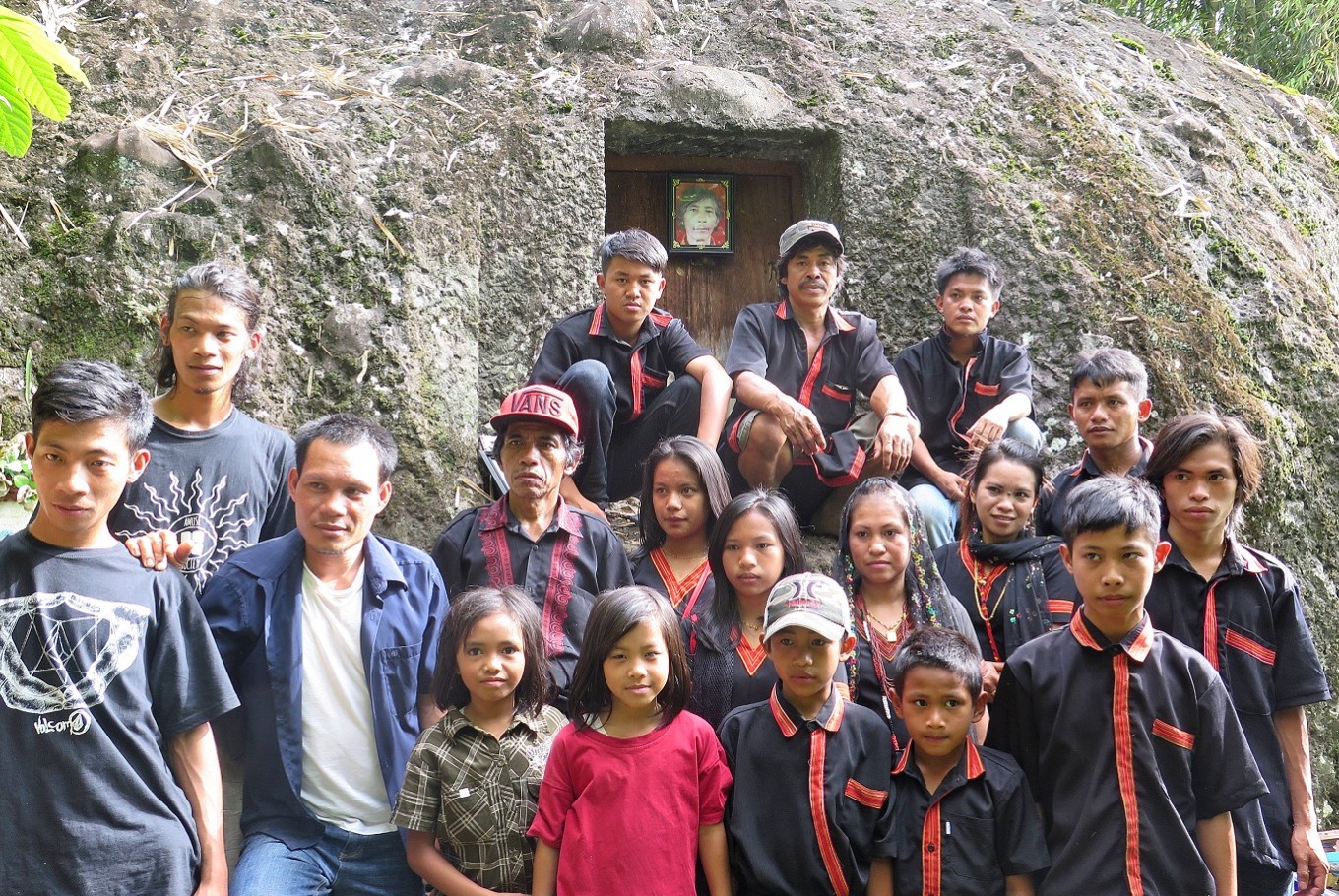 Remembered: Members of Lukas' large family pose together.(JP/A. Kurniawan Ulung)
The Central Statistics Agency (BPS) reported that the total number of local and foreign tourists arriving in the province increased from 6 million in 2014 to 7.3 million in 2015. Of that number, only 131,037 visited North Toraja, an increase of 16 percent from the previous year. The latest figure comprised 87,462 domestic tourists and 43,575 foreign tourists.
Read also: Tana Toraja set to prosper as major tourist destination
Maybe it is because rambu solo is a family ritual. Hiring a local guide is helpful for schedule information because it is not a regular cultural festival.
Another challenge is infrastructure because North Toraja is yet to have an airport. It takes at least eight hours by bus or car to reach the regency from Makassar. Its neighboring regency, Tana Toraja, is home to Pongtiku airport that only caters to small aircraft. A few airlines such as Trans Nusa offer roundtrips from Makassar to Tana Toraja once a day from Monday to Saturday.
To boost tourism, the government will extend the runway at Pongtiku airport from 1,300 meters to 1,600 meters to accommodate bigger aircraft likes Boeing planes. The government also plans to construct a new airport named Buntu Kunik in Tana Toraja. The new facility is aimed at serving direct flight for tourists from Bali and Manado in North Sulawesi to Toraja.
Nevertheless, until then, the enchanting North Toraja, frequently described as a piece of heaven due to its gorgeous landscapes, is worth the effort to get there.
Topics :
Join the discussions