Picking edelweiss at highest point of Sumba Island
Markus Makur

The Jakarta Post
Waingapu, East Nusa Tenggara |

Mon, April 17, 2017

| 02:55 pm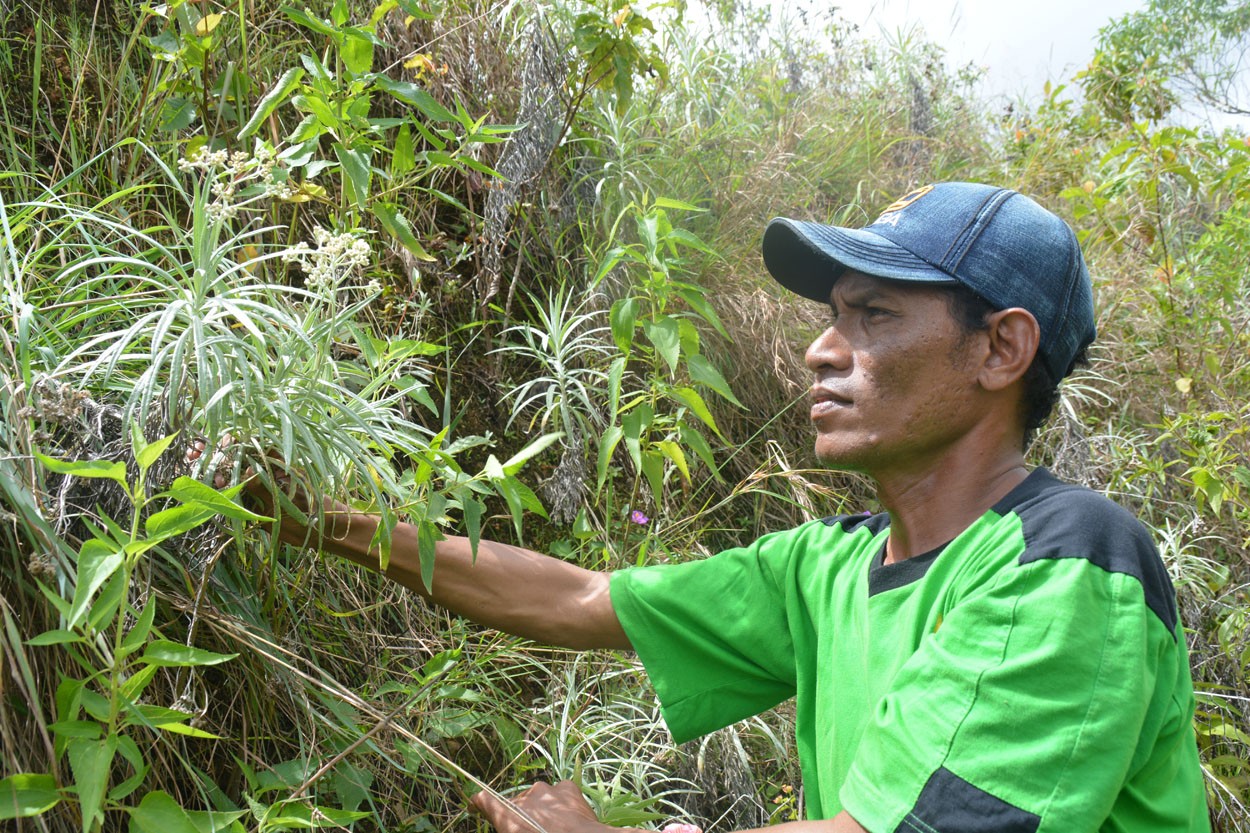 Head of the Wanggameti resort, Oktovianus Klau, holds edelweiss during a visit to Manupeu Tanah Daru and Laiwangi Wanggameti (MaTaLaWa) National Park on Sumba Island, East Nusa Tenggara. (JP/Markus Makur)
It was Saturday morning in Manupeu Tanah Daru and Laiwangi Wanggameti (MaTaLaWa) National Park on Sumba Island, East Nusa Tenggara. Despite the quiet surroundings, visitors at the national park were ecstatic upon seeing edelweiss in the national park.
The mountain flowers are said to grow only at high altitudes, where oxygen is thin. At an altitude of 1,225 meters, the peak of Mount Wanggameti is ideal environment for the flowers. Edelweiss can also be found in Wanggameti forest.
Edelweiss are commonly seen as a symbol of true love as only those who want to prove their devotion are willing to climb the mountain to pick the flowers. In MaTaLaWa National Park, the edelweiss symbolizes eternity as its color never changes.
The flowers are also known as anaphalis javanica or Javanese edelweiss. However, the flowers can also be found outside Java Island.
Read also: Sumba's MaTaLaWa National Park lures visitors with ecological attractions
Maman Surahman, the head of the MaTaLaWa National Park, told The Jakarta Post that he initially thought that edelweiss only grew on Java Island. "The flowers also grow in MaTaLaWa National Park, which means the area needs to be maintained," he said.
Edelweiss usually bloom in March, April and August. However, during the dry season in Wanggameti, wildfires often threaten the flowers.
Oktovianus Klau and Fabianus Beremau of the Wanggameti resort said they often patrolled the area so that people living around the national park did not burn the savanna. They explained that they were working with local people to protect the area. Some locals had also become tourist guides in the area.
Meanwhile, Umbu Naimanna Wanggameti, the tribal leader of Wanggameti, said that local people considered the Wanggameti forest sacred.
"The forest is protected by our ancestors. The area is surrounded by the graves of our ancestors and so both local and foreign visitors need a local guide to hike to the top of the mountain," said Umbu. (jes/asw)
Join the discussions