Cenderawasih Bay, a haven for whale shark enthusiasts
Arya Dipa

The Jakarta Post
Bandung, West Java |

Sat, May 13, 2017

| 02:08 pm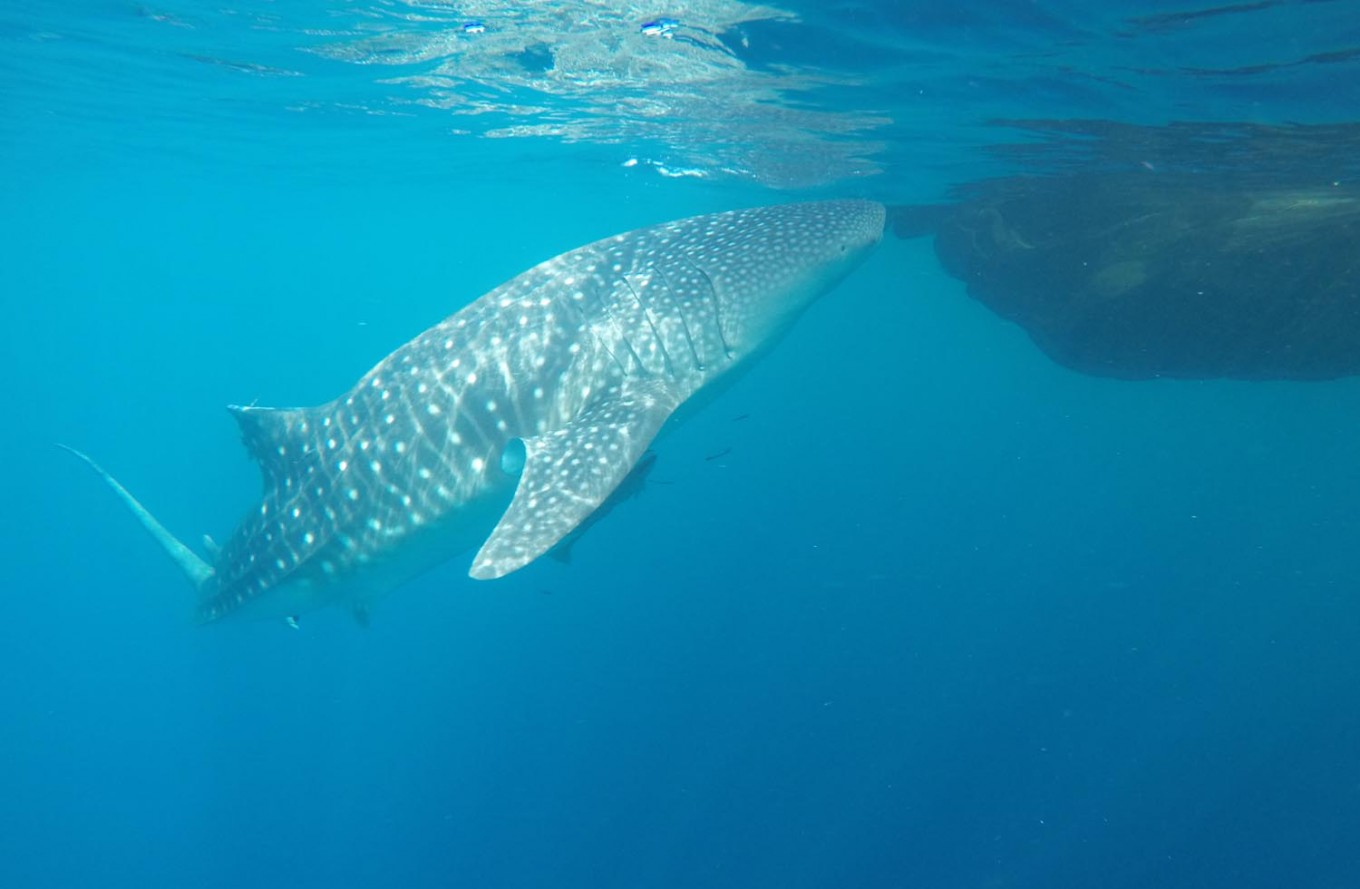 A whale shark approaches a net installed in the waters near Kwatisore kampung in Cenderawasih Bay National Park on April 14. (JP/Arya Dipa)
Cenderawasih Bay is the perfect spot for those interested in marveling at the biggest extant fish species in the world, the whale shark.
There is a high rate of whale sharks sightings in Cenderawasih Bay National Park compared to other regions in Indonesia. The park's maritime area itself reaches 1.4 million hectares, covering two regencies, namely Wondama Bay in West Papua and Nabire in Papua.
The creatures serve as a valuable tourist attraction. The park's agency head, Ben Gurion Saroy, said the archipelago's biggest marine park had been seeing a rise in tourist numbers since 2011.
In 2012, the park reportedly welcomed 1,764 visitors; 933 of whom were domestic tourists. Last year, the number reached 4,083, of which 2,331 were foreigners.
Read also: Research reveals low number of female whale sharks in Papua
Most of the foreign tourists entered the park on liveaboard vessels since tourism management and diving operators were still limited in the area. Local guide Yance Henawi, 31, said liveaboard visitors had starting flocking to the destination in 2012.
Evi Nurul Ihsan, monitoring and surveillance officer for Cenderawasih Bay at World Wide Fund for Nature (WWF) Indonesia, told The Jakarta Post that whale shark sightings also occurred in Kalisayan, East Kalimantan and Kaimana in West Papua.
To reach the bay, a visitor can hop on flights from Jakarta, Surabaya, Denpasar and Makassar to Biak in Papua. From Biak, pioneer flights like Susi Air are available to continue the journey to Manokwari or Nabire. From Nabire, the national park is around three hours away by motorboat. (kes)
Join the discussions