Jakpost guide to Jl. Benda
Ni Nyoman Wira

The Jakarta Post
Jakarta |

Sat, September 9, 2017

| 12:25 pm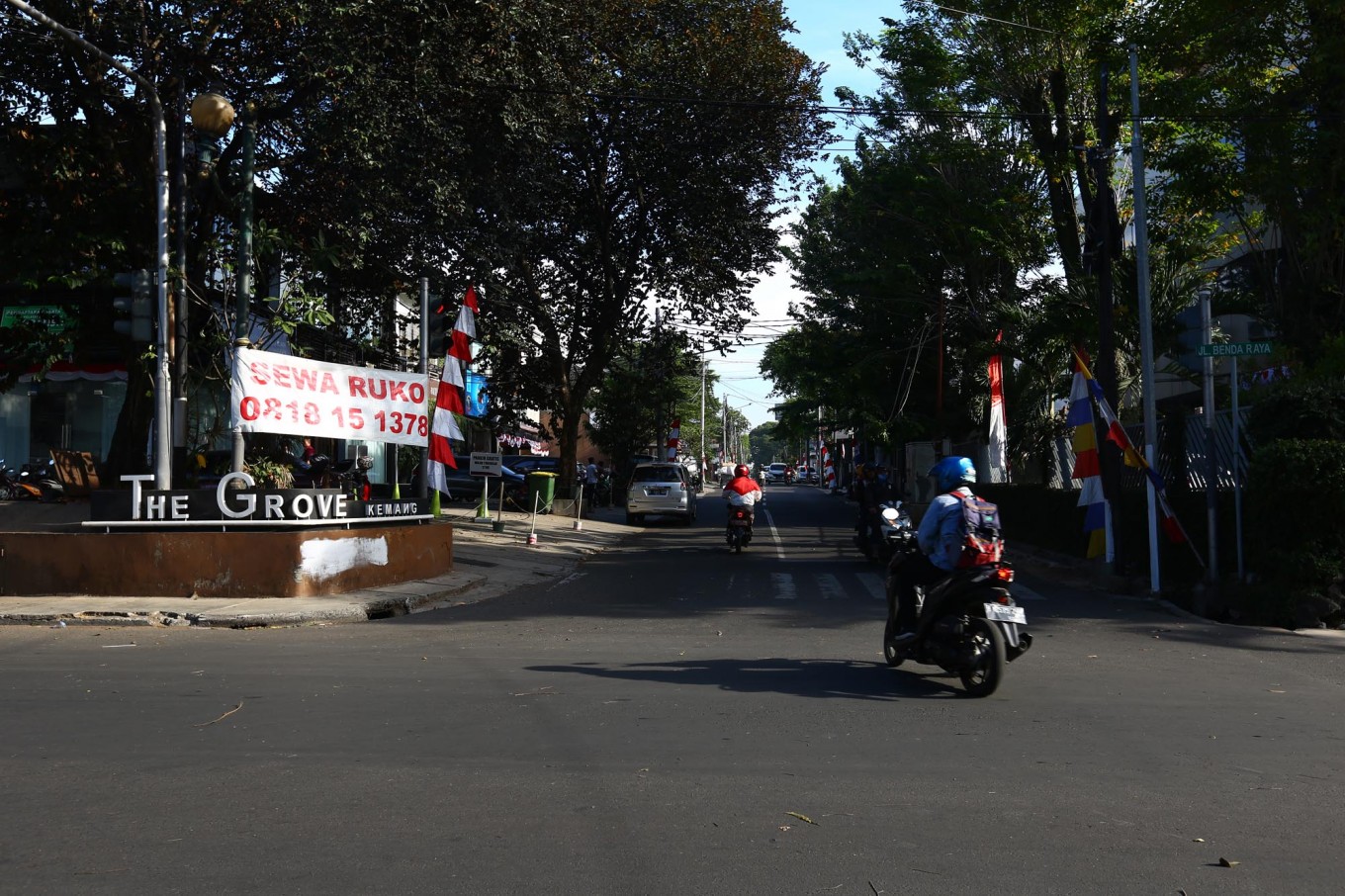 The entrance to Jl. Benda Raya beside the Habibie Center in Kemang, South Jakarta. (JP/Wienda Parwitasari)
Located between Jl. Kemang Selatan and Jl. Benda Bawah in South Jakarta, Jl. Benda is a two-way street filled with furniture stores, restaurants, beauty salons and spaces dedicated to children's activities.
Situated beside the Habibie Center, it is less dense in terms of traffic compared to Jl. Kemang Selatan, and therefore offers a convenient destination to explore.
How to get there
You may want to take public transportation to reach the area as Transjakarta buses do not pass through Jl. Kemang Selatan and Jl. Benda. But those feeling adventurous can hop on the Kopaja 614 bus that serves the Pasar Minggu-Cipulir route. A more convenient way is using an online ride-hailing app to get an ojek (motorcycle taxi).
Due to the frequent traffic congestion on Jl. Kemang Selatan, we don't advise you to bring your own vehicle. The available parking space is usually in front of a shop; you cannot just park your car on the side of the road.
What to wear
Opt for casual clothes if you're seeking to explore the street on foot in case the weather gets too hot. It is highly recommended that you wear a hat and comfortable shoes.
What to do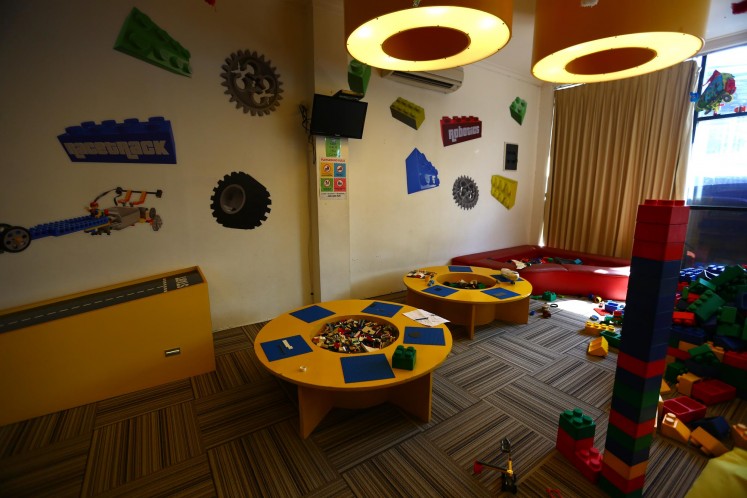 The first floor of the Bricks 4 Kidz building is used as a playground, where children can play with Legos at a price of Rp 100,000 (US$7.50) for non-members. (JP/Wienda Parwitasari)
Jl. Benda is home to Bricks 4 Kidz, a place where children are encouraged to learn about science, technology, engineering and math using Lego to improve their focus, creativity, critical thinking skills and problem-solving abilities. Classes in English are available for children aged between 3 and 13 years old.
Those who are interested can consider booking a trial session priced at Rp 200,000 (US$14). A playground is available on the first floor of the building, where children can have Lego fun-time for a non-member price of Rp 100,000.
Read also: Jakpost guide to Jl. Kemang Raya: Part 1
Where to shop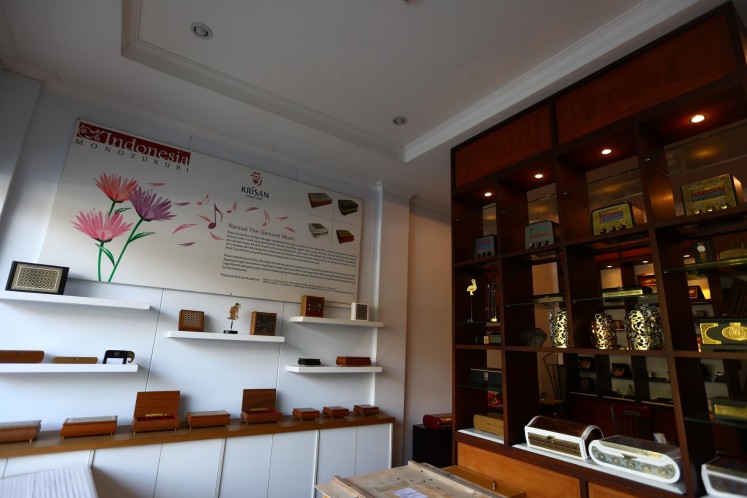 The showroom of Kriya Nusantara on Jl. Benda, South Jakarta. (JP/Wienda Parwitasari)
Established in 1995, Kriya Nusantara aims to preserve Indonesia's cultural heritage through crafts. One of the brand's most sought-after products is the vintage Cawang Art Radio, which pays tribute to the historical Tjawang, Indonesia's first transistor radio from the 1950s. Collaborating with Panasonic, the modern version of the radio is adorned in Middle Eastern and traditional motifs, including woven cloth patterns from Minangkabau in West Sumatra and batik parang patterns.
The showroom also displays a Krisan Music Box that plays Indonesian songs, such as "Bengawan Solo," "Rasa Sayange" (Feelings of Love), "Sepasang Mata Bola" (A Pair of Round Eyes) and "Kicir-kicir". Collaborating with Japan's Nidec Sankyo Shoji Corporation, the box is decorated with traditional motifs. Kriya Nusantara's products start at Rp 250,000.
If you're looking for new furniture and home accessories, consider visiting Elements, which sells natural handcrafted products. Since 2015, the brand has sold its own creations and even exported them to Europe, Japan, Australia and United States. These items include tables, chairs, accessories, sofas, trunks and mirrors. An online catalogue is available on Elements' official website.
Jl. Benda is also a good destination for those seeking to pamper themselves from head to toe. We recommend BloBar, which is located at the Broadway Kemang. Established in 2014, BloBar is known for its updated hair treatments and trends, including Glow in the Dark hair and Rose Gold hair with four basic shades. The price for a coloring treatment will depend on the length of your hair, but starts at Rp 300,000.
What to eat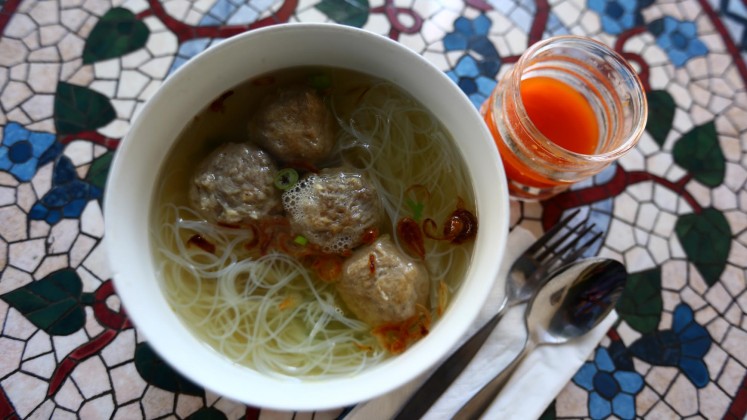 KEDAI restaurant provides Western and Indonesian delicacies, but it is recommended to try this Bihun Bakso Klaten. (JP/Wienda Parwitasari)
KEDAI is one of Jl. Benda's most recommended culinary spots to enjoy with your friends as it has a smoking and a non-smoking room. The latter, located at the back of the restaurant, is entirely made from glass. KEDAI provides Western and Indonesian delicacies, one of its specialties is Bihun Bakso Klaten, which consists of four large-sized meatballs and rice noodles in a warm broth. The average price for food here is Rp 50,000.
Another recommended dining destination is Baconerie — this will especially appeal to bacon lovers. Upon entering the restaurant, expect a warm ambiance, comfortable sofas and the fragrant smell of bacon being cooked. Do try its burgers, which start from Rp 100,000 and do not forget to bring home its artisan cured meats.
Tips
Be careful when crossing the street as Jl. Benda only has one zebra crossing.
Stay safe when walking along the street as Jl. Benda lacks sufficient sidewalks for pedestrian. (kes)
Topics :
Join the discussions