Jakpost guide to Jl. Kemang Raya: Part 1
Jessicha Valentina

The Jakarta Post
Jakarta |

Sun, July 30, 2017

| 10:15 am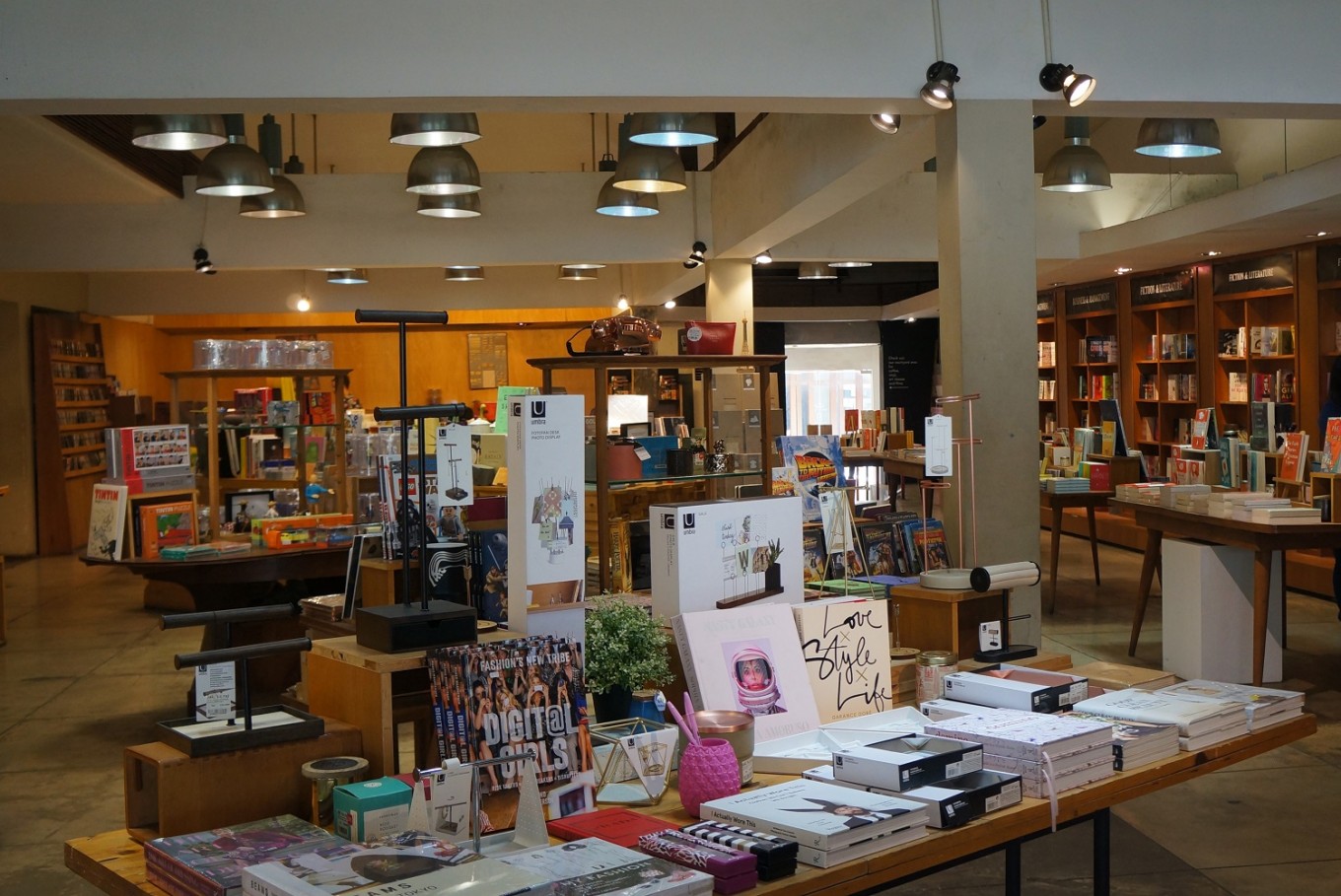 Aksara bookstore is one of the iconic shops of Jl. Kemang Raya. (JP/Christhalia Wiloto)
Many Jakartans have a love-hate relationship with Jl. Kemang Raya in South Jakarta. On the plus side, the road is filled with trendy restaurants, bars and shops, making it a popular destination among both local and expatriate residents; the flip side is the congested traffic and occasional floods that often frustrate visitors.
Despite this, Jl. Kemang Raya is still an interesting area to explore, especially for first-time visitors to Jakarta.
How to get there
The long, narrow and winding main street descending from Jl. Antasari to the upscale Kemang neighborhood is not public transport-friendly. Instead, take private vehicles, taxis or ride-hailing and on-demand transportation services, such as GO-JEK, Uber or Grab, to get there. Motorcycles are the preferred mode, as they can negotiate around the queue of cars and buses that often crowd the road, and even take the narrowest side streets that cut through the residential area.
For those keen to brave the area by public transportation, Metromini S77 and Kopaja S605A buses are available, departing from Blok M Terminal.
Otherwise, it might be easiest to be dropped off on Jl. Antasari at the top of Jl. Kemang Raya and explore on foot.
What to wear
Jl. Kemang Raya is filled with trendy restaurants and bars, which makes smart casual the safest bet for a daytime outing. At night, it really depends on the event or venue – club, pub, bar, literary cafe, steakhouse or fine dining restaurant?
Those coming to Kemang for a laid-back family weekend can opt for T-shirt and jeans, or anything ranging from casual to informal wear that speaks "comfortable". No flip-flops or beach sandals though, please. These aren't considered proper footwear to be seen wearing out in public.
Read also: Jakpost guide to Jl. Cipete Raya
What to do
Jl. Kemang Raya is not only for the hip and trendy, and is also considered a family-friendly place.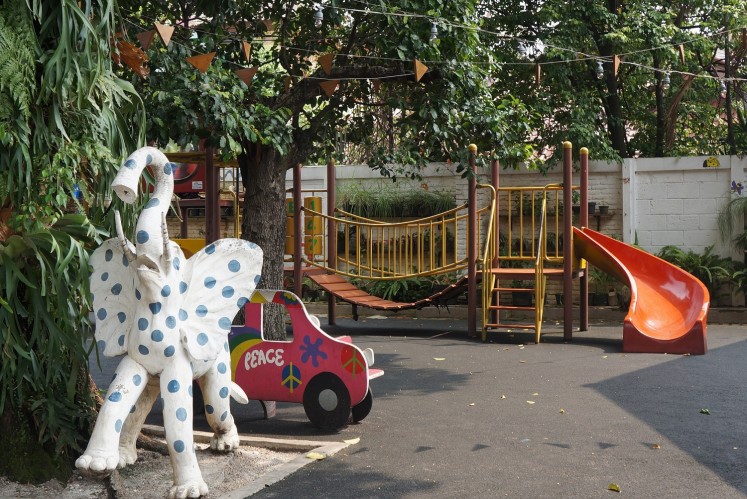 Ganara Art Studio has creative classes for children from 1.5 years old, including art education and physical development. (JP/Christhalia Wiloto)
Parents looking for recreational activities for their children can visit Ganara Art Studio. Located at Sekolah Kembang behind Aksara bookstore, the studio offers a range of creative classes for children aged 1.5 years and above, including early art sensory, fine motor fun, photography and cooking club. Adults can also join the studio's art classes, such as pottery and drawing, at the studio.
Chipmunks Playland & Cafe and Tamani Kids Café Adventure Land are also popular with kids. Chipmunks is located in the Colony building and it welcomes children aged six months to 10 years. Tamani Kids is located in the Kemang Square building and is open to children of any age.
Adults can also find a variety of things to do aside from eating or sipping Java.
Movie buffs can visit Kinosaurus. Located behind Aksara bookstore, the micro-cinema screens many different film genres, including documentaries from Taiwan and Malaysia, French as well as local films. Kinosaurus is open every weekend with tickets priced Rp 35,000 (US$2.62) for students and Rp 50,000 for general audiences.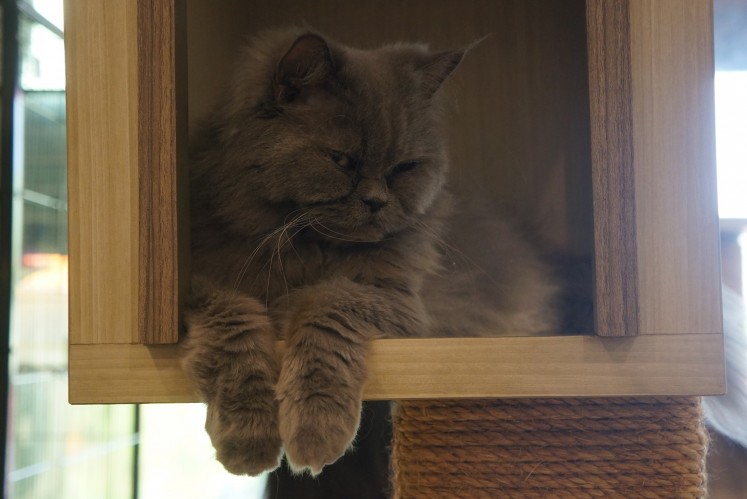 Cutie Cats Cafe offers furry feline "therapy". (JP/Christhalia Wiloto)
Meanwhile, cat lovers can go to Cutie Cats Cafe. For Rp 55,000 on weekdays and Rp 85,000 on weekends, guests can enjoy some quality time with the furry felines.
What to buy
Kemang is a go-to place for those looking for some unique local or imported goods.
Opened in 2000, Aksara bookstore is one of the longest-standing shops on Jl. Kemang Raya. Here, visitors can find imported stationery, books as well as collector's items such as Star Wars memorabilia and The Wes Anderson Collection: The Grand Budapest Hotel. They also have a wide range of Blu-ray and DVDs.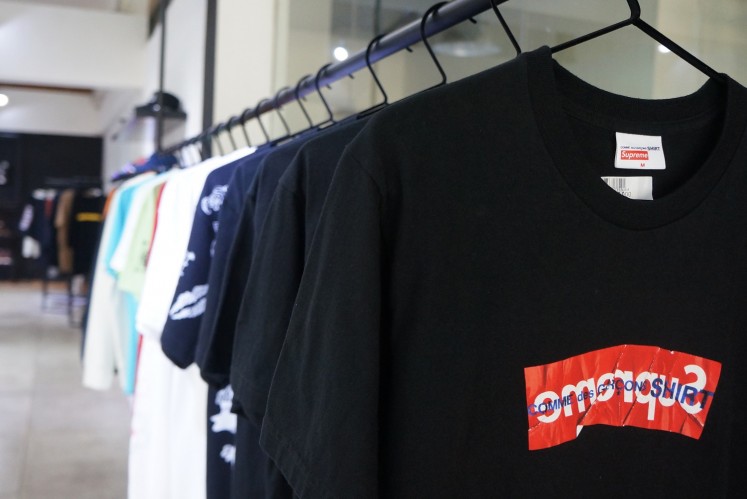 Recently opened Intruders offers branded street fashion for the young and young-at-heart. (JP/Christhalia Wiloto)
Next to Aksara, fashion enthusiasts will find Intruders. Recently opened, the store offers branded street fashion, including Supreme, Balenciaga and AntiSocial Social Club.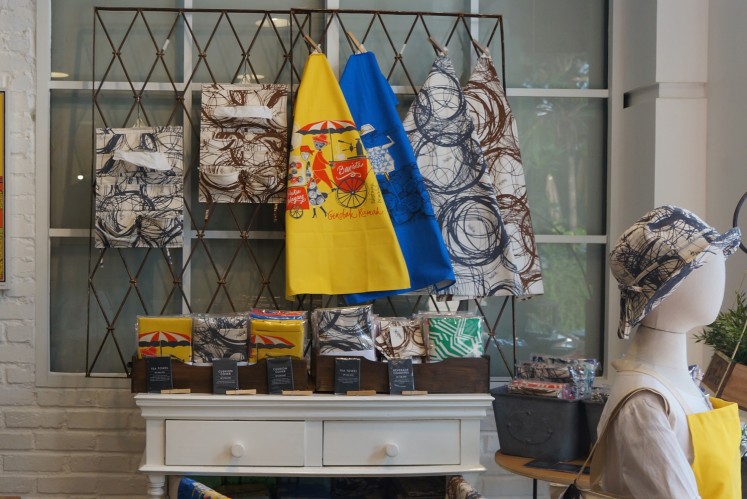 Tulisan collaborates with local textile artisans to produce unique apparel and decorative items featuring hand-drawn sketches and prints. (JP/Christhalia Wiloto)
In the Colony building, fashion enthusiasts can get their hands on local high-end brands such as Tulisan and Ghea Fashion. Tulisan offers hand-drawn illustrations and sketches and prints mixes designed for those wanting a unique fashion piece. As for the latter, the shop offers a collection from one of the most prominent local fashion designers Ghea Panggabean.
Across the street from the Colony is Kem Chick's supermarket. Founded by eccentric businessman Bob Sadino, the grocery store offers imported products as well as ready-to-eat gourmet meals.
Off Jl. Kemang Raya is the letterpress printing shop, Distillery. The shop uses nearly extinct Heidelberg printing machines to create personalized business and wedding stationery.
Read also: Jakpost guide to Pantai Indah Kapuk
What to eat
Frequent visitors to Kemang will be familiar with how new bars or eateries pop up every month – and how only a few manage to stay open.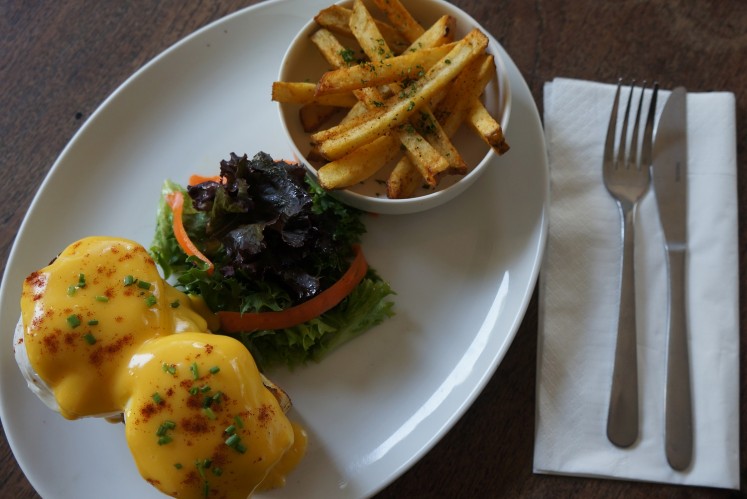 Casa Benedict by Casa restaurant may be a fine pick-me-up for those who braved the traffic to get to Kemang. (JP/Christhalia Wiloto)
Casa is one of the veteran eateries. Here, guests will find a plethora of dishes, varying from nasi goreng gila (fried rice served with various toppings) to Casa Benedict (Casa-style eggs Benedict), to sandwiches and pastas.
Those looking for local flavors might try Lumpang Emas in Colony. Specializing in Indonesian food, the eatery's signature dishes include nasi campur umara (rice cooked with lime leaves and served with a variety of sides), nasi burung punai tangkap (rice with fried pigeon) and more.
Off Kemang Raya, foodies will find the Akasya Express. Established by catering company Akasya, the eatery is known for its gyu tan don (Japanese rice bowl with beef tongue).
In addition to local establishments, Kemang Raya is also home to the US chain Hooters, toned down for local consumption. At Hooters Jakarta, the attraction is American food with a local twist, such as burgers and chicken with rendang sauce.
Those looking for a brew can drop by old-time favorites Murphy's Irish Pub & Restaurant, Die Stube German Resto & Bar and English-style pub Eastern Promise, also known for its live bands. Younger crowds usually hit FJ on 7 at Colony or Parc 19 on Jl. Taman Kemang.
Where to stay
Those who want to beat the infamous Jakarta traffic by staying in Kemang can book a room at the grandkemang Hotel Jakarta or the Kemang Icon Hotel. The grandkemang is a four-star contemporary business hotel while Alila's Kemang Icon is a boutique hotel catering to urban chic, both suitable for foreign travelers. Each year, the grandkemang Hotel Jakarta hosts the Indonesian Contemporary Art & Design (ICAD) exhibition, which also makes it the right place to stay for art enthusiasts.
Tips
- Make a reservation at restaurants; they fill up fast.
- Leave shopping for days and never on Friday and Saturday nights, when the area becomes jam-packed with "nights out" revelers.
- The sidewalks are narrow and uneven, so be careful when walking. (kes)
Topics :
Join the discussions