Jakpost guide to Jl. Cipete Raya
Masajeng Rahmiasri

The Jakarta Post
Jakarta |

Fri, May 19, 2017

| 02:50 pm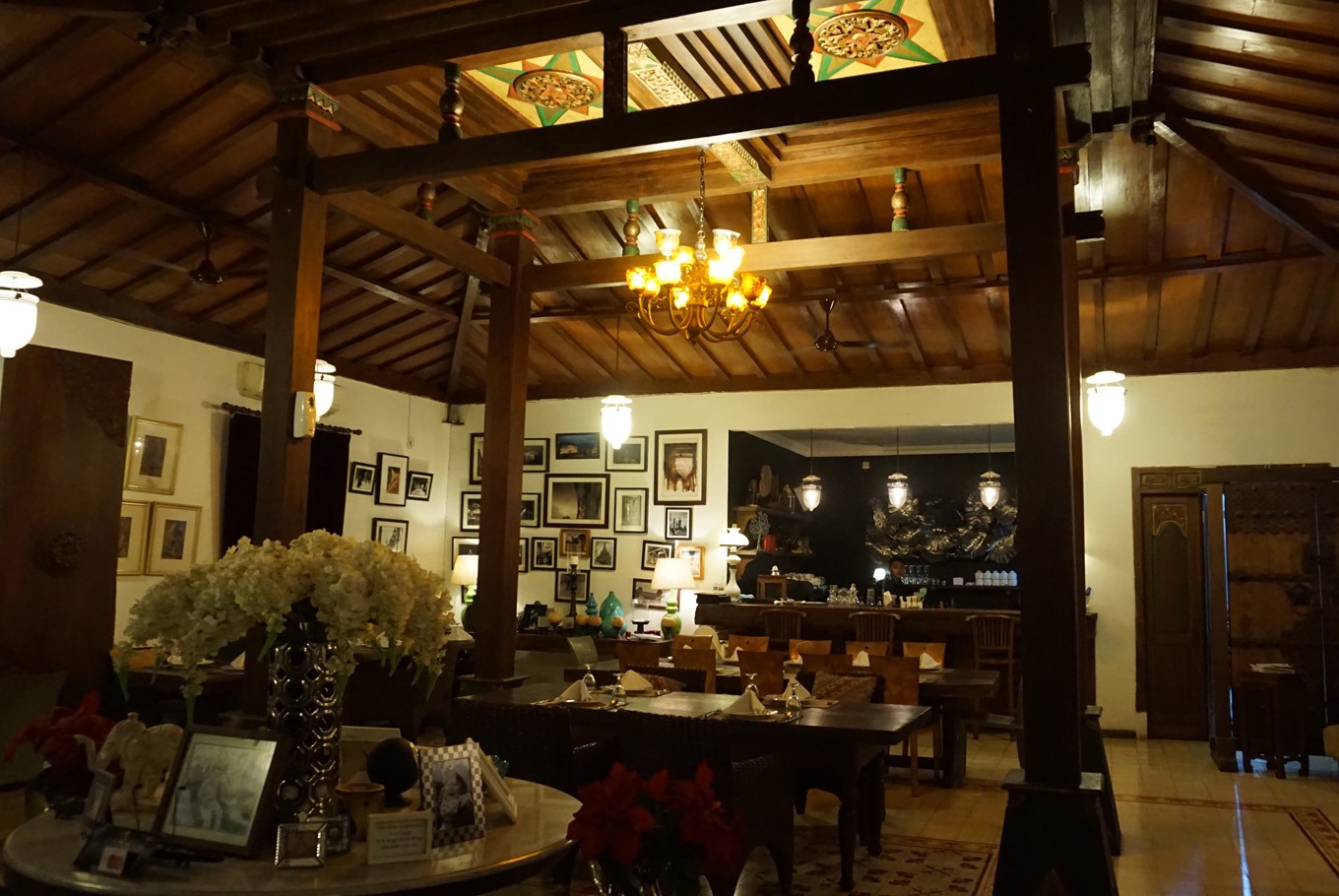 Inside Epilogue, a French-Indonesian restaurant on Jl. Cipete Raya. (JP/Masajeng Rahmiasri)
Following the closing of Jl. Fatmawati, Jl. Cipete Raya may only be seen as an alternative road to reach Blok M or the Lebak Bulus area.
However, Cipete Raya is home to several notable restaurants and cafés..
Getting There
One way to reach the area is to ride the Transjakarta bus to Blok M and continue using other modes of public transportation, such as Metromini S76. Travelers may also consider taking the Transjakarta bus only up to the Masjid Agung Al-Azhar shelter—a stop before the Blok M shelter—and continue to Jl. Cipete Raya using available online transportation means, or a taxi, for shorter traveling time.
What to wear
Casual clothes, like t-shirts and sneakers, would be the best option for clothing to explore Jl. Cipete Raya. An umbrella will also come in handy.
Read also: Jakpost guide to Glodok
What to eat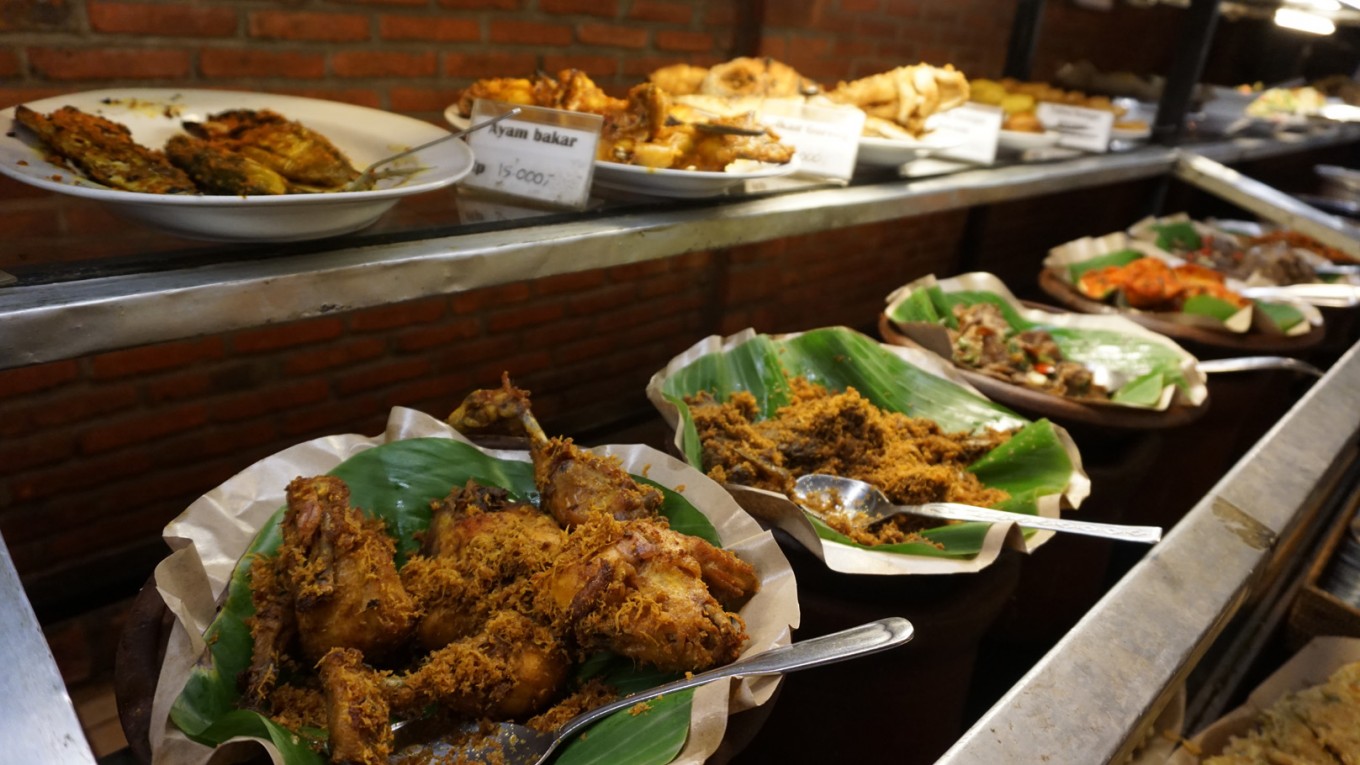 Tucked behind buildings on Jl. Cipete Raya, Kedai Halaman, serves Indonesian dishes.(JP/Masajeng Rahmiasri)
Those looking for Indonesian cuisine can stop by Kedai Halaman, a buffet-style restaurant tucked behind the buildings on Jl. Cipete Raya. It mainly serves homemade-style cooking, such as fried or grilled chicken, chicken soup, as well as fried tofu or tempe (fermented soybeans). Side dish prices start from Rp 8,000 (US$ 0.59).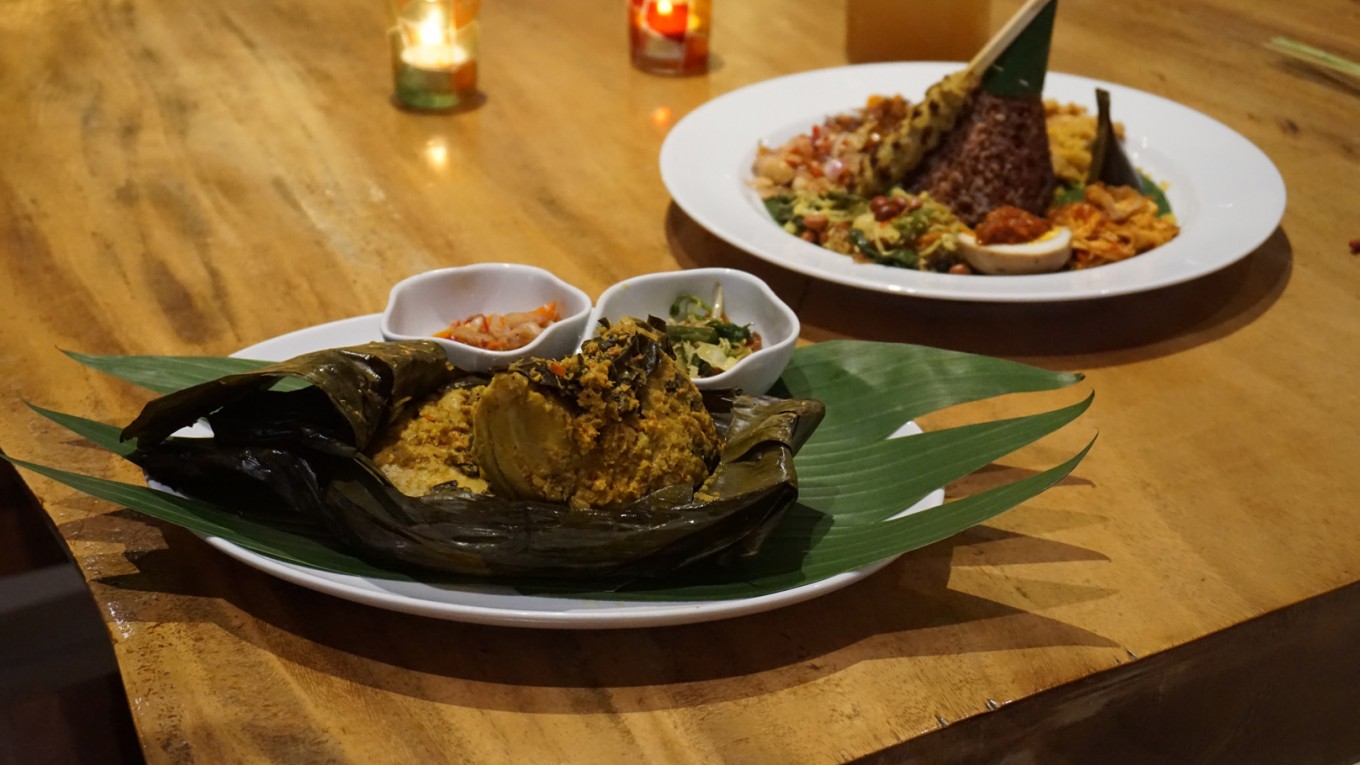 'Ayam betutu' (steamed, grilled chicken with betutu spices) and 'nasi campur Bali dan nasi merah' (Balinese mixed steamed rice and red rice) in Le Seminyak, South Jakarta.(JP/Masajeng Rahmiasri)
More sophisticated Indonesian cuisine can be found in Balinese restaurant, Le Seminyak. Among the food served at the restaurant is ayam betutu (steamed, grilled chicken with betutu spices), nasi campur bali (Balinese mixed steamed rice) and sate lilit ayam (minced chicken satay). The restaurant is open from 10.00 a.m to10.30 p.m.
Foodies may also want to try visiting Epilogue, a French-Indonesian restaurant that takes the shape of a traditional Indonesian house. Among the dishes served in the restaurant are escargot, duck confit and duck foie gras. Epilogue currently operates from 12:00 p.m. to 9:00 p.m and is closed every Monday.
Other options are Sambara Sundanese restaurant, Ikan Bakar Cianjur seafood restaurant, Bu Endang Javanese restaurant as well as the neighborhood's famous steakhouse, Abuba Steak.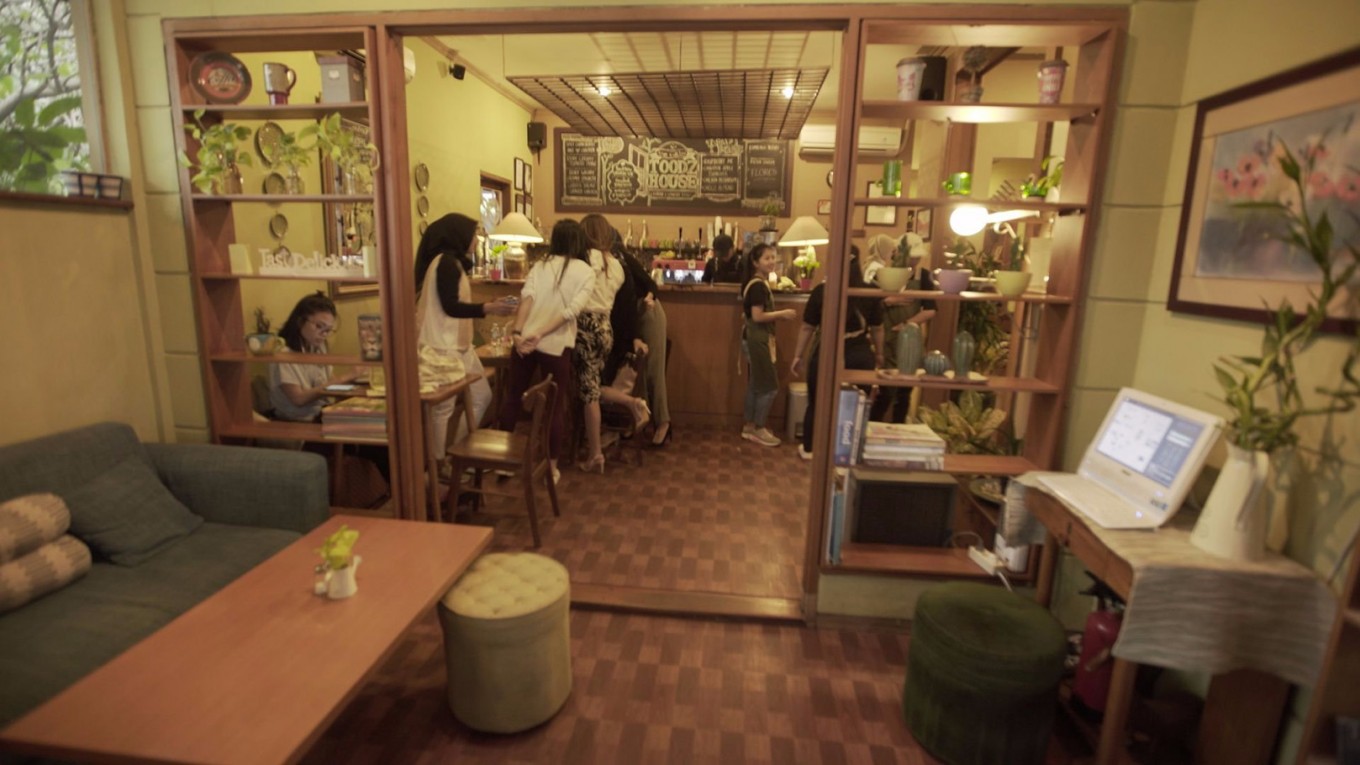 House-turned cafe Toodz House is a good option to meet with friends or to catch up with work.(JP/I.G. Dharma. J.S)
Aside from restaurants, Jl. Cipete Raya is also a haven for coffee lovers. Toodz House, a house-turned-café serves various kind of drinks, such as the café's special signature sparkling sunkist (cold brew coffee) and lychee lemon tea. Toodz House also serves various dishes such as carbonara rice and spaghetti tuna matah. It is a good place for those who want to relax with friends or to catch up with work. Muslim visitors are also welcome to pray in its comfortable semi-outdoor praying room.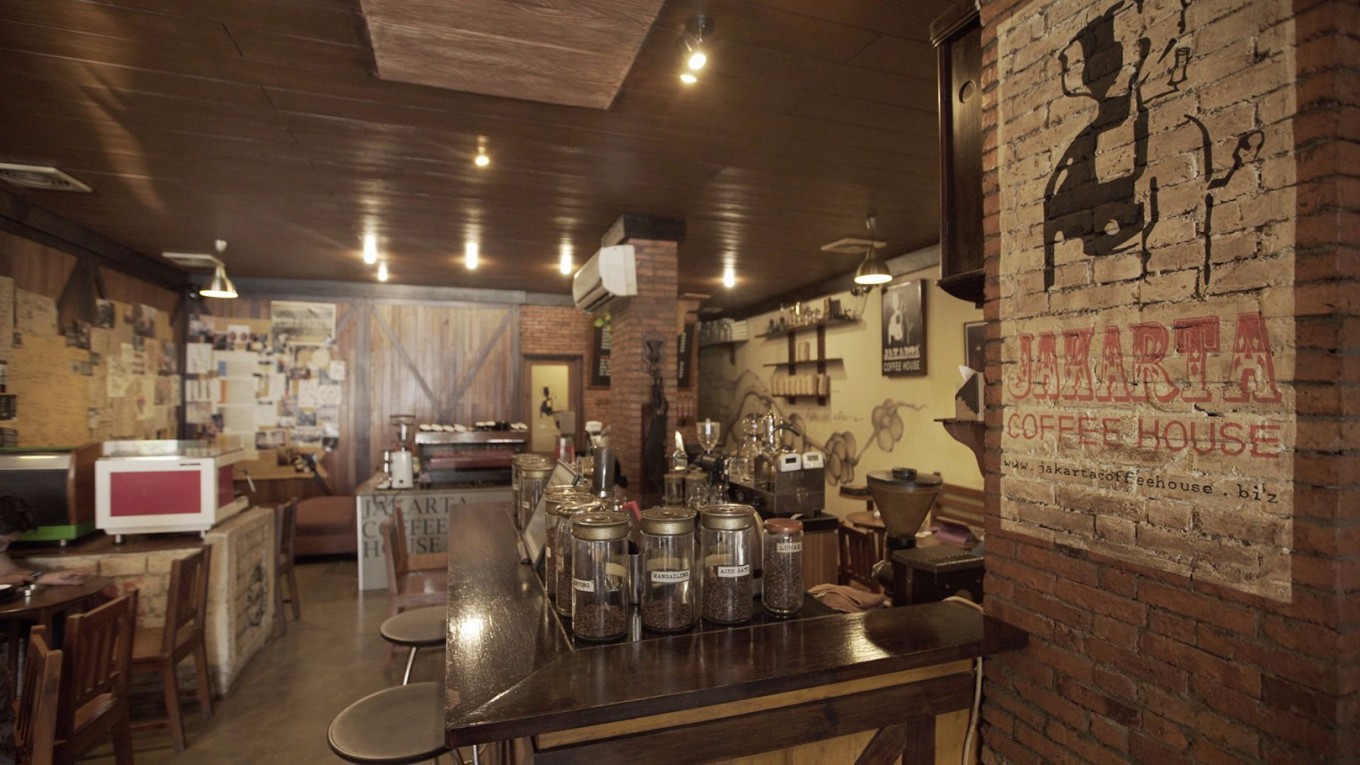 Jakarta Coffee House, a small, classic style coffee roaster and shop on Jl. Cipete Raya.(JP/I.G. Dharma. J.S)
For a serious coffee affair, aficionados may visit Jakarta Coffee House, a small, classic-styled coffee roaster and shop that provides only Indonesian coffee. Its specialty is 'Si Petung,' a variant of Arabica beans grown in Bondowoso, East Java. Prices start from Rp 24,000.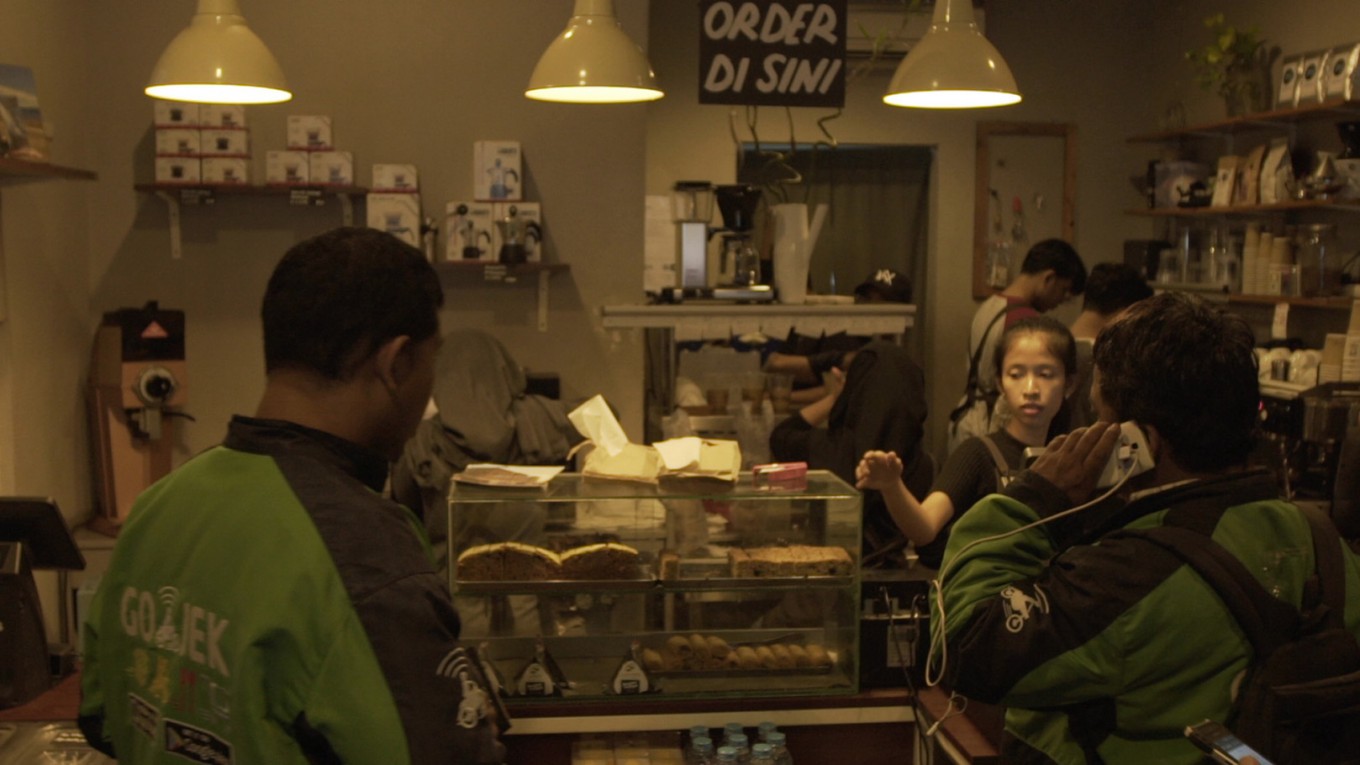 Toko Kopi Tuku is known for its signature 'kopi susu tetangga' (latte with brown sugar).(JP/I.G. Dharma. J.S)
Another coffee establishment in Cipete Raya is Toko Kopi Tuku, a small café recently made famous for its signature kopi susu tetangga (latte with brown sugar). Prices are considered reasonable as they start from Rp 18.000.
Other alternatives for coffee along the road include Srsly Coffee, Dua coffee shop and a branch of Sophie Authentique bakery.
Padang cuisine lovers may want to give RM Pagi Sore a try. Despite hailing from Palembang in South Sumatra, the restaurant serves West Sumatran cuisine, including its signature rendang (beef cooked with coconut milk and spices). For those avoiding white rice, the restaurant also offers red rice to accompany the many dishes on offer.
Read also: Jakpost guide to Jl. Kemang Timur
What to shop for
Homeware collectors may try visiting Motiff Made.(JP/Masajeng Rahmiasri)
Homeware collectors may want to shop at Motiff Made, a store that offers ceramics and interior products made by local designers. Visitors can find unique ceramics, such as mugs, bowls and plates with price starting from Rp 30,000. In the same building, visitors can also find wooden furniture by local brand Kekayuan, as well as furniture by TRE Studio.
Meanwhile, fashionistas may want to visit Khanaan, a modest wear brand that was featured in Arab Fashion Week 2016.
What to do
Those in need of some pampering may want to visit Itje Her, a salon that was established in 1971 by Itje Herdjadiono, and has become a great place to get satisfying creambaths (scalp massages). The salon offers services for both ladies and gentlemen on separate floors, with services such as the aforementioned creambath, haircut, hair spa, body massage and facial services. Although the beauty shop regularly operates starting at 7:00 a.m., customers can request to book makeup and sanggul (traditional bun) services from as early as 4:00 a.m. Prices for makeup service starts from Rp 180,000.
Where to stay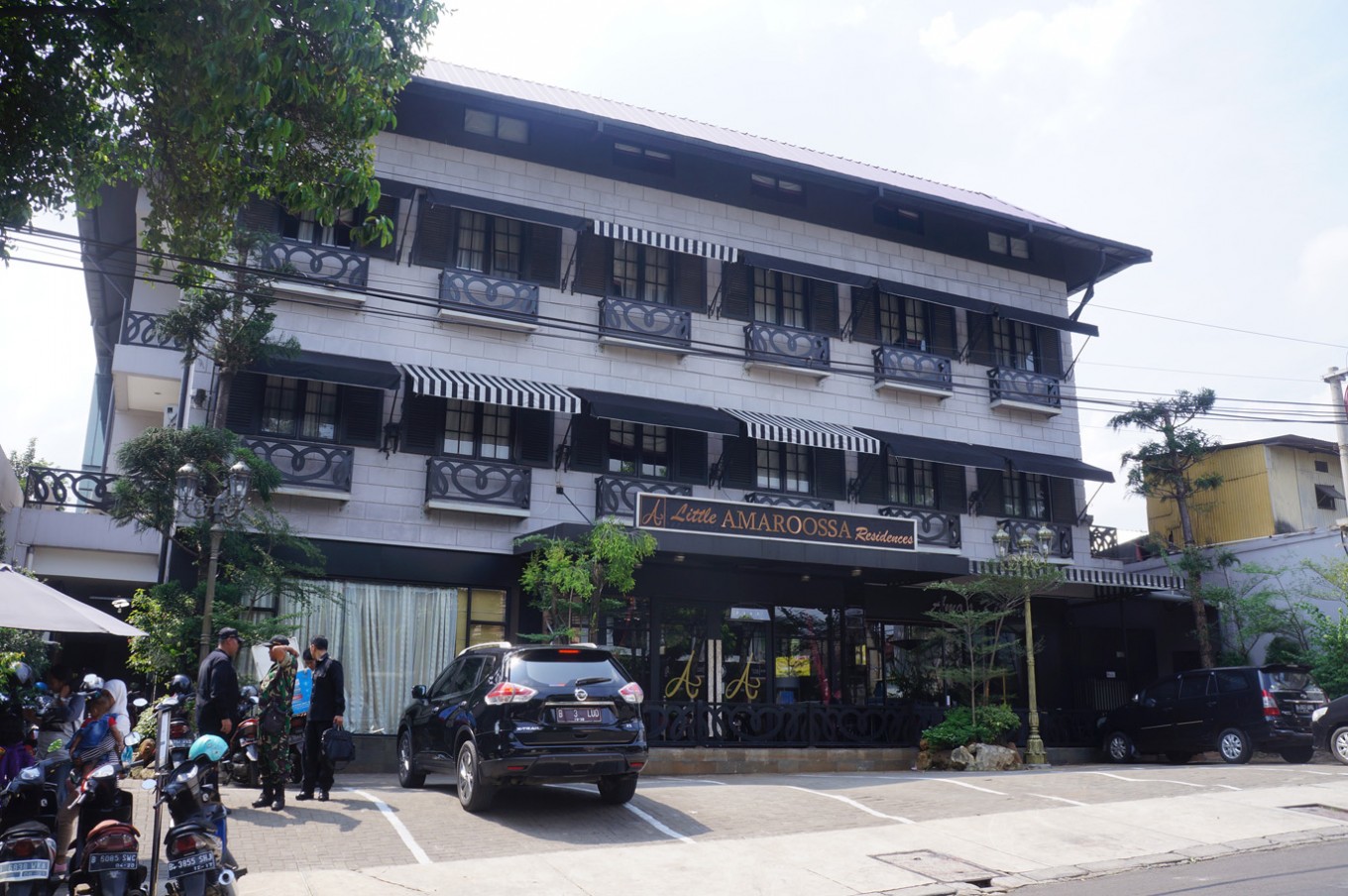 Little Amaroossa Residence provides rooms, a restaurant and bar, gym and meeting rooms.(JP/Bayu Widhiatmoko)
Those who are looking for accommodations on Jl. Cipete Raya may want to try staying in the three-star hotel Little Amaroossa Residence. The hotel's facilities include a bar, restaurant, gym and meeting rooms. Room rates via online reservations starts from Rp 325,750.
Tips
-Call prior to visiting Epilogue. Restaurant manager Ivan Sullivan told The Jakarta Post that the restaurant's opening hours and menu may change from time to time.
-When there are not many customers around, try asking Jakarta Coffee House's baristas if they could teach you to make your own latte. They will be glad to teach you. (asw)
Topics :
Join the discussions