Japan's capsule hotels catching on among tourists from abroad
Yukako Oishi

The Japan News/Asia News Network
|

Mon, December 4, 2017

| 05:36 pm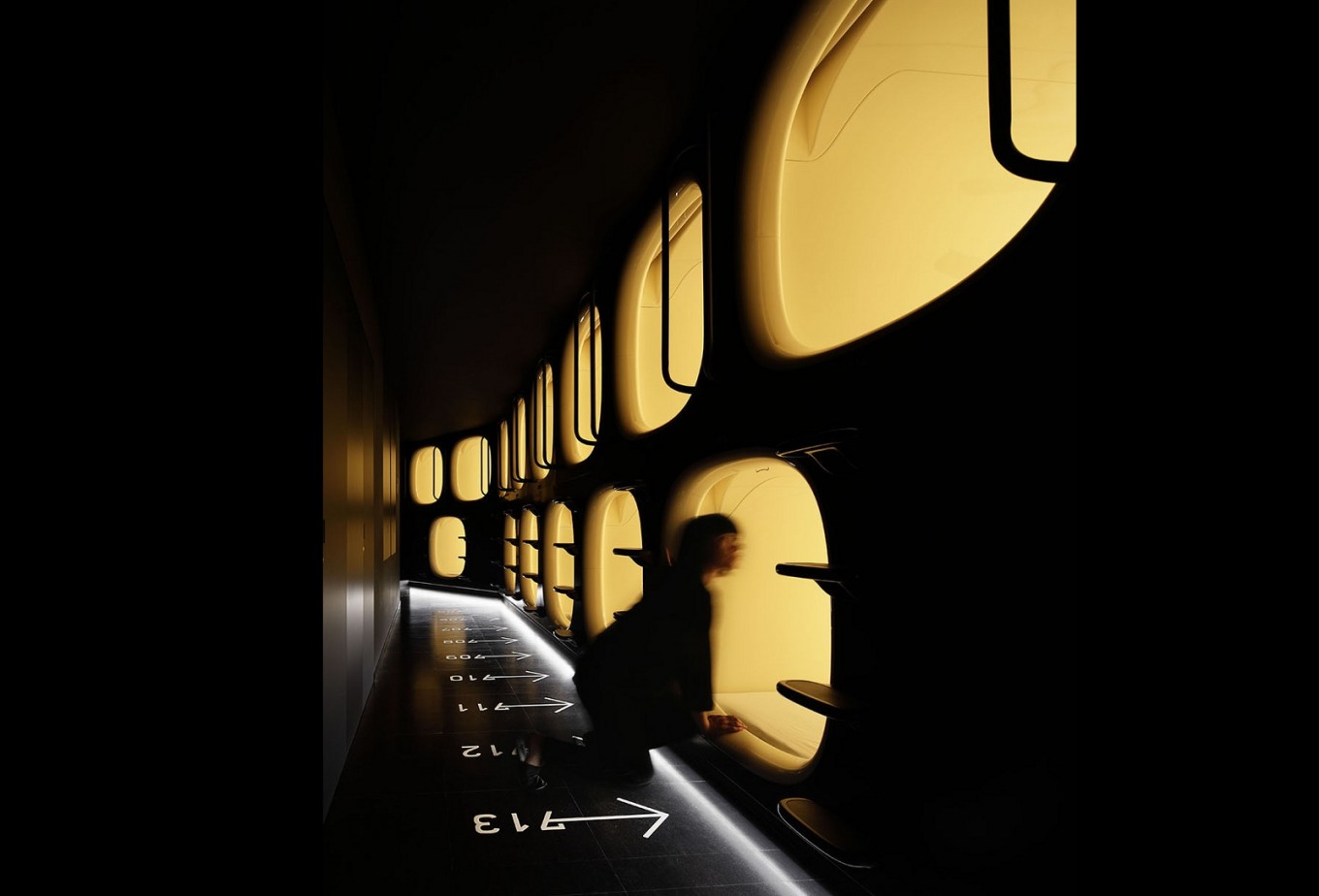 The look of the capsule rooms at Nine Hours Woman Kanda in Chiyoda Ward, Tokyo. (Nine Hours Woman Kanda/File)
Many capsule hotels that target foreign tourists have opened recently, with vacationers apparently drawn to their reasonable fees, high-quality facilities and interior designs that allow guests to experience a slice of Japanese culture.
Nine Hours Woman Kanda, which opened in July near JR Kanda Station in Tokyo, is a capsule hotel exclusively for women with prices starting at ¥4,900 per night. According to the operator, 30 to 40 percent of its guests are foreigners.
Inside the hotel, rows of "sleep pods" seem to float in a dimly lit hallway, creating a somewhat futuristic atmosphere. It was established by Nine Hours Inc. — a company that develops up-to-date capsule hotels — and JR East Urban Development Corp. Both companies are headquartered in Tokyo.
The facility is equipped with comfortable mattresses and high-function showers. Signs in the locker room and other areas contain not only Japanese and English but also pictograms to facilitate understanding. Foreign tourists value such amenities because they provide a sense of security.
Nine Hours operates four similar hotels in Japan besides the one in Kanda. According to company founder Keisuke Yui, foreigners account for about 50 percent of guests at its hotel in Shinjuku Ward, Tokyo, and up to 90 percent of guests at its hotel in Kyoto.
Read also: Five capsule hotels to stay at in Jakarta
"We work hard to ensure functionality and comfort, and our pool of users is broadening. Foreign tourists have already recognized [our hotels] as a good base from which to go sightseeing," said Yui.
Other capsule hotels allow guests to enjoy Japanese culture through interior design and services.
Nadeshiko Hotel Shibuya in Shibuya Ward, Tokyo, a capsule hotel exclusively for women operated by Tokyo-based Usen Corp., features an interior design inspired by Japanese culture. Elements include group spaces with tatami mats and a bathhouse with a picture of a red-hued Mt. Fuji on the wall.
Guests can enjoy a meal in the first-floor restaurant while wearing a yukata summer kimono.
Guests can also pay extra to rent a regular kimono. The hotel offers a service in which guests in kimono stroll around Shibuya Station while being photographed by accompanying staff.
"Seventy percent of our guests are foreigners. Word is spreading on the internet and other media that they can communicate with Japanese guests or enjoy Japanese culture [at our hotel]," said Sayaka Shimizu, Usen's public relations manager.
Read also: Smart unmanned capsule hotel opens in Chongqing
The Prime Pod Kyoto, a capsule hotel that opened in Kyoto in February, is replete with Kyoto's traditional atmosphere. It features a Japanese-style shared space that resembles a traditional terrace restaurant near the river, lighting that resembles traditional lamps, and sleeping capsules made of plain wood.
There are also capsules with wide entrances so foreigners with larger frames can easily enter them.
Capsule hotels are said to have originated in Japan, with the first one opening in Osaka in 1979. Takashi Shimizu, senior consultant at Urban Research Institute Corp., said, "They're still unfamiliar to foreigners, so staying at capsule hotels itself can be a way to experience Japanese culture."
The number of capsule hotels is expected to increase as more foreign tourists come to Japan. "[The capsule hotel business] has a great advantage because facilities can be prepared speedily at relatively lower cost than creating a new facility by using vacant offices and other buildings," Shimizu said.
Topics :
This article appeared on The Japan News newspaper website, which is a member of Asia News Network and a media partner of The Jakarta Post
Join the discussions