Tour agencies turn to delights of Jakarta
News Desk

The Jakarta Post
Jakarta |

Thu, January 11, 2018

| 08:26 am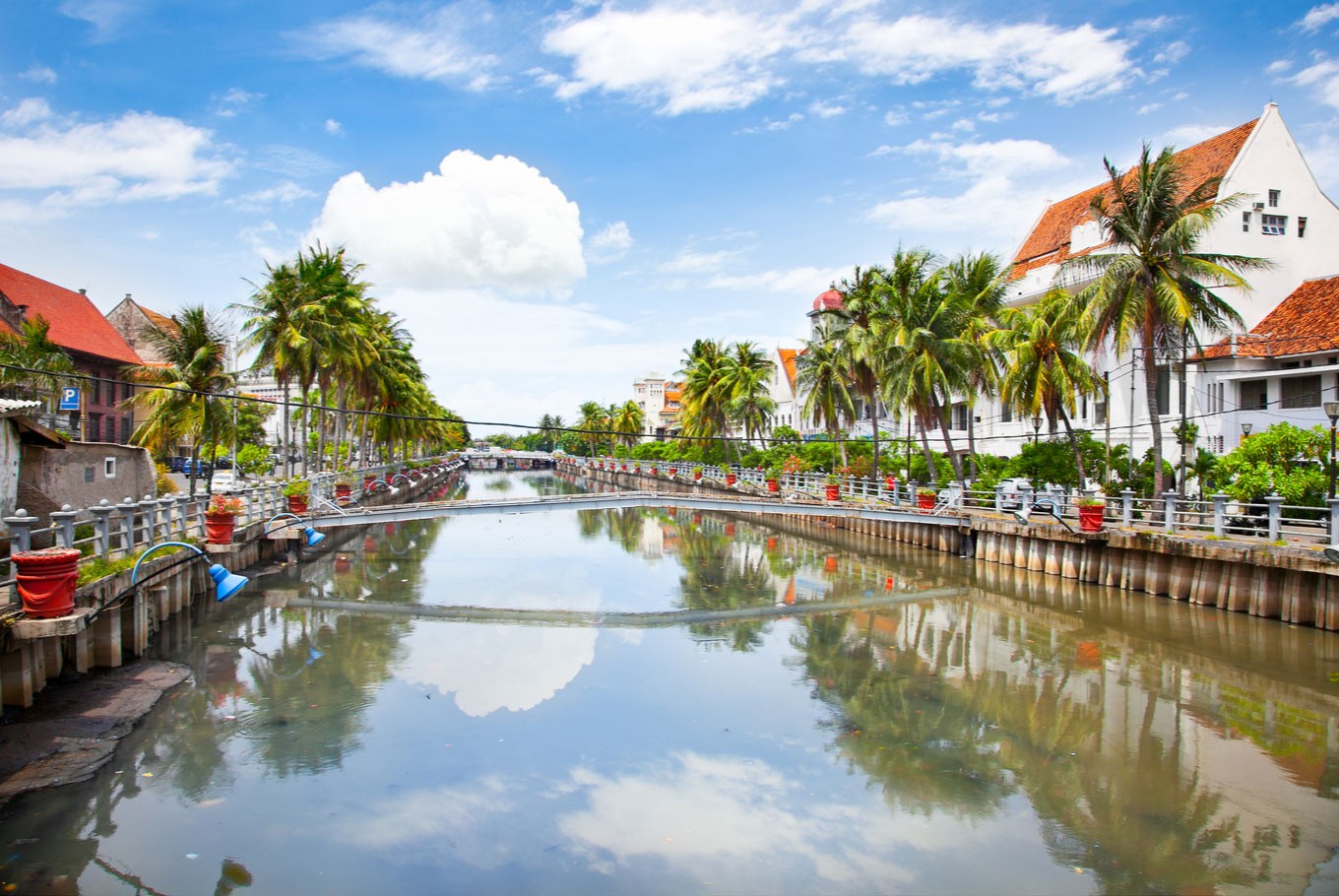 A river in Kota Tua area, Jakarta. (Shutterstock/File)
The mention of vacationing in Jakarta would likely think of such places as the National Monument (Monas), Ragunan Zoo in South Jakarta or Ancol Dreamland in the north. But the capital has a lot more to offer than those popular tourist spots.

To introduce the hidden attractions of the city, whose history spans more than four centuries, a group of local tour organizers have developed itineraries that they believe are sure to attract foreign and domestic tourists alike.

Jakarta Walking Tour founder Farid Mardhiyanto conceded that he had initially targeted foreign tourists as his main market. But as his business progressed, he noticed that many of the walking tour participants are from Greater Jakarta.

As a result, the agency now offers two tour packages: regular and weekend.

In the regular package, participants will walk through various historic destinations, such as Kota Tua, China Town and the City Center.
Read also: Jakpost guide to Glodok
Also available are culinary tours for both visitors and residents to sample the abundant offerings of Indonesia's culinary delights and night walking tours of Kota Tua.

The weekend package, meanwhile, consists of museum trips and visits to several well-known shopping destinations in Jakarta, such as Manggarai and the Blok M department store in the south, and Pasar Baru and Thamrin in Central Jakarta.

"Most of the local participants prefer the weekend tour package," Farid said.

To join a pay-as-you-wish city tour, interested participants can register at the Jakarta Walking Tour website: jakartagoodguide.wordpress.com.

Fellow tour organizer Ira Lathief, who founded the Jakarta Food Traveler culinary tour last year, lauded Farid's efforts, saying she had created the tour to introduce Indonesian food to foreigners.

"However, I quickly realized that there are many Jakartans who don't have a good impression of their own city," said the journalist-turned-tour guide.

"I decided to add more routes that are unpopular with Jakartans, so I can show them that there are many interesting things you can find in this city."

For Rp 150,000 (US$10.50), travelers can have a taste of local traditional dishes, while learning about the city's history.

One of the participants of Jakarta Walking Tour, Calvin Budianto, said he joined the activity out of curiosity after coming across the agency's Instagram account @jakartawalkingtour.
Read also: Six Indonesian mountain peaks to climb this New Year
Though the 23-year-old has spent most of his life in Jakarta, he conceded that he still had a lot to learn about his hometown's history.

"There are a lot of interesting facts about Jakarta that I didn't get to learn at school," he said.

During his experience walking through Kota Tua over the weekend, Calvin said the tour guide offered a plethora of interesting information about every landmark or building his group came across.

The tour also brought him to the Dutch East Indies Company (VOC) shipyard, Tongkol village and Sunda Kelapa Port.

"I was impressed by the tour guide's knowledge about every nook and cranny of Kota Tua," Calvin said.

An avid participant of Jakarta Food Traveler, Roisya Rosidiana, 40, said she joined the culinary trip to learn more about Jakarta and to meet new people.

"Aside from making a lot of new friends, I also got to learn about the city's history, which is very interesting," said Roisya, who recently moved to the capital from Malang, East Java.

According to Jakarta Tourism and Culture Agency data, more than 35 million domestic tourists and about 2.4 million international tourists visited Jakarta last year. (dpk)
Topics :
Join the discussions