The revival of Bhinneka Tunggal Ika among the younger generations
Narendra Raharja Kusuma

A senior in the British School of Jakarta with a strong passion in the healthcare sector and politics
Jakarta |

Tue, November 22, 2016

| 04:14 pm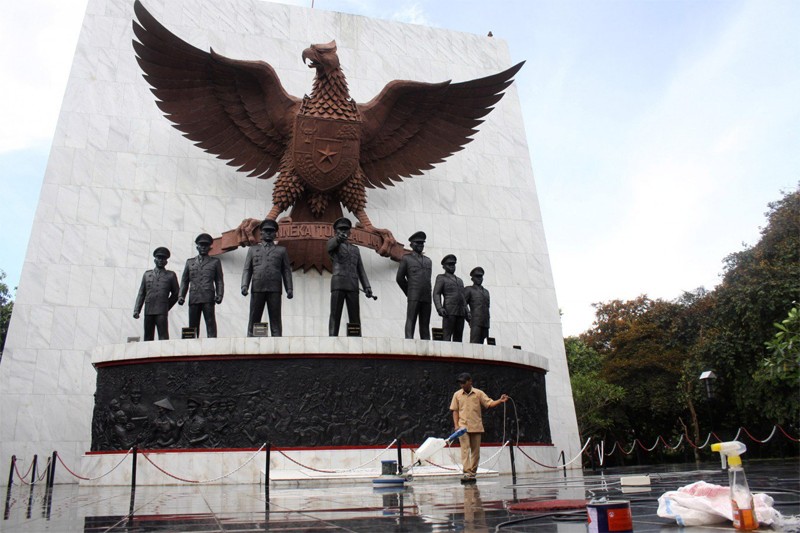 A man sweeps the floor of the Potent Pancasila Monument in East Jakarta on Sept 26. (Antara Photo/Risky Andrianto)
In the 21st century, an era that has media culture as its backbone, it is considered normal for adolescents to prefer listening to Ariana Grande, wear Forever 21 clothing and watch American sitcoms.
In addition to that, Indonesia's music and media culture are slowly adapting to the style of Western media. While internationalism is essential for developing a more united global community, the immense influence of pop culture has resulted in the loss of connection to our Indonesian roots, specifically our own culture.
Being raised in Indonesia my whole life, I have been greatly exposed to two ideological extremities. The first is the seemingly nonexistent sense of international tolerance within the youth generation of Indonesian national schools and the second being the polar opposite, where Indonesian students in international schools are losing their sense of nationalism or pride for their country. This resulted in the creation of an ideological divide, where students from national and international schools would have significantly different perceptions in regards to improving the national and international community, which also could potentially impede the development of a truly democratic Indonesia by causing intolerance.
Bhinneka Tunggal Ika is the phrase that former President Sukarno and Vice President Bung Hatta officially announced as our national motto and which translates to 'unity in diversity'. This phrase is often considered as part of Indonesia's identity, an identity that resulted in Indonesia being a role model for pluralism and unity for the rest of the world.
However, in recent times, it seems as if the Bhinneka of Indonesia is increasingly becoming endangered. I have been taught to believe that grownups are not always correct and it is now that I realize the truth behind that claim. Whether it is the fight to prosecute Jakarta Governor Basuki "Ahok" Tjahaja Purnama for alleged blasphemy or the intolerance toward other local ethnic groups, national adult-led organizations supporting racial and religious intolerance have been setting a dangerous example for the youth generation of the country.
I am a Chinese Indonesian as well as a practicing Muslim and many in my position often say that we are the outcasts of the country, but I have never felt this way even though many religious groups have a disdain for Chinese Indonesians and often Chinese Indonesians themselves are uncomfortable with Islam. This is just an example of the intolerance that is becoming more prevalent nationwide. However, this mentality is outdated as it is an ideology that is derived from decades of fear toward other ethnicities, as well as the insecurities the previous generations have about maintaining the old power structures.
(Read also: Language endangerment in multilingual Indonesia)
The beauty of Indonesia is that despite separatist movements often causing disarray between different communities, a majority of the people still have that defining identity of Bhinneka Tunggal Ika as a platform for tolerance and pluralism. Take the tradition of halal bihalal as an example; this is not an international Muslim tradition. It is unique to Indonesia. Halal bihalal is a post-Lebaran celebration when the elders of communities host feasts and celebrations for all races, religions and ethnicities whether they are Hindu, Catholic, or foreign, which not only maintains harmony within the community, but it is also an aspect of Indonesia's society that is often admired by other nations.
However, this beauty will not last very long if the younger generations of the country are raised to believe that using religion and race as a political tool to destroy opponents or as a reason to cause civil conflict is acceptable. I am frequently disheartened whenever I see teenagers supporting racial and religious intolerance, especially through discriminatory posts on social media platforms like Facebook.
Tolerance of one another is a key ingredient for developing a truly democratic nation. We pride ourselves as a country of democracy, yet racial and religious discrimination often influences the process of democratic elections, such as the 2017 gubernatorial elections in which chauvinistic groups are trying to persuade communities, including the youth generation, to not vote for a candidate because of his or her racial or religious status. As a result, it is often the discriminated-against individuals, who truly care for the country and the preservation of Indonesia's exemplary democracy, who are ostracized from the political scene and thus we, as a nation, still continue to be dominated by power structures formed during 20th century Indonesia and fail to progress into a genuine democracy. It is simply not enough to brand ourselves as a democracy when racial and religious intolerance is common within all aspects of life and politics in the country.
Indonesia took a great step toward improving democracy by electing President Joko "Jokowi" Widodo in 2014 when, for the first time, a man who was not affiliated with the military or the New Order became our head of state. However, what we now realize is that this form of democracy breeds adversaries, especially ones with people who fear losing power as a result of a paradigm shift in national social ideologies in regards to transparency and leadership.
Indonesia's democracy is now gradually becoming less stable and separatist movements across the country want to dismantle the progress Indonesia has made in achieving true democracy by trying to incite chaos within civil communities in order to maintain old power structures or prevent people of certain races or religions from becoming leaders. These movements would misuse religious teachings and utilize traditional racial intolerance in order to create political instability.
(Read also: Unbalanced wings of Indonesian politics)
However, this can be easily defeated when 'unity in diversity' once again becomes the bedrock belief of the youth generation, especially since now when Indonesia's democratic progress needs to be preserved more than ever. It is time for the youth generation to take over the role of developing Indonesia.
Many will try to go against a tolerant and progressive mentality in regards to fighting for a truly democratic Indonesia and many will try to halt Indonesia's progress by igniting a flame of fear by trying to establish a detrimental perception of certain races or religions posing a threat to the nation.
Nevertheless, it is only when the young generations, who are the future of Indonesia, set aside all religious, racial and other differences, hence becoming truly united, that these invidious individuals from previous generations will become powerless when attempting to impede the dream of reaching true democracy. It is time for the younger generation to disregard the influences from national separatist movements because it is from our substantial diversity – Balinese, Batak, Chinese Indonesian, Sundanese, Papuan – that a truly formidable and democratic Indonesia can finally be formed.
---------------
Interested to write for Youth channel at thejakartapost.com? We are looking for information and opinions from students with appropriate writing skills. The content must be original on the following topics: passion, leadership, school, lifestyle ( beauty, fashion, food ), entertainment, science & technology, health, social media, and sports. Send your piece to [email protected], subject: YOUTH. For more information click here.
Disclaimer: The opinions expressed in this article are those of the author and do not reflect the official stance of The Jakarta Post.
Topics :
You might also like :
Comments