By Muthi Achadiat Kautsar, Jessicha Valentina, Wening Gitomartoyo and Asmara Wreksono
At a certain point in life, one may consider acquiring branded goods for many reasons. For those who have seen the finer things in life, the desire to own a luxury item might naturally surface as they become accustomed to appreciating good craftsmanship, high quality materials and good designs, among other things.
A career woman with a penchant for fashion, 32-year-old Kezia Ponggawa-Haminoto, told The Jakarta Post that she started to become familiar with luxury goods in her teens, as she observed her grandmother's and her parents' styles. She proceeded to satisfy her curiosity by flipping through lifestyle magazines.
"Most of the luxury items I had in the beginning were hand-me-downs from my mother," Kezia, who is vice president of business development for the Hamdok Group, told the Post, adding that the first luxury item she bought and is still using is a Chanel flap bag. Meanwhile, the oldest luxury item she has is a Rolex bracelet watch previously owned by her grandmother.
"It has a historic value as it has been passed down through the generations in my mother's family," said Kezia, who is also the art director consultant of tinkerlust.com.
Indeed, among the many values of luxury items is their ability to stand the test of time, if they are well taken care of. Being fortunate to receive valuable hand-me-down and family heirlooms, Kezia stores her prized items where humidity is low and exposure to direct sunlight is nonexistent. She also takes her bags and shoes to reputable cleaners, while her watches are regularly maintained in their brands' own service centers.
When it comes to making her own purchases, Kezia does it with a lot of care and consideration.
"Do the goods suit my personal style and daily activities? How about the material? Is this a seasonal item or would I be able to use it for a long time?" These are among Kezia's main considerations.
Similar to Kezia, Elvara Jandini Subyakto regards materials as an important factor when deciding to buy luxury items.
The number of items produced, however, is also of concern to her.
"I will not buy something when too many have been produced," Elvara, who is a creative director of fashion brands Labeltiga and EJS, told the Post.
With an eye for limited-edition items, Elvara said that the oldest luxury good that she keeps now is a Chanel 2005 bag released in 1999 that is also known as the Butt bag. She keeps the bag because of its unique design and she said she thinks it would look great on her daughter, Kaja, when she becomes a teenager.
Both Kezia and Elvara admitted that branded shoes are the items they buy more often than bags and ready-to-wear outfits. Kezia said that she is very selective of models when it comes to bags and she will carefully consider whether the prices are reasonable.
A glimpse into
Indonesia's luxury market
Bags, as well as leather goods, are among most attractive luxury items for Indonesian customers, according to Irwan Danny Mussry, president and chief executive officer of Time International, the current holder of the retailing rights for and the authorized sales points of more than 60 international luxury brands, including timepiece and lifestyle brands like Rolex, Hublot, Fendi and Chanel.
However, aside from seeing knowledgeable luxury goods consumers among the younger members of affluent families, the Indonesian market also sees new customers whom Irwan describes as millennials and those from 35 to 40 years of age on the higher end, who are well-informed.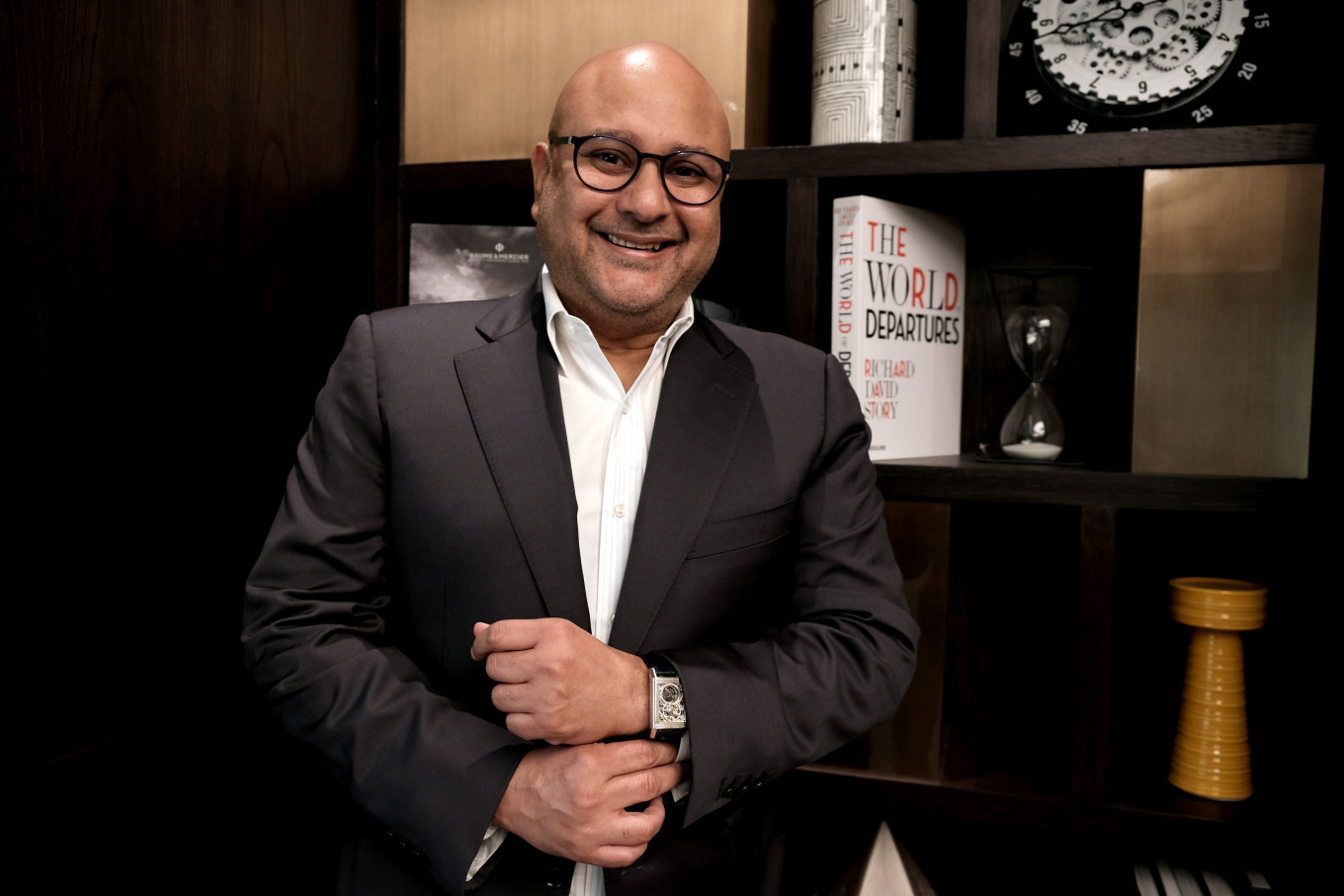 Irwan Mussry, president and chief executive officer of Time International
"We have a high percentage base of new customers every month coming through, […] close to 50 to 60 percent, which is fantastic for the future of our market," Irwan told the Post, adding that the new customers love luxury as a lifestyle.
"Obviously, they started young, depending on which category, […] business owners or professionals, but they start young," said Irwan.
He said that the amount customers spend in one shopping session on average varies depending on the brand.
"It goes all the way from Rp 3 million to Rp 5 million (US$215 to $359) to a couple of hundred million," he said.
A budget between Rp 3 million and Rp 5 million could get a customer a silk hair accessory from Fendi, for instance, while Rp 200 million could buy a new Rolex watch. Furthermore, within this price range, one can spend about Rp 13 million for a Valentino Garavani Rockstud ankle strap pump or Rp 80 million for a classic Chanel handbag.
Aside from leather goods, Irwan revealed that Time International's clientele is also into watches and that timepieces form the biggest bulk of the business.
An insight into the market for watches in Indonesia came from Charles Sutanto, who likes to collect watches and is a contributor to Deployant, a web magazine and collector's community that provides information on watches.
"Indonesia is a big market that is quite attractive. It's not yet maturing, so the people are still hungry for information," said Charles.
He said that as a market for luxury timepieces, Indonesia is a late-bloomer, especially compared to neighboring country Singapore, which has very active watch retailers with vast selections. Furthermore, Charles praised the existence of The Time Place, a multi-brand luxury timepiece boutique.
"[The Time Place] not only offers household names such as Rolex and Breguet, but also tries to represent independent watch brands. Hence, [there are] more options for the collectors and I think the Indonesian market still has room for growth," said Charles.
Luxury goods for the sense of belonging
For collectors like Charles, watches are more than just time-telling devices.
"If we buy an expensive timepiece, I think it's not about a watch anymore," said Charles, who likes to pursue rare timepieces from independent watchmakers. "I think it's a work of art. It's a representation of the watchmaker as an artist."
Charles explained that independent watchmakers are those who are not part of large conglomerates like Richemont (whose portfolio includes Roger Dubuis, Jaeger LeCoultre and Panerai), LVMH (Zenith and Hublot) and Kering (Girard Perregaux and Jean Richard).
Furthermore, Charles said he enjoyed the experience of pursuing the watches he desired, including when he interacts with the watchmakers, becoming their friend and attending gatherings with a close-knit group of collectors and the watchmakers themselves.
"Every year we meet in Basel [during the Baselworld watch and jewelry trade show in Switzerland]. We have what we call an 'independent dinner', attended by our fellow [independent watch] collectors and watchmakers. We catch up with each other, everyone sharing life updates, ideas […]. That's the most fun part [of collecting]. We get updates on what the watchmakers are working on, trying to understand what they think," Charles said.
"It's now mostly about the community," he said, adding that he loves sharing knowledge with new collectors.
New York City-based Investopedia, a website focusing on investing and financial education, pointed out that increasing self-esteem and obtaining a sense of belonging are among the many reasons behind the pursuit for luxury goods. People also use them to mark an accomplishment and as a reward to themselves after the hard work they had done.
Although somewhat irrational, there is a need for luxury goods and the authenticity of the goods also matters. It is the sentimental value of the item, comprising pride and excitement when purchasing a genuine luxury good, that complete the whole experience.
'Preloved' luxury, a lucrative market
To own authentic, branded luxury goods is a hard-to-resist temptation, even for those whose incomes don't meet the minimum threshold to make them affordable. When wearing fakes is not an option, "preloved" luxury goods are the closest option to becoming owners and/or collectors.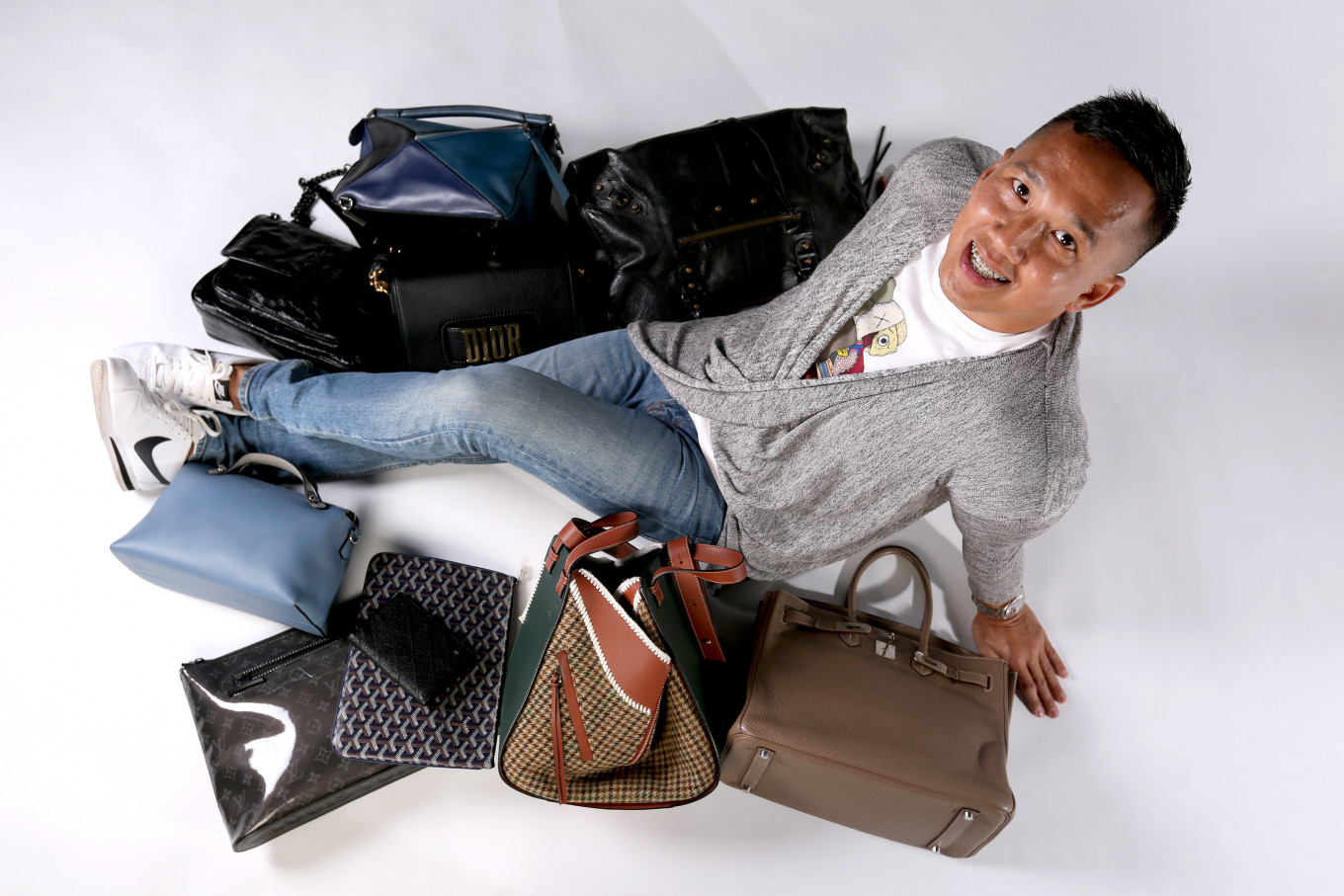 Wisnu Darmobroto, secondhand luxury goods online seller
Enter Wisnu Darmobroto, one of the most prolific luxury goods online sellers since 2012, whose catalog includes brand new and pre-owned bags and accessories.
Starting off with his circle of friends, Wisnu's customer base grew steadily in the past five years. "My friends – who are satisfied with my goods and services – recommend me to their other friends," Wisnu said.
His customer base grew exponentially so now he serves not only Jakarta but other provinces in Indonesia such as Java, Sulawesi and more. International customers have also made his list, coming from the United States, Australia and Singapore.
Aside from selling his goods, Wisnu's services also include consignments, helping collectors sell their bags.
"Helping people sell their bags requires its own process and terms and conditions. I have to physically check the bag first. If everything's good, I take pictures of the bag and then put it up on my Instagram account to sell it," he said.
Earning a good reputation as a trustworthy pre-owned luxury items seller, according to Wisnu, was not easy. "It is one of the hardest obstacles in this business. We don't know the customers at first and the goods we sell are expensive. There is a certain difficulty to build trust with the buyers. I give a money-back guarantee to assure customers that the goods I sell are originals. So, if in the future they find out that the bag they purchased from me is not original, I will pay them the full amount of what they spent."
On selling his goods, Wisnu plays the top arena. The most expensive item he has sold so far was a Hermés bag with a price tag of Rp 350 million.
A positive view on the pre-owned market is expressed by Irwan himself, who thinks it is a lucrative new business and also a lifestyle.
"It actually helps our main business. When the secondary market is very high [in] demand, people look for the new piece. I think it's […] a market itself that supports the main market," said Irwan.
While consumers can browse goods offered by Wisnu through his Instagram account and follow up personally, they also have pre-owned marketplaces like Tinkerlust as another option.
Aiming to connect pre-owned item sellers with digital-savvy buyers, Tinkerlust sells pre-owned high fashion brands such as Chanel or Hermés, as well as fast-fashion labels like Forever 21 and Zara.
However, apart from fast-fashion items, those that are most popular among Tinkerlust's users are the affordable high-end brands like Kate Spade, Tory Burch and Coach, or the mid-tier luxury, as the marketplace's co-founder and CEO Samira Shihab puts it.
Regardless of what items and what brands are most popular, Tinkerlust has a mission to empower more women and to help overcome the negative effects of over-consumption in fashion.
Samira said that one of the reasons why she founded Tinkerlust was because women have a lot of items but not a lot of time to sell.
"But I think […] the more important thing that drives me every day is […] women have so many roles to serve and very limited resources. One of the things we women are guilty of is that we find worth in what we wear and how we present ourselves," said Samira.
Spending on what really matters
Through Tinkerlust, Samira tries to help women look great without sacrificing what's really important, including the education of their children or travel. Either the women can purchase the items that make them look great for a lower price, or, on the other hand, sell their collection to earn money and benefit themselves or their family.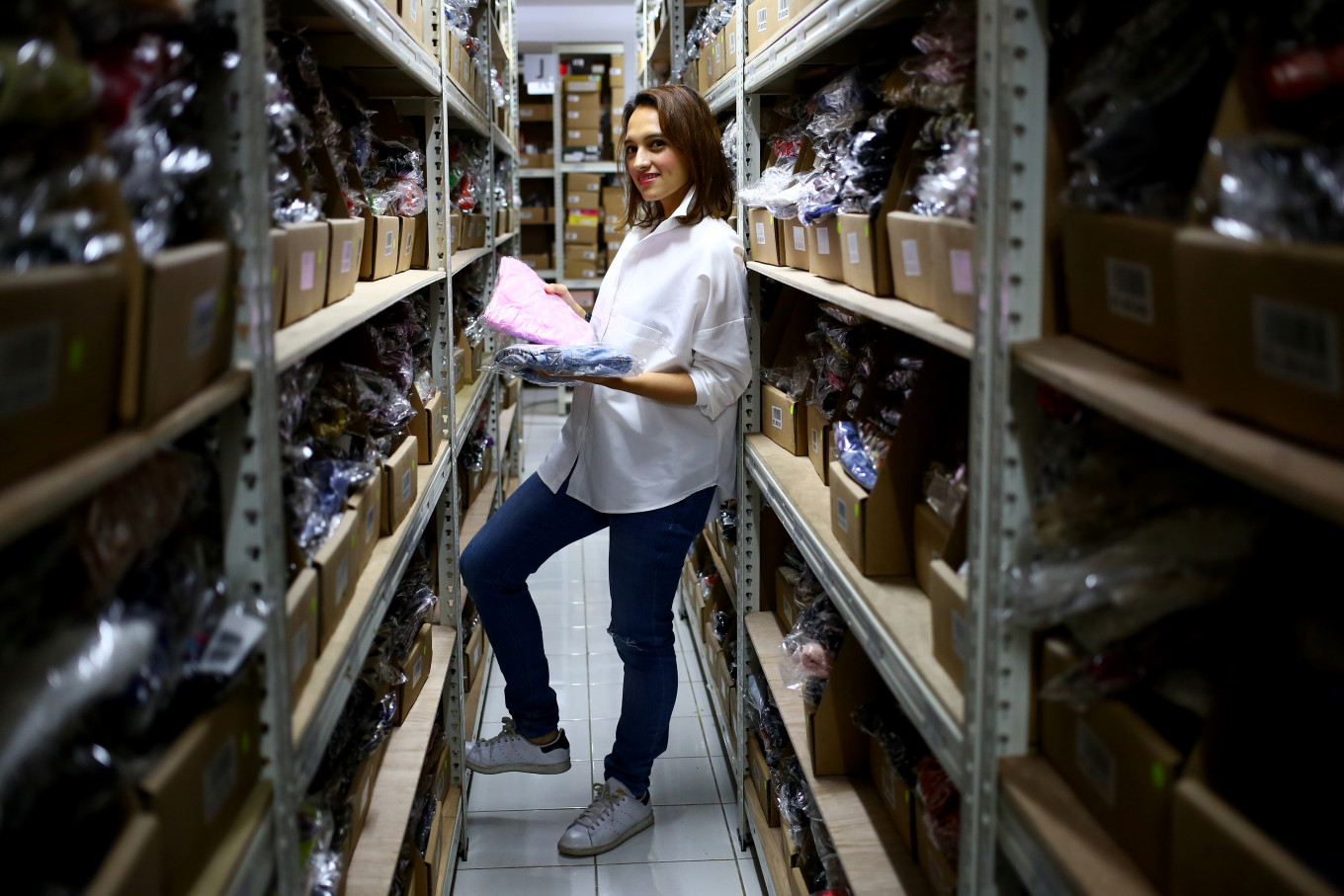 Samira Shihab Co-founder and CEO of Tinkerlust
A piece of advice from Samira is that we should spend money on the things that actually matter. For those with spending power, it might be a good idea to shift their focus from fast fashion to luxury goods that matter more. The latter, which you might have obtained with a bigger effort, hence you appreciate more highly, is more sustainable as you are likely to keep it longer and even pass it to the next generation. ***