Do you ever count the amount of waste you produce?
Greater Jakarta, with more than 30 million people, sends more than 14,000 tons of waste to eight landfills every day.
To put it into perspective, the waste that Greater Jakarta has produced in the past three years could fill up Jakarta's tallest skyscraper, the 310-meter-tall Gama Tower.
The gigantic flow of trash, coupled with poor waste management, has brought the metropolitan area into a crisis.
Some of the landfills are already overloaded or face the risk of becoming overloaded. Soon, Greater Jakarta residents will run out of places to dump waste.
The crisis has affected the people living near landfills. Smelly piles of waste – comprising everything from leftover food and plastic grocery bags to used diapers – cause environmental and health disturbances.
The pungent smell of garbage is enough to numb our olfactory nerves. The wastewater flowing from these trash mountains has contaminated the groundwater, which the residents use for their daily needs.
During rainy days, the same mountains will become extra slippery and prone to falling apart. This, however, does not stop the landfill workers from operating excavators to pile the waste higher – simply because they have no other choice.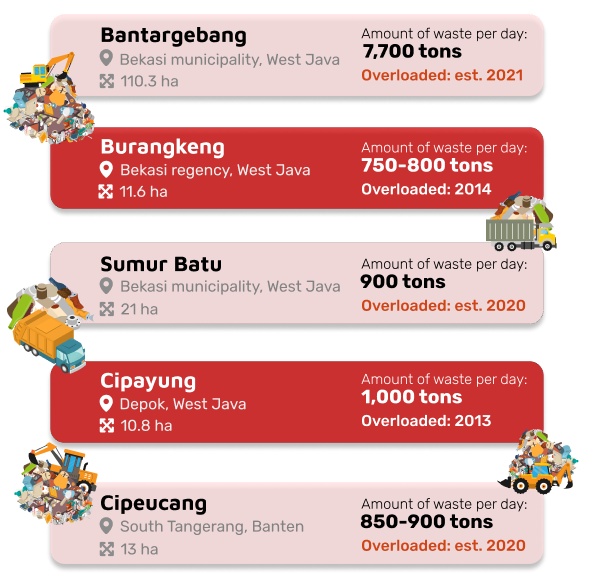 Bogor municipality, Bogor regency, Depok and South Tangerang have been hoping to dump the waste in the newly constructed Lulut-Nambo landfill in Bogor regency. However, the facility has yet to open due to a protracted payment dispute between the contractor and the investor. Adding to that dispute is the bickering between the four regencies and municipalities that want a greater trash quota for each of their regions.
In 2018, the Public Works and Housing Ministry revitalized the Rawa Kucing landfill in Tangerang by making it a sanitary landfill where the trash is compressed and buried in a pit with a protected bottom to allow it to decompose into biologically and chemically inert materials.
Bantargebang landfill in Bekasi operates a waste-to-energy plant and a composting facility.
All these innovations, however, have a limited capacity and cannot keep pace with Greater Jakarta's ever-increasing amount of waste.
To better understand this crisis, let us meet four individuals who bear the brunt of the trash we throw away every day.
---