Q&A: Introducing Santoso
Devina Heriyanto

The Jakarta Post
Jakarta |

Fri, April 8, 2016

| 04:25 pm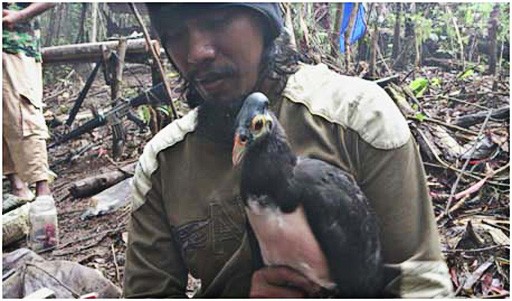 It's lunch time – A picture released by the 2016 Operation Tinombala Task Force shows a man identified as Santoso (pictured) holds a maleo, a Sulawesi endemic species. The Santoso group members are reportedly running out of food supplies. (Courtesy of the 2016 Operation Tinombala Task Force/Ruslan Sangadji)
The name Santoso has dominated the news in recent weeks. This post aims to help if you are still confused about who he is, or if you have missed it in the news.
Who is Santoso?
Santoso, aka Abu Wardah, is a former religious book seller. His inspiration and role model is Jamaah Islamiyah leader Abu Bakar Ba'asyir, who he knows from recorded preachings.
Santoso received military training in 2001 and participated in amaliyah (jihad during interreligious conflict) between Christians and Muslims in Poso from 1998 to 2001. The Poso conflict ended with the Malino Accords in 2001 and 2002 but the lingering tension and motive for revenge made the area vulnerable to terrorists and extremist activities.
(An interview with Andi Baso Tahir, Santoso's old friend, can be found here.)
Is it a new group? Why haven't I heard about him?
His group, the East Indonesia Mujahidin (MIT), has been around since 2012.
August 2012, MIT kills two police officers
September 2012, bomb attack targets police station
November 2012, shooting of a police chief
December 2012, MIT shoots four National Police Mobile Brigade (Brimob) personnel
November 2014, claims responsibility for death of 50-year-old resident M. Fadli in Tangkura village
September 2015, reportedly involved in beheading of Nyoman Astika, Hengky and another unidentified victim
April 2015, MIT beheads father-in-law of Daeng Koro (one of Santoso's allies who died in a gunfight with police) for leaking information to counterterrorism squad Densus 88
Is the MIT related to the Islamic State (IS) movement?
Santoso is a supporter of IS. In June 2014, Santoso referred to himself as the "commander of Islamic State's army in Indonesia" after IS leader Abu Bakr Al-Baghdadi stated that he intended to establish a worldwide caliphate. In January 2016, the police found evidence of money flowing from IS to the MIT, averaging Rp 2 million per transaction (the total sum is classified).
Who are the main targets?
Surprisingly, not civilians. The first victims of the MIT were two police officers, and the group later carried out a bomb attack on a police station. In July 2015, Santoso declared war on Densus 88. Civilians victims were those suspected of helping the police regarding the group's whereabouts.
How does the group continue to operate?
The group spreads warnings using flyers and text messages, telling local residents not to cooperate with the police. The MIT has displayed brutality toward those suspected of leaking information to the police.
What has been done to counter Santoso?
The hunt for the MIT and Santoso has been intensified with two operations from the National Police, who were later joined by the Indonesian Military (TNI).
What is taking so long?
The group is operating with guerrilla warfare, hiding in forests and constantly moving to avoid the police. One of the members is a former illegal logger, who knows the forests well. Poso is located in Central Sulawesi, an area with 64 percent forest coverage.
(Not-so) fun fact: Santoso and his followers had to eat anoa, maleo and cuscus, all of which are endangered species.
A story about Operation Tinombala can be found here, in the new article format on the #newjakpost.
You might also like :
Comments