Time to scrutinize Indonesia state-owned enterprise merger synergies
Kyunghoon Kim

PhD candidate at the Department of International Development, King's College London
London |

Wed, January 11, 2017

| 04:27 pm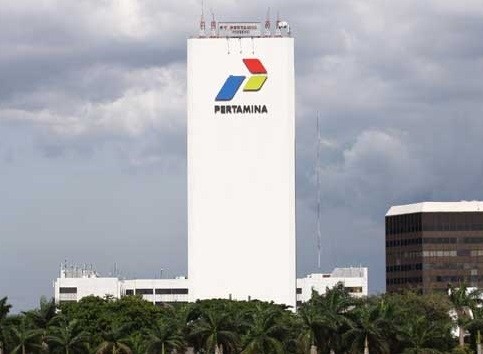 Pertamina logo is displayed on the state owned energy giant's building in Jakarta. (Courtesy of http://pertaminalubricants.com//-)
The Indonesian government under Joko "Jokowi" Widodo has begun to execute a plan to establish sectoral holding companies comparable in size and competitiveness to global leading companies. Through this plan, the government ambitiously aims to increase the number of Indonesian companies in the Fortune Global 500 list from 2 in 2015 to 6 in 2019.
In December 2015, the State-Owned Enterprises (SOE) Ministry shared with the President and the House of Representatives its plan to establish 16 state-owned holding companies. The ownership of SOEs will be transferred to each SOE's respective holding company, which in turn will be wholly owned by the government. Existing SOEs may act as parent companies of other SOEs, or new holding companies may be created to hold shares of SOEs depending on the circumstances.
In August 2016, the ministry proposed potential holding companies for six sectors. The ministry plans to designate Pertamina (oil and gas), Inalum (Mining), Hutama Karya (toll roads and infrastructure construction), Perumnas (housing construction), Danareksa (financial services) and Bulog (food commodities) to hold shares of other SOEs in their industries. Holding companies in at least four sectors, namely shipbuilding and heavy equipment manufacturing, maritime transportation, pharmaceutical and insurance, are expected to be announced in 2017.
The aim of the plan is to create synergies between SOEs. The government expects that merger or consolidation of SOEs will reduce duplication and fragmentation and create economies of scale. Pertamina has announced that the merger of its subsidiary Pertamina Gas (Pertagas) with Perusahaan Gas Negara (PGN) will raise efficiency in capital expenditure, saving at least US$1.6 billion in investment.
The government also hopes to strengthen SOEs' borrowing and investment capacities through establishing holding companies. The government believes that the plan will allow the SOE sector to raise its contribution to economic development while limiting its reliance on the state budget. For example, when a holding company is established in the mining sector, the value of corporate assets of the consolidated SOEs is expected to expand from Rp 65.6 trillion ($4.9 billion) to Rp 182.0 trillion mainly through an increase in debt leverage. After five years of establishment, the value is expected to increase further to Rp 270.5 trillion.
Indonesia's attempt to establish sectoral holding companies dates back to the 1980s, but there are currently holding companies in only four sectors: fertilizer, cement, plantation and forestry. The restructuring has been time consuming due to administrative and legal hurdles and conflicts between stakeholders.
The current plan may require even more time to be completed not only because it is more extensive and comprehensive than before, but also because many SOEs are partially listed on the stock exchange and therefore private shareholders will have to be consulted prior to executing the plan.
SOEs should use this time to their advantage. While the government focuses on devising detailed implementation strategies and preparing a necessary legal basis, it should also encourage SOEs to continuously scrutinize the synergy estimates prior to forming holding companies. Through a process of trial and error, SOEs could identify areas of collaboration, find sources of dis-synergies, and refine the estimation of post-merger costs.
In this regard, state companies in a number of industries are moving in the right direction. In December 2015, four state banks combined their automatic teller machines (ATMs) and networks to allow clients to use any ATMs managed by the group without additional fees. These state banks have also developed an integrated IT system that can read prepaid cards or electronic money issued by any of the four partners. Such strategies enable SOEs to estimate the cost of consolidation and analyze the effects of integration efforts on operating efficiency.
Some state enterprises have formed consortiums or joint ventures to carry out large-scale projects. These efforts allow SOEs to test their ability to coordinate business activities. For example, Hutama Karya, Waskita Karya and Jasa Marga plan to form a joint venture and cooperate in constructing a section of the Trans-Sumatra toll road.
Some SOEs have merged their management functions, enabling them to standardize operations and reorganize business portfolios before consolidating their ownership. The operation functions of Hotel Indonesia Natour, a state-owned hospitality company, and Patra Jasa and Aerowisata, subsidiaries of Pertamina and Garuda Indonesia respectively, were consolidated under the name of the Hotel Indonesia Group (HIG) in 2016. Hotels owned by two more SOEs have also joined the HIG, increasing the number of the group's hotels to 36, and at least 97 hotels owned by other SOEs are expected to join in the future.
When estimating the effects of holding company formation, SOEs need to keep in mind that the competitive environment will change in the future. The Jokowi administration is strongly supporting SOEs to lead economic development in certain sectors such as infrastructure, but at the same time the government is adopting liberalization policies in other sectors. Moreover, private businesses are protesting the dominance of SOEs in the economy and pressuring the government to create a level playing field.
After scrutinizing the effects of integration, the SOEs should calibrate their plan to maximize synergies and to deal with dis-synergies in preparation for holding company formation. If SOEs find that the dis-synergies and the post integration costs are expected to exceed the benefits for certain holding companies, the government needs to revisit the restructuring plan. The effects of merger or consolidation will be significantly different across industries, and therefore a one-size-fits-all approach should be avoided.
***
Kyunghoon Kim is a PhD candidate at the Department of International Development, King's College London, UK. He was previously a research fellow at the Samsung Economic Research Institute, South Korea.
---------------
We are looking for information, opinions, and in-depth analysis from experts or scholars in a variety of fields. We choose articles based on facts or opinions about general news, as well as quality analysis and commentary about Indonesia or international events. Send your piece to [email protected] For more information, click here.
Disclaimer: The opinions expressed in this article are those of the author and do not reflect the official stance of The Jakarta Post.
Join the discussions