Idolizing religious figures crushes dissent
Indiana |

Fri, March 17, 2017

| 08:57 am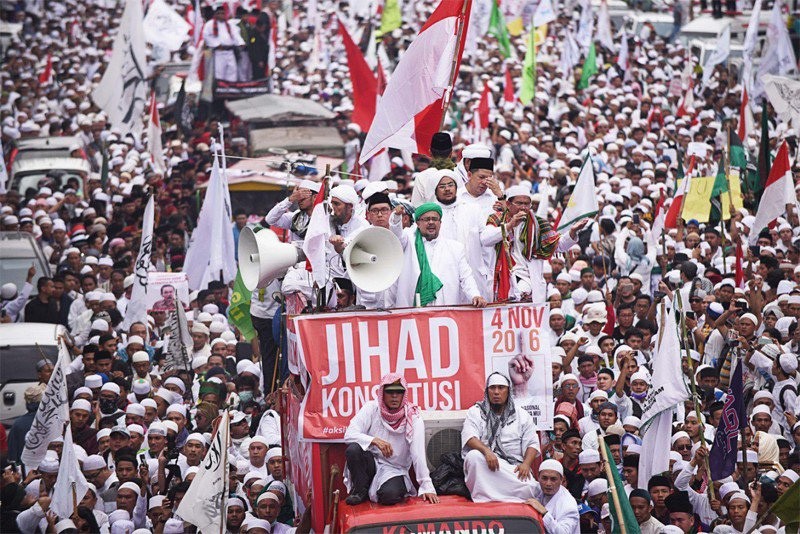 Religious protest – Thousands of people led by the National Movement to Safeguard the Indonesian Council of Ulema's Fatwa (GNPF MUI) stage a massive rally in protest against Jakarta Governor Basuki "Ahok" Tjahaja Purnama's alleged blasphemous remarks in Jakarta on Nov. 4. (Antara/Akbar Nugroho Gumay)
Despite their many differences, Islamic and Christian feminist theologies are both natural consequences of the diverse experiences of women around the world.
They converge in the crucial awareness of the dominant depiction of God in male imagery that has been the source of "divine" legitimacy for the oppression of women.
Since then, it has become a model of other violent structures, in which a group of humans is divinely elevated against other groups based on their sex, gender, skin color and sexual orientation.
Islamic feminism traces the divination of men to a non-contextualized and ahistorical reading of the Quran, in which some seemingly men-friendly verses are constantly emphasized, while verses that talk about the single source of creation of human beings, such as in the Surah An Nisa, are set aside and mostly forgotten.
In Christian feminist theology, the same divination of men is traced to the repression of crucial female roles in the events of Christ and, more importantly, in the emphasis on Jesus Christ's maleness, which is simplified to God as a male being.
Thus, both perspectives agree on a crucial problem — the idolatry of men in the way we depict symbols of God and the way we express our religiosity.
However, male idolatry has metastasized on other aspects of our lives as well. It reflects in the way we interpret the "awakening of Islam" by following cults led by male "religious" leaders, whose only claim to fame is their purported identity as "heirs of the Prophet."
It exists in our obsession over women's bodies. And most importantly, it is apparent in our willful ignorance toward silenced voices in social, political and economic spheres, such as those of the Mothers of Kendeng protesting the construction of factories around their village in Central Java and of the Papuans who struggle for their right to survive.
This idolatry of "religious" men also produces an overwhelming fear of diverse narratives that aims to shut down every dissenting voice.
This fear results in tons of hoaxes on irrational themes, such as the "resuscitated Indonesian Communist Party," a hit list of hundreds of Muslim male religious leaders and the threat of non-Muslim leaders.
We can smell the same fear in the air every time the same hardline groups conduct their protest-slash-political campaign in Jakarta.
The association of men with divine legitimacy alienates and oppresses marginalized groups, such as women, sexual and religious minorities, because it elevates a specific group of human beings to an equal position with God — just because God is supposedly male.
This divination of men, as we can see in the cultic devotion to figures like Rizieq Shihab and Arifin Ilham, place those men in a position where they can decide what is right and what is wrong in an absolutist manner.
Using this power, they draw up boundaries between "us, the righteous" and "them, the wrongdoers."
Once a group of people feel they are morally and religiously superior to others, discrimination and oppression will ensue, as can be seen in the persecution of Shiite Muslims, and lately other non-Muslim believers.
Of course, these "idolaters of men" also comprise women who are, consciously or not, complicit in or even supportive of the violent patriarchal structure they live in.
Worse, some of these women invoke feminism as a pretext for their support of explicitly violent and patriarchal ideals.
Just like Ivanka Trump with her feminist-look-alike campaigns, these women consciously preserve such idolatry by supporting male mujahideen who supposedly undertake jihad when attending any of those political rallies, or even whenever their husbands want to take a second, third or fourth wife.
Such expressions of "feminist-patriarchy" are so ingrained that it came to be picked up by our film industry a while ago with titles such as Surga Yang Tak Dirindukan (An Unmissed Heaven). We know how bad things are when such oppressive practices get picked up by industries that see that patriarchy sells.
What should we do to stop the patriarchal violence? The problem is, women actually take part in the systemic oppression of other women.
Women have used their voices, bodies and presence to support the influence of hard-line groups in Indonesia. It is not feminist when what you do strengthens the physical and mental spiritual abuse of women by campaigning for polygamy and early marriage.
Most importantly, the ideals of feminism are not limited to the liberation of women, but rather the liberation of all human beings from diverse forms of oppression.
Therefore, feminism will not go anywhere when we care about domestic violence, yet forget the suffering of Shiite minorities in Indonesia.
We will not achieve anything when we only talk about women's rights to wear whatever they want, but sweep the issue of protection and acknowledgment of sexual minorities under the rug.
Our claim to the dignity of women is only valid when we embrace the dignity of all human beings.
---------------
We are looking for information, opinions, and in-depth analysis from experts or scholars in a variety of fields. We choose articles based on facts or opinions about general news, as well as quality analysis and commentary about Indonesia or international events. Send your piece to academia@jakpost.com. For more information click here.
Disclaimer: The opinions expressed in this article are those of the author and do not reflect the official stance of The Jakarta Post.
Join the discussions