EDITORIAL: Ensure peaceful election
EDITORIAL

The Jakarta Post
Jakarta |

Sat, March 18, 2017

| 05:46 pm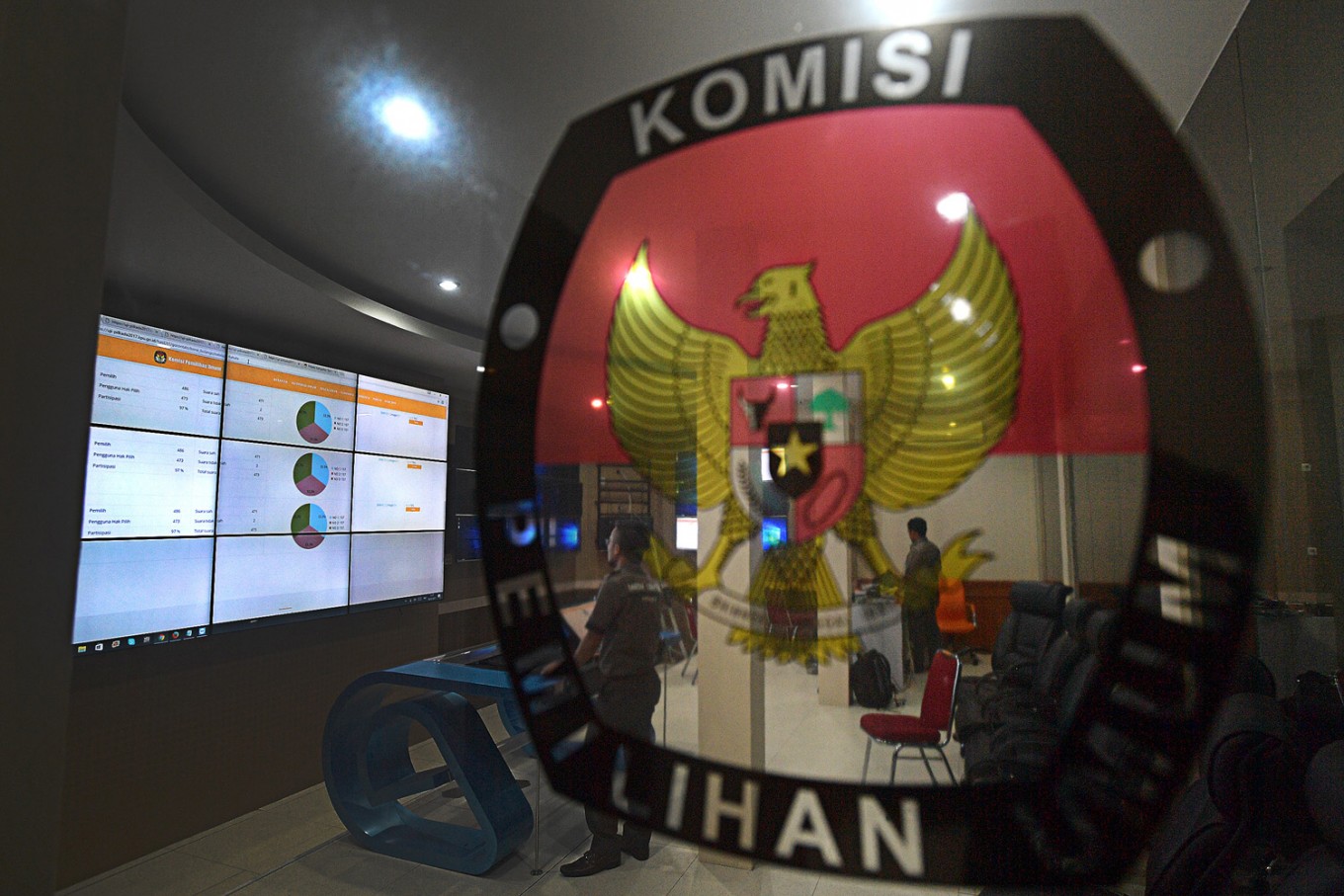 An officer at the General Elections Commission (KPU) prepares data monitors (Antara/File)
Hatred has been escalating recently, triggered by conflicting political views in relation to Jakarta's gubernatorial election. Provocative banners expressing religion and ethnicity sentiments have been placed in several public places, residential areas and even in front of places of worship.
The latest outrage was triggered by banners in front of a number of mosques in South Jakarta, which said the mosques would not perform funeral prayers for deceased fellow Muslims who were found to have supported or voted for "blasphemers" or an infidel — a clear reference to incumbent Jakarta Governor Basuki "Ahok" Tjahaja Purnama, who is on trial for insulting the Quran. The banners have taken their toll, even on the city's dead. The grieving families of the late Hindun binti Raisan, 77, a resident of Setiabudi, and of the late Siti Rohbaniah, 74, of Pondok Pinang, both in South Jakarta, said they had faced bullying from neighbors and religious leaders.
Funeral prayers for Hindun were performed at her own home as no one was willing to do so at the nearby mosque. The cleric said it was because of impending rain, while the family suspected the reason was because Hindun had voted for Ahok, as witnessed by people assisting the bedridden woman on voting day.
Meanwhile, prayers for Siti Rohbaniah were held at the mosque only after a family member signed a document indicating his support for Ahok's rival, Anies Baswedan, as instructed by the local neighborhood unit chief.
Anies' campaign team and supporters have said they had nothing to do with such dirty tactics.
What happened to the families is intolerable. Every citizen should enjoy the right and freedom to have their own political standpoint. The government must ensure every citizen is protected and not discriminated against or even intimidated for having different political views, ahead of the runoff on April 19.
As the banners have violated the electoral law and a public order bylaw, the police, Elections Supervisory Committee and public order officers must enforce the law and take steps against the offenders. They should also hunt down the brains and culprits behind the banner distribution.
Noted ulema such as Syafii Maarif of Muhammadiyah and Said Aqil Siradj of Nahdlatul Ulama have said such provocative banners are against the teachings of Islam.
Instead of expressing free speech, the spread of provocative messages on banners and also on social media are tantamount to acts of terror as they directly attack the sense of security of community members. Such acts of hate speech should be responded to firmly and swiftly, as such spiteful campaigns severely undermine Indonesia's pluralism and the foundation of democratic society.
A failure to act immediately and firmly against such acts could encourage the continuous whipping up of sectarian sentiment even after the election ends.
Authorities must find novel approaches, including by collaborating with Indonesian denizens, to better step up the fight against provocateurs of hate speech on all fronts.
Only then will Jakarta be able to significantly drown out such expressions of spite that are alien to the capital — which must remain home to people of all backgrounds.
Topics :
You might also like :
Comments