How cooperatives help ensure Indonesian women don't get left behind
Andrew Walker and Melanne Verveer

-
Jakarta |

Tue, July 4, 2017

| 02:59 pm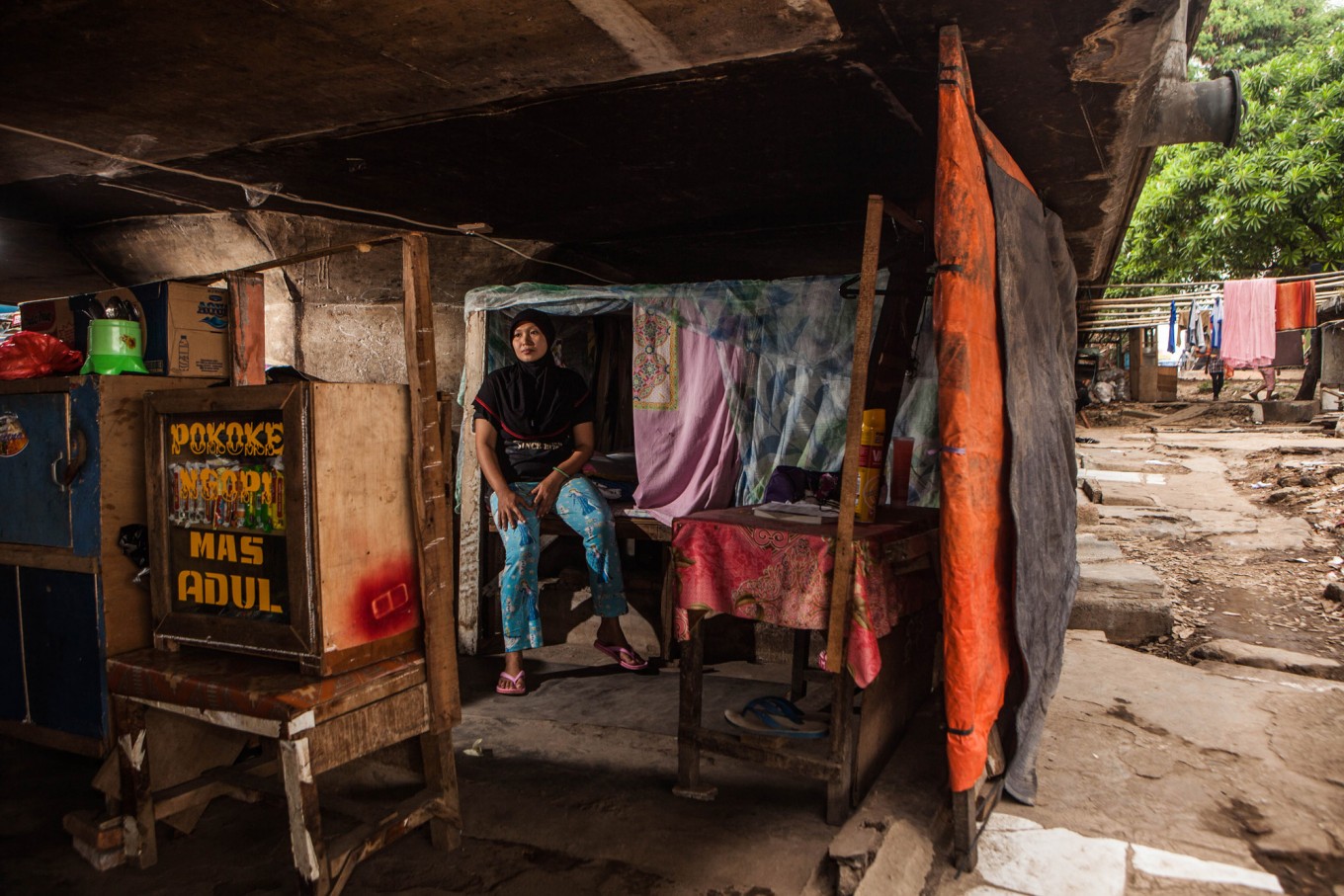 Ratnaningsih, 35, lives alone in her shack, Pejagalan, Jakarta, August 2016. She was born under the toll road but her parents went back to Lamongan, East Java, since the eviction. When business at Kalijodo was robust, she sold snacks and food at her stall. (JP/Seto Wardhana)
July 1 is the International Day of the Cooperative, recognized by the United Nations. This year's theme is inclusion.
Women working in Indonesia's informal economy face a host of challenges, from limited access to capital to a lack of legal and social protections. Joining a cooperative can help women build financial assets, connect to social services, and access new markets. This ultimately can have a positive impact on Indonesia's economy and help achieve a range of sustainable development goals.
Women's economic empowerment can boost economic growth. If women participated in the economy at the same rate as men, global gross domestic product (GDP) would increase by US$28 trillion – or 26 percent – by 2025, according to McKinsey Global Institute.
In Indonesia, women's labor force participation lags behind that of men by more than 30 percentage points. Most women who participate in Indonesia's economy do so informally, often times from their homes, while balancing multiple responsibilities. Many of these informal workers produce handicrafts and artisanal goods.
These women have limited legal and social protection, and face challenges such as limited access to capital, intensive competition, and difficulties balancing paid work with household work and child-care.
Many women turn to cooperatives for support. Studies show that cooperatives can help members to expand their business, improve the quality of their products, and compete in external markets.
Indonesia has more than 150,000 active cooperatives, with more than 6,000 in Jakarta alone. Some are women's cooperatives, particularly focused on empowering this marginalized population.
New research from Georgetown University's Institute for Women, Peace and Security —supported by the Bank of America Charitable Foundation — finds that women's cooperatives in Jakarta help women to develop more formal practices around saving, borrowing, and financial planning. They establish a pathway for the government and civil society organizations to provide financial and social services to women who they otherwise could not reach. And, they help connect women to markets on the local level.
The World Bank finds that access to capital is among primary constraints facing women entrepreneurs, and that only about a third of Indonesians have access to a bank account.
Cooperatives offer members access to capital with low-interest rates and flexibility of repayment. Many cooperatives also have a door-to-door savings strategy: cooperative representatives go to members' homes to collect individual members' savings on nearly a daily basis.
Members of women's cooperatives find cooperatives to be a positive financial alternative to formal banks or money-lenders. Members believed applying for small bank loans was too complicated, given extra travel, time and administrative costs. Women also reported difficulties dealing with debt bondage with the local loan shark, and welcomed the lower interest rates offered by cooperatives.
It is difficult for government and civil society organizations' services to reach women who work from home in the informal economy. Cooperatives provide a mechanism to connect these formal institutions with women home-based workers. As a result, women benefit from services and subsidies, like government-run insurance schemes or regulations that stipulate parts of supermarkets and shopping malls be set aside for goods from cooperatives and small and medium enterprises.
Cooperative members can receive free training by relevant local government offices (dinas) and civil society organizations on topics such as cooperative management, small-enterprise management, financial literacy, leadership development, product quality—and receive services, such as those related to women's reproductive health.
Cooperatives help members connect with local markets. Dinas and cooperatives collaborate on local exhibitions to display members' products. Cooperative leaders themselves occasionally order their members' products for special events or occasions, and cooperative members tend to view fellow members as potential markets.
Some cooperatives—such as Koperasi Pelopor Wanita —sell goods as a cooperative, including powdered goat milk and a product that improves fuel efficiency. These products have contracts nationally and internationally. Members can help produce and sell the products and benefit from the cooperative's shared profits.
DEKOPIN – the National Cooperative Council of Indonesia – as well as the Jakarta cooperatives office or Dinas Koperasi Jakarta are also looking to help expand markets by partnering with online platforms.
By providing women with access to flexible and small-scale finance, connections to services, and improved access to markets, Jakarta's women's cooperatives demonstrate that cooperatives can be inclusive structures that empower members economically and socially. On the path towards sustainable development, these cooperatives highlight how member-led structures can help achieve a range of sustainable development goals, from economic growth to reduced inequalities.
While cooperatives in Indonesia still face challenges, they ultimately are community-based mechanisms that can be leveraged to empower and include otherwise marginalized populations.
***
Andrew Walker is the 2016-2017 Bank of America Fellow on Women and the Economy with the Georgetown Institute for Women, Peace and Security. He previously worked at the Aspen Institute.
Melanne Verveer is the Executive Director of the Georgetown Institute for Women, Peace and Security. Ambassador Verveer served as the first US Ambassador for Global Women's Issues. She is a founding partner of Seneca Point Global, a global women's strategy firm, and the co-author of Fast Forward: How Women Can Achieve Power and Purpose ( 2015 ).
---------------
We are looking for information, opinions, and in-depth analysis from experts or scholars in a variety of fields. We choose articles based on facts or opinions about general news, as well as quality analysis and commentary about Indonesia or international events. Send your piece to [email protected] For more information click here.
Disclaimer: The opinions expressed in this article are those of the author and do not reflect the official stance of The Jakarta Post.
Topics :
Join the discussions