EDITORIAL: Redesigning business licensing
EDITORIAL

The Jakarta Post
Jakarta |

Wed, September 6, 2017

| 08:04 am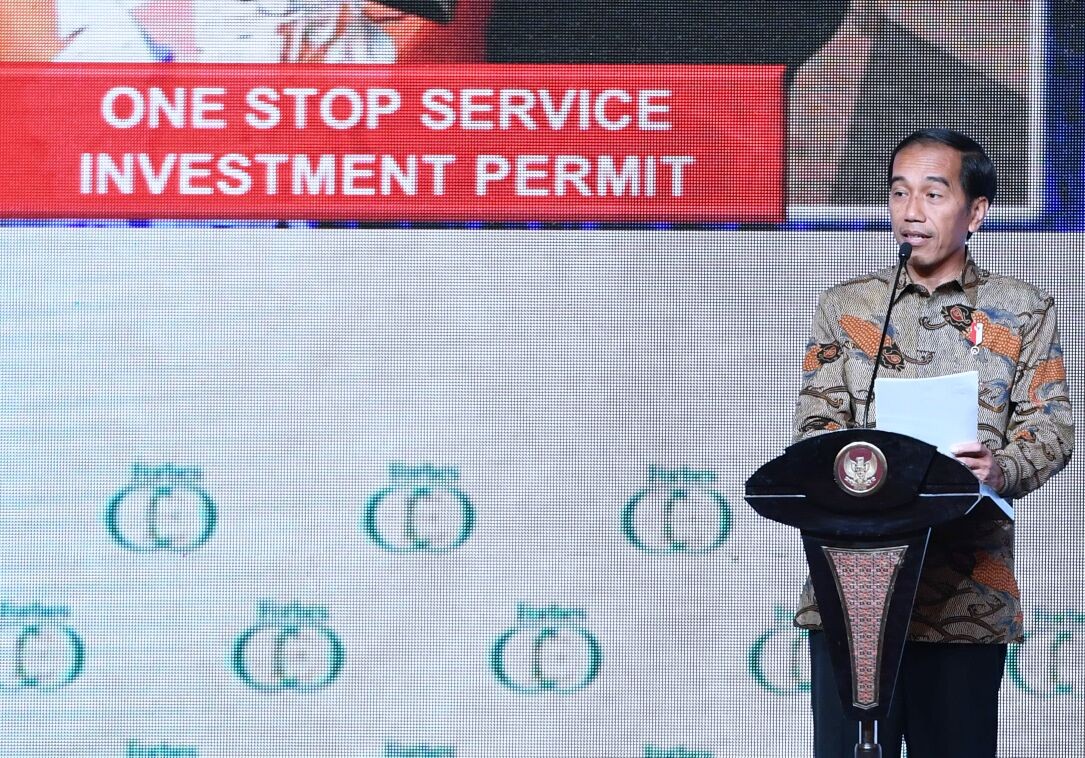 President Joko "Jokowi" Widodo speaks at an event to convince investors seeking investment permits about improved, faster services for businesspeople in Indonesia. (Presidential Office/Press Bureau)
President Joko "Jokowi" Widodo made a surprise visit to the Investment Coordinating Board (BKPM) less than one week after his inauguration in October 2014 and found the licensing bureaucracy to be messy and cumbersome. He immediately pledged to expedite investment/business licensing through a one-stop permit process center.
But almost three years later the business-licensing bureaucracy remains one of the most arduous in the ASEAN region, bogged down in a complex web of rentseeking activity, even though 16 reform packages, mostly deregulation and bureaucratic reform measures, have been launched.
The government acknowledged last week that the actual implementation rate of foreign investment projects as of last December was still very low at 27.5 percent of the total commitment licensed by BKPM. The implementation of licensed domestic investment projects was slightly higher at 31.8 percent.
That only confirms how much of an uphill struggle the task of coordinating and synchronizing business permit processing is, mainly because of strong opposition from vested-interest groups at the central government and at regional administrations that benefit from the rents made possible by the current licensing system.
It is indeed a challenging task to change the mindset of government officials from being providers of permits to being servants of the people.
But we are glad to observe that President Jokowi has not thrown in the towel. Even the authoritarian former president Soeharto, who set up the BKPM in the early 1970s, miserably failed to create a one-stop, integrated center for business licensing within his centralized government. How much trickier is that task in the current democratic, decentralized Indonesia with its regional autonomy, where almost any regulation should be based on a national political consensus.
Jokowi last week launched the 16th economic reform package, which includes measures to further expedite business/investment licensing and special efforts to remove barriers at the central government and regional administrations to the realization of licensed businesses/ investments.
The package is designed to improve horizontal politics (between ministries) and vertical politics (between national and sub-national governments) of coordinating and synchronizing all the laws and regulations on business permits and establishing certainty about fees and timelines for business permits.
We realize that executing the measures to streamline the business-licensing system and reducing both the time and costs of meeting all requirements for starting a business or implementing multi-year investment projects is not easy, because within the Indonesian scheme of things, permits or licenses mean money.
But we are still willing to give Jokowi the benefit of the doubt, because we have observed that once the President sets his mind and attention on a priority program, he will see it carried out thoroughly, as he has been doing with the fast-track program for infrastructure development.
We hope that the 16 reform packages will enable the Jokowi administration to establish a single-submission system for all kinds of business and investment permits under one roof before the end of its term in October 2019.
Topics :
Join the discussions