EDITORIAL: Jokowi riding high
EDITORIAL

The Jakarta Post
Jakarta |

Thu, September 14, 2017

| 07:59 am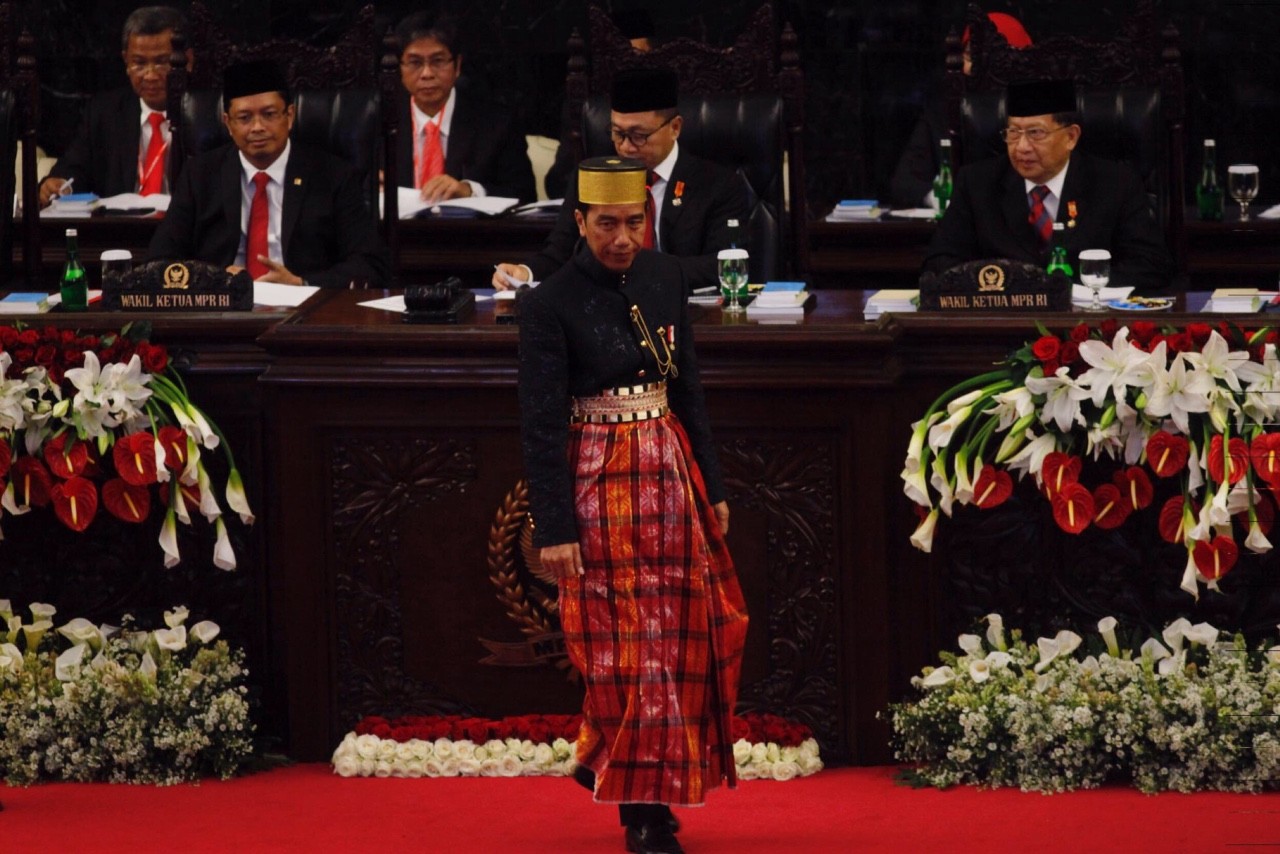 President Joko "Jokowi" Widodo walks during the annual state of the nation address on August 16. (JP/Wendra Ajistyatama)
The latest opinion poll shows almost 51 percent of 1,000 respondents support the vlogging (video blogging) President "Joko "Jokowi" Widodo and his Cabinet, even though over 40 percent of the respondents say their household economy has remained stagnant in the past five years.
Jokowi's popularity is higher compared to the first poll results of 2015 and last year, despite controversial policies such as the power to disband mass organizations, and despite almost 28 percent of respondents ranking "steep prices of basic needs" as their main concern. However, researchers at the Centre for Strategic and International Studies (CSIS) said Jokowi should be wary of his ratings potentially falling under 50 percent as he eyes a second term.
Interviewed in the last week of August, almost 78 percent of respondents across Indonesia expressed optimism over "the government's ability to increase welfare." This was consistent with over 83 percent saying they were upbeat about the government's ability to develop infrastructure, which Jokowi has reiterated is a top priority within his administration; and almost 78 percent were convinced about the government's maritime policies, his other heavy focus.
The annual post-Ramadhan festival, which fell in June, is usually a source of gripes over hiked prices and transportation woes. But inflation was steady and homebound travelers saw improved highways, compared to last year's disastrous congestion along the route to Central and East Java, which resulted in several deaths.
Since his days as Surakarta mayor in Central Java, Jokowi and the First Family have espoused candidness and simplicity. His media savviness, assisted by his son, boosts his likeability. Further, though earlier dismissed as a greenhorn to Jakarta politics, Jokowi has straddled political party lines, albeit with crumbling credibility.
He has brushed off allegations of being a dictator — respondents mostly marked him as "democratic." However, over 70 percent professed ignorance about the government's power to disband mass organizations without due process, and almost 57 percent were unaware that the government has disbanded Hizbut Tahrir Indonesia (HTI), which campaigns for an Islamic state.
No one wants to be a party spoiler. But if most people are fawning over the President with limited exposure to diverse sources of information, the survey results confirm the dire need to strengthen checks and balances. If the media is to play a part, the survey reminds us that its role depends on creativity and not just press freedom; because, reflecting present trends, most respondents said they only watch television and do not use print media, while almost all have social media accounts.
Over 72 percent of respondents were unaware of the controversial inquiry by lawmakers into the Corruption Eradication Commission, our lone ranger against an entrenched kleptocracy.
The poll was also part of a survey studying Asians' views on democracy, in which Indonesians were the most optimistic of their state of democracy.
But unless we can improve media and digital literacy, in addition to education, Indonesians risk being blissfully ignorant "democrats."
Topics :
Join the discussions