EDITORIAL: Jokowi grows on the job
EDITORIAL

The Jakarta Post
Jakarta |

Thu, October 19, 2017

| 07:57 am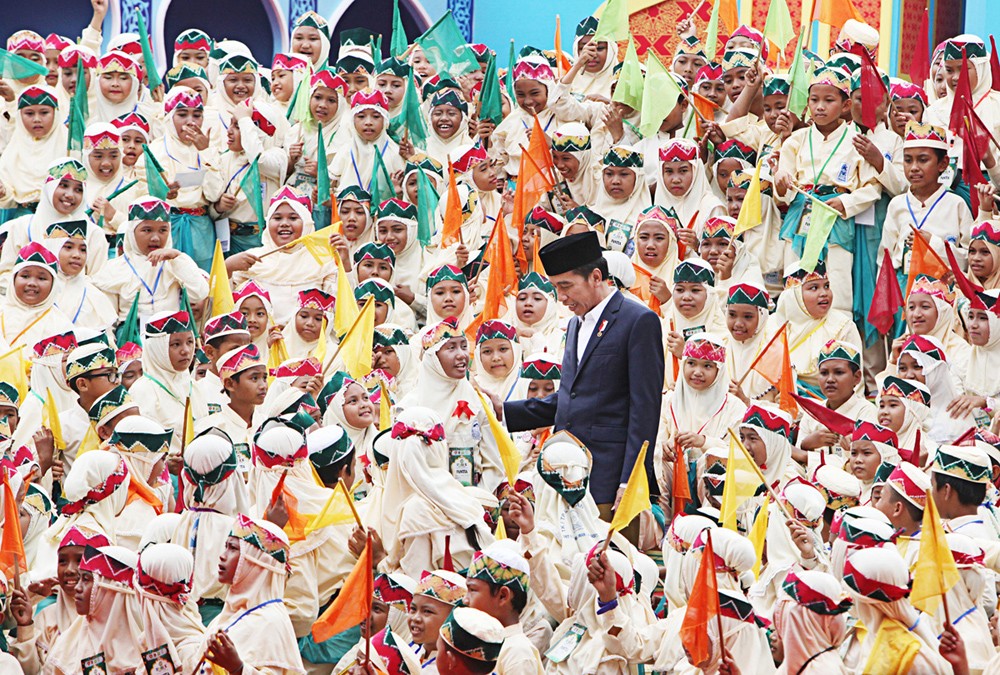 Pious and joyous: President Joko "Jokowi" Widodo talks to Islamic school students during the opening of the 10th Indonesian Anak Shaleh (Pious Children) Festival at Sabilal Muhtadin Grand Mosque in Banjarmasin, South Kalimantan, on Sept. 15. (Antara/Herry Murdy Hermawan)
Within just three years, Joko "Jokowi" Widodo has risen from being virtually a nobody in national politics to become a strong, popular and hard-working president of Southeast Asia's largest economy. He has been growing well on the job.
Jokowi has been able to lay stronger, long-term foundations for the economy amid the perpetual political noise. He has scrapped wasteful fuel subsidies and allocated the savings to accelerating infrastructure development in a concerted drive to cut logistics costs and improve connectivity within and between the major islands.
He has stepped up regulatory reforms to make things much easier for businesses. He has thus far launched 16 packages of deregulation measures. Certainly, most of these reform packages are still works in progress, but their gradual yet consistent implementation will have a greatly conducive impact on private investment.
Reducing logistics costs through infrastructure development and cutting transaction costs through regulatory reform are indeed strategic for strengthening economic competitiveness and reinvigorating private investment.
Being a small businessman himself as a furniture maker and trader, Jokowi fully realizes that private investment creates jobs, which in turn generates wages and boosts the people's purchasing power to propel the wheels of the economy.
His overwhelming attention to the basic needs of the people has made him rather obsessive with the objective of keeping the prices of food and other basic necessities stable, thereby keeping inflation below 4 percent. Jokowi copes with the income inequality with fiscal measures and land reform whereby land is distributed to landless farmers and land titling is greatly eased to help subsistence farmers take full benefit of their assets.
But admittedly, a factor of luck has also helped Jokowi in that oil prices have remained rather stable below US$50 per barrel, which means he has not needed to struggle with the sensitive issue of having to raise fuel prices. The stable situation has allowed the easing of monetary policies and a mildly-expansive state budget to continue.
His second Cabinet reshuffle in July last year, which brought Sri Mulyani Indrawati back home to become finance minister, could perhaps have been the best thing to happen to Jokowi's working team. It is not an exaggeration to say that Sri Mulyani's credibility and professional capability, combined with Jokowi's impeccable integrity, were the main factors behind the great success of the national tax amnesty from July 2016 to March 2017, which significantly broadened the tax base for future tax collection.
The decision by the World Bank and International Monetary Fund to hold their 2018 joint annual meeting in Bali next October is certainly an international endorsement of the country's development. Indonesia will be the eighth country in Asia to host such an important and prestigious economic and financial conference over the past 73 years.
Certainly, the outlook is not without challenges ahead, especially with the upcoming regional elections in 171 provinces, regencies and cities next June, and presidential and legislative elections in April 2019. But the achievements over the past three years should strengthen our confidence to cope with all those challenges.
Topics :
Join the discussions