Survivors meeting ex-terrorists to make up? Easier said than done
Imanuddin Razak

The Jakarta Post
Jakarta |

Sat, February 10, 2018

| 11:07 am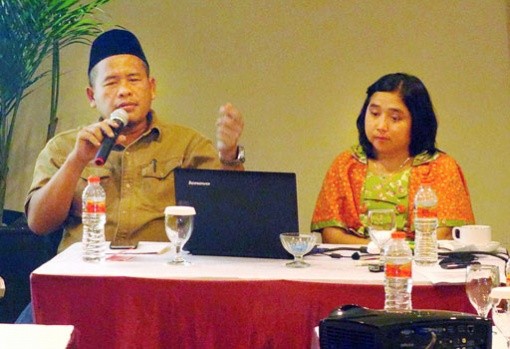 Against radicalism: Former terrorist Ali Fauzi (left) speaks recently about the importance of peace, accompanied by Vivi, a victim of the 2002 JW Marriott bomb attack in Jakarta. The two have reconciled and have been participating together in seminars aimed at curbing radicalism among youth. (Courtesy of AIDA/file)
A breakthrough in the country's counterterrorism efforts came to pass on Monday, after a security ministerial meeting recommended a reconciliation meeting between survivors of terror attacks and former terrorism convicts be held in the capital by the end of this month. The aim is to afford the ex-terrorism convicts — all of whom have participated in the government's deradicalization program — the opportunity to apologize to the survivors for their deeds.

As Coordinating Political, Legal and Security Affairs Minister Wiranto explained, the meeting is expected to help end hatred and calls for vengeance. Thus the planned reconciliation is designed to end the harrowing chain of reciprocal acts of revenge, particularly among the survivors, in the aftermath of terror attacks of the past.

As an idea and concept, the proposed conciliatory meeting is good, and a successful outcome is not unthinkable, as most of the perpetrators and the survivors or their relatives are still alive.

However, as they say, "It's easier said than done." There is no simple roadmap for reconciliation, as there is no shortcut or simple prescription for healing the wounds and social divisions in the aftermath of sustained violence or terror.

One key challenge is how to create trust and understanding between the opposite groups. Examining the painful past of acts of violence or terror, acknowledging and understanding them, and above all, transcending them together is the best way to guarantee that such violence or terrorism does not — and cannot —happen again.

Another challenge is determining the eligible attendants of the meeting, as one important aspect to a successful meeting is that all parties involved are present. Failure to include any of them will only lead to accusations that the event cannot claim to represent all parties affected by the terror acts.

One major question is whether there is any guarantee that all perpetrators will regret their wrongdoing and will not recommit. There has been rising concern about those who refuse to admit guilt in terrorist acts —while reconciliation only stands a chance of succeeding if both perpetrators and survivors — rather than just one of them — agree to sit together, to forgive and to eventually move on. Readers might still remember Imam Samudra, the executed "Bali Bomber", who admitted to his terror act but declined to plead guilty, claiming he was following Islamic teachings through jihad.

A related question is whether there is any guarantee that survivors would be willing to forgive the perpetrators. Again, if either of the opposite groups declines to follow the proposed roadmap for reconciliation, then the whole process is a failure, or at least invalid.

One final question is whether the meeting, if it happens, will bring a permanent solution to violence and/or terrorism. As anticipated, the way to reconciliation will be a very long and painful journey, as it will address the pain and suffering of the victims, examine the motives of the perpetrators, bring together the estranged communities and try to find a path to justice, truth and, ultimately, peace and harmony.

Aside from all the legal and technical aspects, the planned reconciliation meeting is indeed only one measure in counterterrorism efforts.

One important factor in terrorism, as experts have said, is economic hardship. Court testimony of many convicts and written accounts of slain terrorists have shown claims that they committed terrorist acts for financial reasons. In an online advertisement, the international terrorist group Islamic State offers regular income to anyone worldwide interested in joining their movement, with the amount said to be much higher than the minimum wage in the respective countries.

It is therefore becoming an increasingly serious challenge for all stakeholders, not only the government, to generate and ensure employment for all and to overcome economic hardship as one of the drivers of terrorism.

Another measure, as many have pointed out, is for Indonesia's major religious organizations, particularly Muslim organizations, to be more active in propagating true and peaceful Islam, as it is widely believed that terror acts are inspired by wrong interpretations of Islamic teachings.

Counterterrorism campaigns and efforts to prevent a new breed of terrorists should include explanations that several international terrorist organizations, which many Indonesians have associated themselves with, have been disingenuous in their motives of "religious" struggle. An account by former United States first lady and former presidential candidate Hillary Clinton that the US funded, armed and supported the mujahideen during the war in Afghanistan to force the Soviet Union out of Afghanistan in the late 1980s could perhaps be used as a reference.

"The people we are fighting today are the people we were supporting in the fight against the Soviets," Clinton said in a televised interview ahead of the 2016 US presidential election.

Despite the challenges and potential hardship in the roadmap for reconciliation, hopes are high that the planned conciliatory meeting will reach a degree of success. Who knows, successful reconciliation between survivors and former terrorism convicts may pave the way for similar reconciliation related to past cases of mass violence and human rights violations in the country, which are still far from settled.
Topics :
Join the discussions