Commentary: Car Free Day chaotic, but provides free civic space
Evi Mariani

The Jakarta Post
Jakarta |

Fri, May 4, 2018

| 09:59 am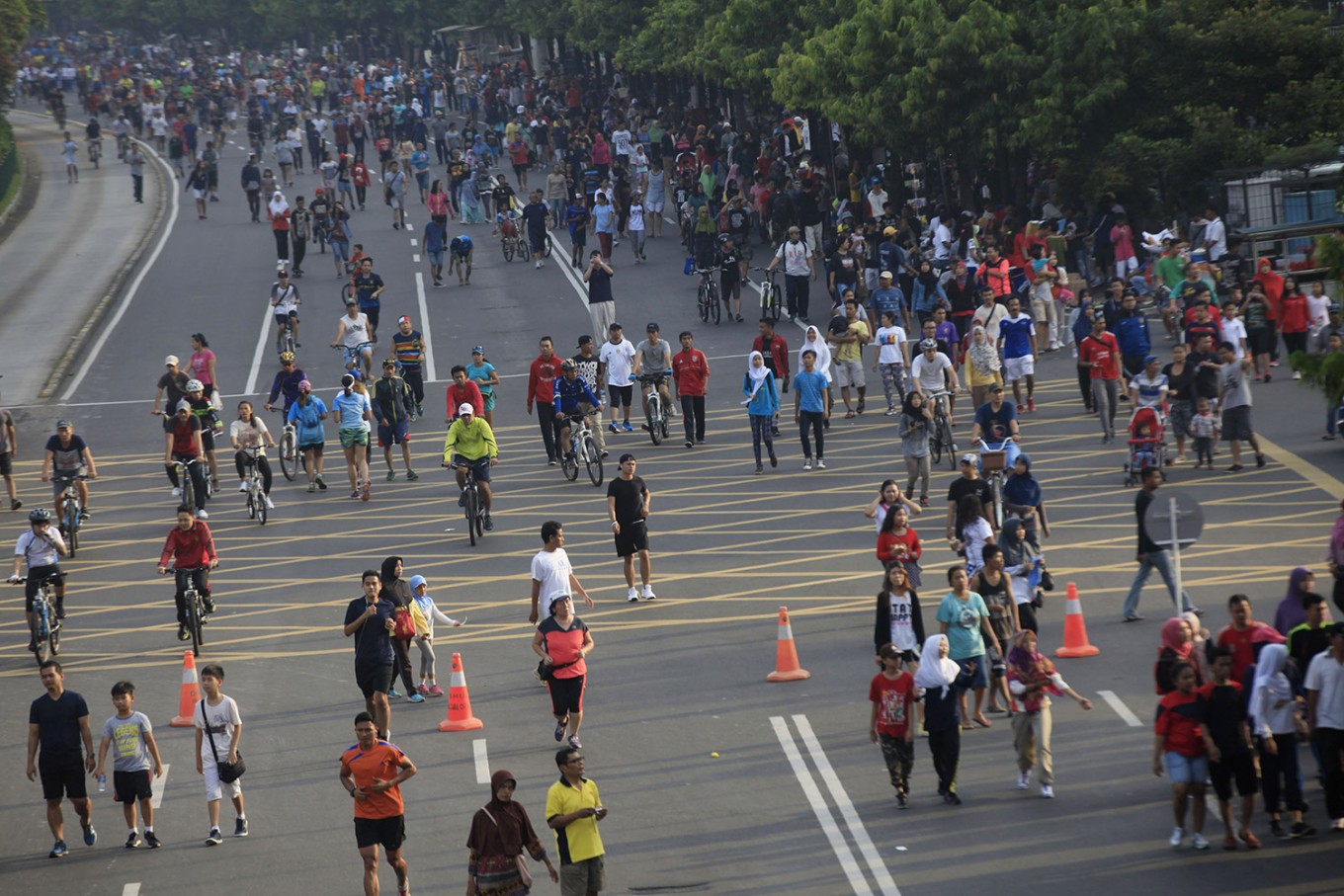 People enjoy Car Free Day on Jl. MH Thamrin, Central Jakarta. (JP/Dhoni Setiawan)
Let us set the record straight: #2019ChangePresident supporters are not the first group to violate the no-politics rule on Car Free Day (CFD) in Jakarta — and they will not likely be the last.

A clash between supporters of President Joko "Jokowi" Widodo, sporting the#DiaSibukKerja (#He'sBusyWorking) hashtag on their T-shirts, and an anti-Jokowi group, sporting the increasingly popular hashtag #2019GantiPresiden(#2019ChangePresident), took place on April 29 on a CFD Sunday.

A video of the clash, showing some members of the anti-Jokowi group heckling Jokowi supporters, namely a woman and her son, went viral.

CFD in Jakarta began as part of a global campaign against fossil fuel emissions from motorized vehicles. The very first Car Free Day campaign, according to carfreedayindonesia.org, was in 2001. Since 2007, the city administration has made it a regular event, holding it three times a year initially before it became a weekly event in 2012. Now, every Sunday on Jl. MH Thamrin and Jl. Sudirman from 6 a.m. to 11 a.m., thousands of people throng the streets.

Having started as a campaign for clean air, it transformed into an event for exercising. Later, it became an event for a lot of things. People conduct public campaigns there, touting ideas and selling things. It has resembled a chaotic marketplace but at the same time, it is a free civic space fitting for a democratic nation like Indonesia.

And perhaps to a fault.

In the past three years, one of the CFD initiators, Ahmad Safrudin, has been busy reminding people not to use it for political activities.

The first precedent was on March 8, 2015, when supporters of then-Jakarta governor Basuki "Ahok" Tjahaja Purnama clashed with supporters of Jakarta City Council members. The hot issue of that day was Ahok's accusation that city councillors were trying to rob the city of its budget funds.

The pro-Ahok group, TemanAhok, made their first public appearance at a CFD event, setting up a photo spot for people to take selfies with a cutout figure of Ahok. After the event ended, supporters dispersed and some were embroiled in scuffles. TemanAhok denied the supporters were theirs.

But the clash set a milestone for CFD.

Safrudin held a press conference afterward and he got support from Ahok himself. In 2016, Ahok changed Gubernatorial Regulation No. 119/2012, which he said did not provide sufficient details on the regulation of political activities.

Ahok said politically driven activities would be prohibited and requirements for receiving commercial activity permits would be tightened.

In 2016, however, the organizer of a Kita Indonesia event broke the rule. Participants of the event carried Golkar and NasDem party flags. So Safrudin held another press conference, demanding that the organizer apologize to the public for violating "the principles of CFD".

"CFD is an amicable public space for people to socialize in Jakarta, which has a dire shortage of public spaces," Safrudin argued.

But what has been missing in the debates about CFD is the recognition that amid all the chaos and disorder of CFD, it has created a civic space — a joyfully free one.

I am all for rules concerning banning electoral political activities and tightening commercial permits, but the authority needs to tread carefully so as not to issue a draconian rule to put in place "order".

While banning any campaigns concerning electoral politics and political parties' logos and paraphernalia is something we can all agree upon, banning all "political activities" is debatable.

Is wearing a rainbow-colored T-shirt to support people of minority sexual orientations political? I think it is. Should the wearer of such a T-shirt be banned from CFD? I don't think so. Who knows — in the future, campaigning against the use of plastic bags could become political too. Campaigning to save Jakarta Bay has indeed become political now.

The list could go on and on, especially during this era of deepening political polarization. Wearing a T-shirt with our slogan "Unity in Diversity" or a pin with a symbol of the state ideology Pancasila on it is political too. Likewise, so is wearing something saying "Free Palestine" or even certain religious paraphernalia like a white cap.

How would any authority regulating CFD, be it city administration officers or the police, monitor all this and decide which kinds of T-shirts are allowed?

Jakarta Police spokesperson Sr. Comr. Argo Yuwono said Tuesday, in response to the heckling against Jokowi supporters, that it was not for the police to decide what is or is not political. As long as the people at CFD events do not disturb order, the police will not ban them from participating in them. And I agree with the police, this time.

Unruly political activities are indeed part of CFD's problem. But it is not actually CFD's biggest problem. Its biggest problem is that, after all this time, as CFD allows for the only free civic space in Jakarta, it has become so crowded, too crowded in fact, that it doesn't feel comfortable anymore.

People have complained about the impossibility of jogging, running or riding bicycles on CFD. Perhaps some kind of order is overdue, but it is better if the residents themselves initiate the movement. CFD has created, albeit inadvertently, Jakarta's free civic space, thus, it is the residents' civic duty to make the occasion comfortable and safe for all the citizens, whatever their political ideology.

Join the discussions