Indian PM Modi's 'oleh oleh'
Editorial Board

The Jakarta Post
Jakarta |

Wed, May 30, 2018

| 08:13 am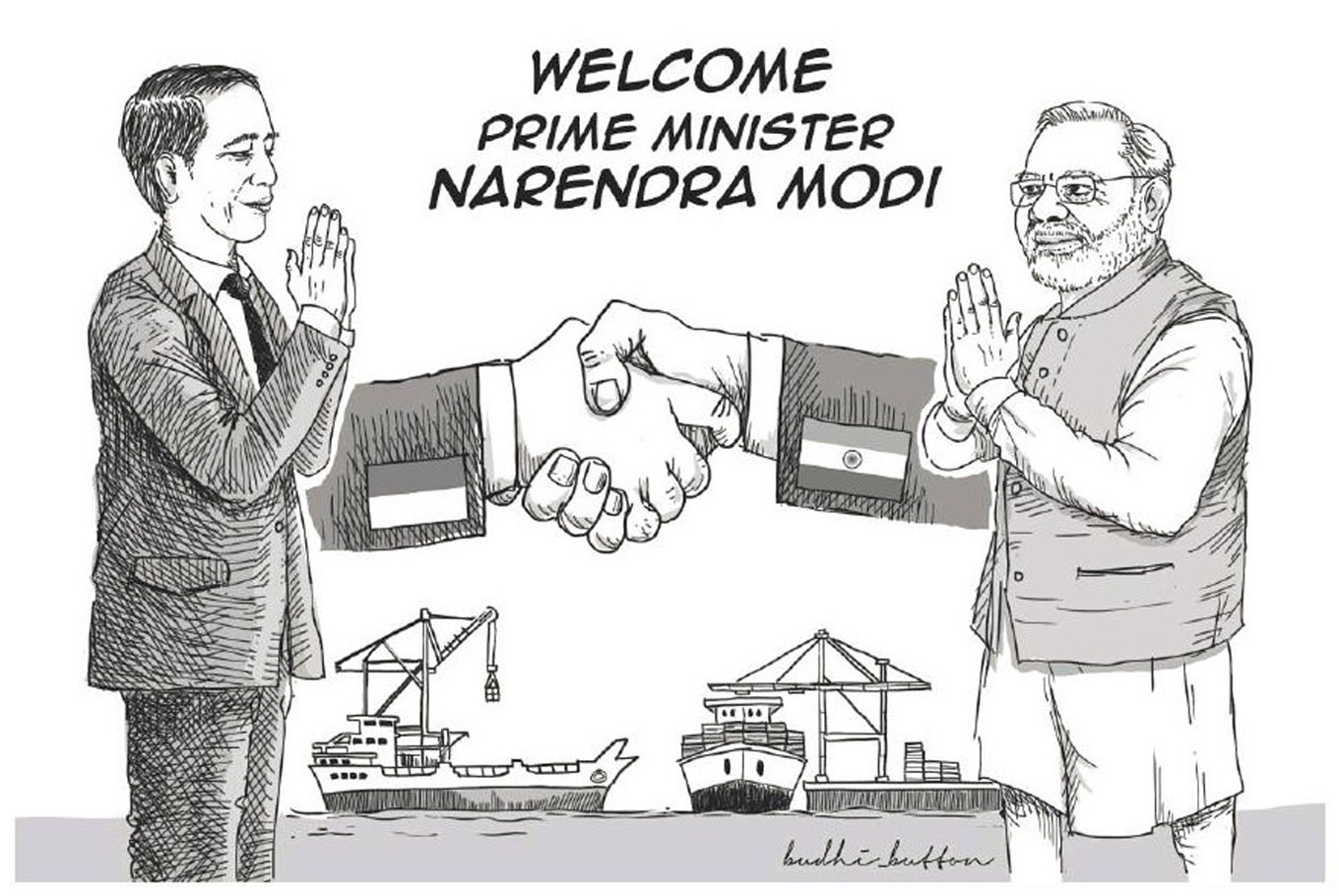 Indonesian-Indian trade reached US$12.9 billion in 2016, while trade volume increased 28.7 percent in 2017. (JP/Budhi Button)
Indian Prime Minister Narendra Modi's visit to Jakarta on Wednesday has been much -awaited, and not just by President Joko "Jokowi" Widodo, who has visited him twice. Indonesians like to greet those who've just returned home or those visiting with a rather annoying phrase only reserved for close friends and family: "Mana oleh olehnya?" (Where are your gifts?)

The Indian leader should be impressed by Jokowi's seriousness about expanding their bilateral relationship. They are leaders of the world's largest and second-largest democracies, having both come into power in 2014.

Jokowi's two visits to India in just 14 months — in December 2016 and in January 2018 — reflect his ambition to restore the close friendship formed between the two countries in the 1950s and 1960s under leaders Jawarharlal Nehru and Sukarno. As a gesture of appreciation for his host, the Indian leader is expected to bring memorable oleh oleh (gift). Modi is traveling here by sea, following the route taken by Nehru from the Nicobar Islands in India to Sabang in Aceh.

Jokowi's gestures may be seen as part of a strategy to counterbalance — not to contain — China's power, the world's second-largest economy and practically the second superpower after the United States. We should surely become closer to India, which can provide abundant sources of lucrative cooperation in the economy, defense, science, education, human resources and culture.

What oleh oleh are we hoping for from our guest? Modi is expected to personally assure Jokowi that India will vote for Indonesia in the 2018 United Nations Security Council election. The UN General Assembly will decide which country will get the two-year mandate for a non-permanent seat on the council. However, even if Modi fails to meet Indonesia's expectations, the election is minor compared to the bilateral ties between the two nations, which are both members of the G20.

For Indonesia, driven by Jokowi to become a global maritime axis, India is a strategic partner in the Indian Ocean Rim Association (IORA). His ambition to play a leading role in the Indo-Pacific cooperation framework also needs solid support from his Indian counterpart.

Indonesian-Indian trade reached US$12.9 billion in 2016, while trade volume increased 28.7 percent in 2017. Indonesian exports stood at $14.08 billion, including from palm oil and coal, and imports at $4.05 billion. Indonesia wants India to scrap trade barriers for its main commodities, while India wants Indonesia to reduce its huge trade deficit.

Many do not realize how close the countries are. Nicobar and Andaman islands are about a seven-hour flight from Aceh. Andaman was also badly hit in the 2004 tsunami and earthquake. India is keen on boosting naval cooperation with Indonesia, with hopes of gaining access to Sabang's deepwater port to enable easier access to the Malacca Strait. Indonesia hopes such cooperation could help boost Sumatra's growth and provide new gates for our palm oil and coal exports to India.

Welcome to Jakarta PM Modi. Where's the oleh-oleh?
Join the discussions