Commentary: Idul Fitri exodus: A test of connectivity
Primastuti Handayani

The Jakarta Post
Jakarta |

Tue, June 12, 2018

| 09:16 am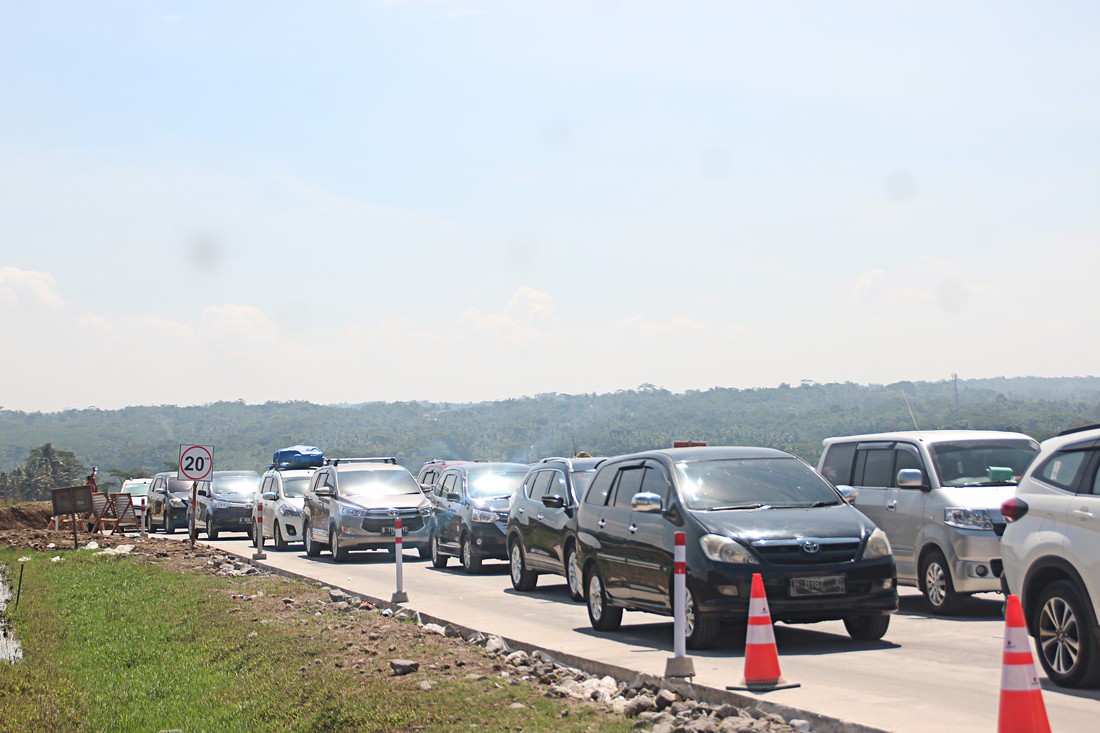 Homebound travel: Vehicles queue when they pass the Salatiga-Kartasura functional toll road on June 11. (JP/Suherdjoko)
Around 32 million people have left Jakarta and other big cities across the country for their hometowns, mostly in East, West and Central Java, as well as Yogyakarta. Their aim is to arrive home before Idul Fitri, which is likely to fall on Friday.

For many Muslims, performing the Idul Fitri prayer with close family members is a tradition that has been preserved for generations. The morning prayer, normally held on an open field, will be followed by a ritual, oftentimes filled with emotion, in which children ask for forgiveness from parents and elders.

It has been an annual routine for most Muslims but there are some differences this year, particularly the way they travel to be reunited with their families.

The 1,100-kilometer trans-Java toll road connecting Java's western and eastern tips is nearly completed, with several sections — Pemalang-Batang-Semarang (Central Java), Salatiga-Surakarta (Central Java) and Ngawi-Mojokerto (East Java) — still under construction.

Toll road operator PT Jasa Marga has prepared the tol fungsional (uncompleted toll road) on those routes to facilitate the holiday makers' journeys. The state company estimated that 1.4 million cars would leave Jakarta, starting last Friday, for the homecoming trip, thanks to the government's decision to extend the holiday for civil servants to 10 days.

Because of the extended holiday, the police predicted that congestion along the toll road would be bearable. One of the causes of gridlock has always been unmanaged traffic entering and leaving rest areas along the toll road.

Congestion occurred on the unfinished toll road section connecting Salatiga and Surakarta on Sunday due to steep climbs that some drivers were unable to deal with. In a tweet, the Central Java Transportation Agency called on motorists driving cars below 1,000 cc to exit in Salatiga to avoid the difficult section, or else they would get stuck in the middle of the steep slope and cause congestion.

Both the police and the government have learned a valuable lesson from the tragedy that marred the 2016 Idul Fitri exodus. Then, 12 travelers died from exhaustion after cars and buses carrying them were gridlocked for hours near the bottlenecked Brebes exit gate in Central Java.

A deadly accident has already marked the exodus this year. A few days ago, an unknown person threw rocks at passing cars on kilometer-6 of the Jakarta-Cikampek toll road, killing one. The police immediately hunted down the perpetrator and safeguarded all pedestrian bridges to avoid the incident from recurring.

The police have also warned travelers against riding motorbikes, especially when they have children and overloaded cargo. The Transportation Ministry is deploying 16 vessels belonging to state shipping company PT Pelni to transport travelers and their motorbikes for free.

Last Saturday, a Dobonsolo vessel, carrying 1,300 passengers and 700 motorcycles, left Tanjung Priok in Jakarta and arrived at Tanjung Mas port in Semarang on Sunday.

Traveling by ship is apparently still less popular than taking trains. State-owned PT KAI has provided free rides for motorcycles, with 19,136 being transported by train. The number is higher than last year's mark of around 16,000.

As part of the government's support for the Idul Fitri exodus, President Joko "Jokowi" Widodo inaugurated Kertajati International Airport in Majalengka, West Java, and the expanded Ahmad Yani International Airport in Semarang, Central Java.

Kertajati is a boost for passengers from Cikarang, Karawang and Purwakarta, which have been hit the hardest by traffic congestion as a result of the ongoing construction of the light rapid transit (LRT) and Jakarta-Cikampek elevated toll road — if they have to fly from Halim Perdanakusuma International Airport in East Jakarta. They can reach Kertajati quicker using the Cipali toll road.

The expansion of the Ahmad Yani passenger terminal has given regular travelers some relief. Previously, the old airport could only accommodate 800,000 passengers per year, but now, the President expects, the airport to accommodate 7 million.

On top of all the routine transportation problems that happen every year, the police remain vigilant of potential terror threats during the Idul Fitri holidays. The recent terror attacks in Surabaya and other cities only prove that extremist groups remain at large.

Jokowi is proud of the acceleration of infrastructure projects especially at airports, seaports and toll roads. He repeatedly said infrastructure projects were important to help the national economy grow. With over 17,000 islands, connectivity is a daunting challenge for Indonesia.

Jokowi's adversaries and haters have criticized the airport and toll road construction, saying the projects were part of a blanket campaign for next year's election.

Regardless of the negative sentiments, Jokowi has answered his critics with something that Indonesians can enjoy: connectivity and quicker traveling time.
Topics :

Join the discussions