Turning spotlight on 2019 VP contenders

Mataram |

Fri, July 27, 2018

| 09:32 am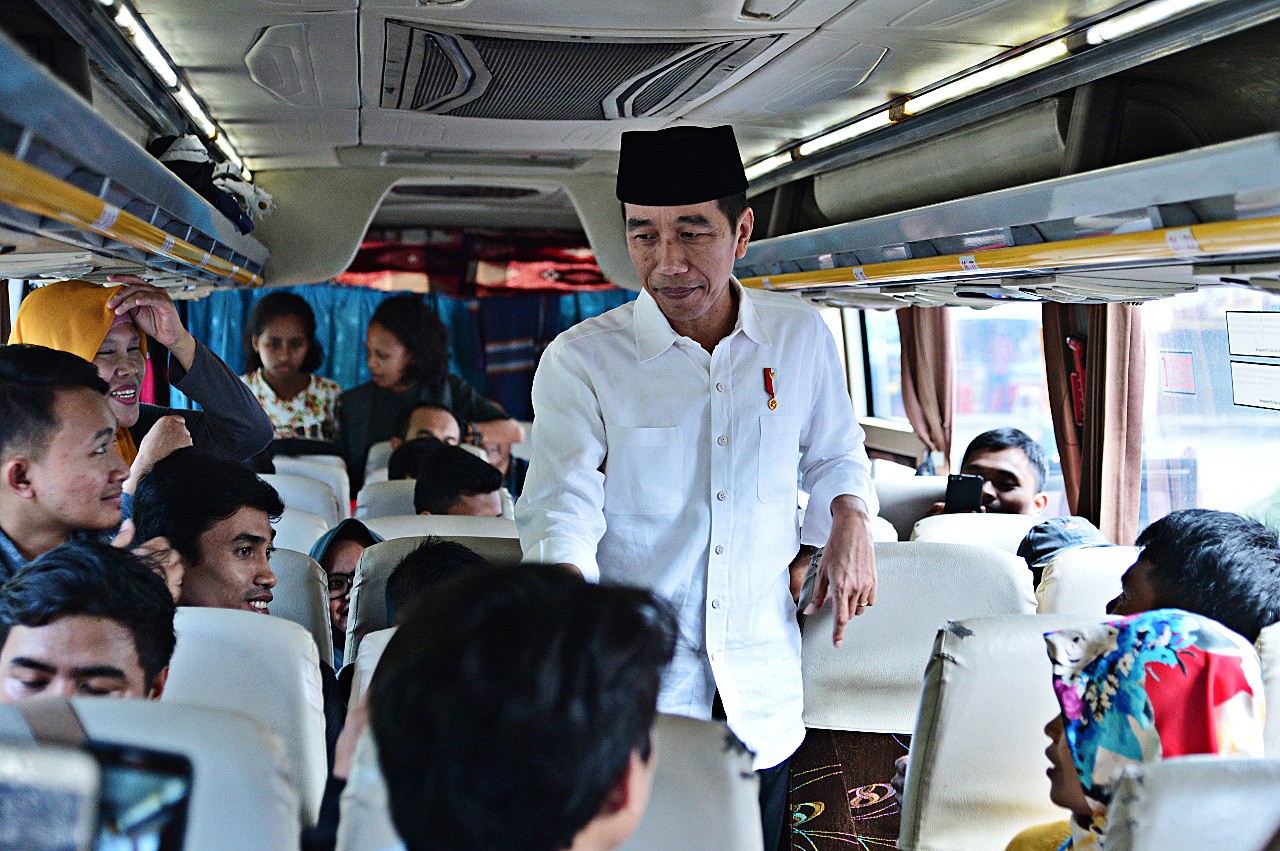 Have a safe travel! President Joko "Jokowi" Widodo greets passengers who will travel by bus to their hometown at Baranangsiang Terminal, Bogor, West Java, on June 10. (Courtesy of the Presidential Secretariat/File)
The vice president is only a heartbeat away from the presidency. Mark McKinnon, a seasoned American political advisor who worked for various prominent political figures in the United States (including former president George W. Bush), highlighted the importance of the position by saying: "[In the US], there are three opportunities that you have during a general election campaign where you can substantially move the needle of public opinion. One, is your convention speech; two, are the base; three, is the selection of your vice president."

Although many pundits still believe that the vice-presidential pick has limited impact on a campaign, a series of recent elections in the modern era shows that the right choice of running mates can either reinforce the broader narrative the presidential candidate is trying to sell or undermine the rival's narrative.

The right vice-presidential pick can help the presidential candidate to offset his/her weaknesses, broaden the outreach toward voters and serve as an effective political attack dog that enables the candidate to stand above the fray and remain presidential during debates. Therefore, more often than not, vice-presidential vetting is a complex process that cannot be isolated from the rival's strategy.

Real examples are plenty. According to Michael Grunwald and Jay Newton-Small, in the 2008 US election, John McCain picked Sarah Palin to reinforce his narrative of a maverick conservative crusader who had the guts to take on the Republican establishment but was not squishy about social issues.

Palin would be the first woman on a Republican ticket, who could appeal to Hillary Clinton voters and help reduce Barack Obama's advantage among women. Palin was also a fresh face to counteract Obama's message of change. Similarly, as explained by MacAskill, Obama picked Joe Biden to compensate his relatively lack of experience in national politics and to deploy Biden's strength as popular figure among Democrats to unify the party after the divisive contest against Hillary.

Post-New Order Indonesian politics has followed the same trend. Susilo Bambang Yudhoyono's election victory in 2004 and 2009, and Joko "Jokowi" Widodo's own victory in 2014 were contributed by their decision to choose the right running mate who enabled them to solidify their base (and coalition), woo undecided voters and compensate their flaws.

However, come 2019, Jokowi faces a more complicated task of vice-presidential vetting in his hands. The Constitutional Court's (MK) decision in January to reject a petition to scrap the presidential threshold in Article 222 of the 2017 Elections Law, could lead him to another showdown with former rival Prabowo Subianto. Nevertheless, as incumbent, he can no longer apply his previous strategy, especially when Jusuf Kalla could be forbidden by the law to run again as his VP.

Article 169 of the 2017 Elections Law prohibits a president and vice president from seeking a third term in office, regardless of whether they hold office for two consecutive terms. Therefore, as each party in his coalition demands they be given the vice president slot, President Jokowi finally unveiled the list of his possible running mates recently.

The figures include National Awakening Party (PKB) chair Muhaimin Iskandar, former Constitutional Court chief justice Mahfud MD, Golkar chairperson Airlangga Hartarto and Muhammad Zainul Majdi, widely known as Tuan Guru Bajang (TGB), a two-time West Nusa Tenggara (NTB) governor.

No name in the list has raised more controversy than TGB. He grabbed the national spotlight after recently declaring his support for Jokowi's reelection bid, a shocking decision that surprised his colleagues in the Democratic Party, which has yet to declare support for any presidential candidates, and angered Islamists who had tapped him as one of Jokowi's strongest challengers.

Less than two years after joining one of the massive demonstrations in Jakarta that demanded the imprisonment of the "blasphemer" of Islam, then Jakarta governor Basuki "Ahok" Tjahaja Purnama, rallies which also displayed a brutal form of religion-based identity politics in the 2017 Jakarta governor election, TGB's changed position has won praise, both from the president's camp and the neutrals.

The Jakarta Post, for example, has cited him as an "influential Muslim leader", an Islamic scholar who "has continuously promoted the values of moderate Islam" and "a progressive governor" who could act as Jokowi's "strongest ally against sectarianism". However, scrutiny of his record on protecting religious minorities as NTB governor raises serious doubt over his credentials.
Read also: Who is TGB, Jokowi's strongest ally against sectarianism?

Under his watch, for example, the Ahmadiyah community in NTB has experienced continued repression against their beliefs. The community has endured repeated attacks in the province that started from 1998 in Keranji, Pemongkong village, East Lombok. It occurred again in 1999, 2001, 2002, 2005, 2006, 2007, and forced most of them to leave their villages and became internally displaced persons (IDP).

Their fortune did not change after TGB took office in 2008, as similar violence took place in 2010 in Ketapang, West Lombok, and 2011 in Sumbawa. Most of the Ahmadis IDPs have found safe refuge at Wisma Transito in Mataram since 2007. However, in 2013, and again in 2017, the National Commission of Human Rights (Komnas HAM) detected strong indications of human rights violations behind the settlement of Ahmadi IDPs.

The commission also found that the provincial administration had done little to provide solutions for the Ahmadis, with assistance still limited to providing temporary shelter and keeping antiAhmadi mobs at bay. Not only have the basic rights of the Ahmadis been systematically neglected, they could only get new ID cards in 2014,

Komnas HAM also stated that the houses they were in were no longer fit to shelter the refugees. The latest attack on the Ahmadi community in Gereneng village, East Lombok, on May 19 and 20, further raises questions on TGB's commitment to protect religious minority rights in the province.

Although he openly called for reconciliation and end to the violence, while promising to rebuild the destroyed Ahmadi's people houses, TGB did not hesitate to blame the Ahmadis. He said the violence occurred because the Ahmadi broke their promise not to spread their teachings among the locals.

Such a statement and point of view should not come from an Islamic scholar who "has continuously promoted the values of moderate Islam".

TGB may or may not be chosen as Jokowi's running mate for the upcoming presidential race, but one thing is for sure: he is not the strongest ally against sectarianism that Indonesia desperately needs right now.
***
The writer is a human rights activist who currently works as executive director of the TIFA Foundation.
Disclaimer: The opinions expressed in this article are those of the author and do not reflect the official stance of The Jakarta Post.
Topics :

Join the discussions