Open government improves water services
Tbilisi, Georgia |

Mon, August 6, 2018

| 11:32 am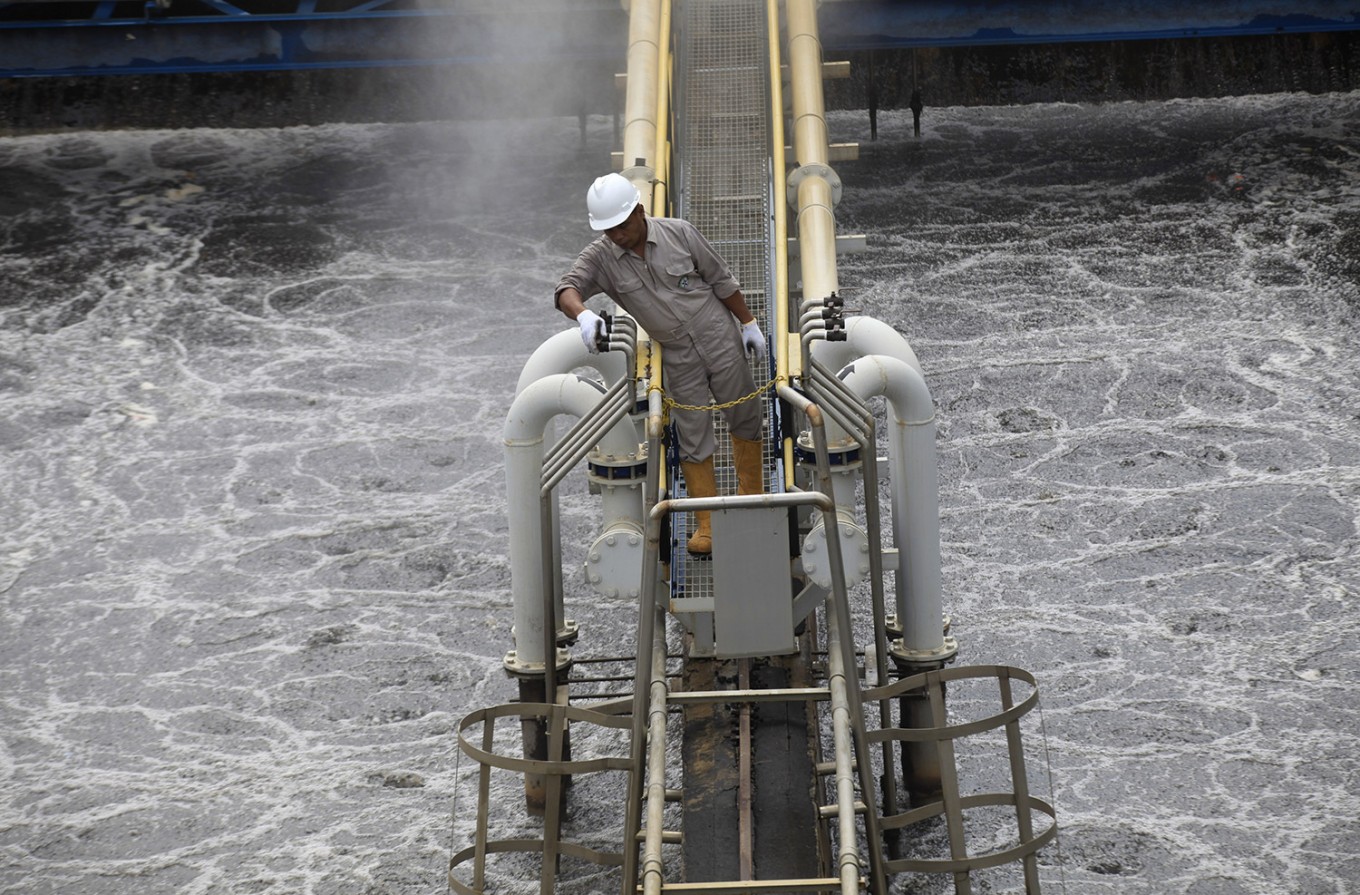 A worker monitors water quality a water treatment facility owned by private tap water company PT Palyja in Central Jakarta. (JP/Dhoni Setiawan)
It is well established that water problems are caused by a lack of governance. Take "water services". Most Indonesians do not know their rights as water customers. Can water companies arbitrarily disconnect you from the network if you cannot afford to pay the fees? Have you experienced a sudden stop in water services? Or where the water is murky, muddy or smelly? In this situation, are you entitled to compensation? If you complain, who will guarantee that your complaints will be dealt with?

Or take "water resources". Most water extraction licenses in Indonesia are not based on accurate data of water availability in a river, catchment or aquifer. Thus, when a water quota is awarded to, say, the industrial sector, the quota may not be based on an accurate assessment of how much water is actually available.

Conflict often arises when one group of water users, such as farmers, accuses other water users, oftentimes the industry, for over-extracting water to the extent that it causes a drought. However, the accused may be taking water from deep wells, whose aquifers may not be connected to surface water (rivers or lakes); thus the water crisis that farmers are experiencing may not necessarily be caused by industrial extraction.

However, since data is lacking, it would be difficult to argue and convince stakeholders as to what the real causes are.

This is where the Open Government Initiative can help. The Open Government Partnership (OGP) is a multilateral initiative launched in 2011 with Indonesia among its founding members. Each member country is expected to create a two-year action plan that can be any initiative, ranging from access and information, to public participation, accountability and technological innovation for good governance.

As a platform, the OGP's appeal lies in its co-creation mechanism. Action plans must be drafted jointly with civil societies, which could include the private sector. The civil society involved would then monitor its implementation.

An independent reporting mechanism involves an independent expert to assess and rate the performance of each country's action plan. The best plans will be rated as "transformative" — those considered "potentially" able to radically change the situation for citizens. If this action plan successfully materializes, it would be rated as "outstanding".

Action plans are usually implemented by ministries, government agencies or regional governments. Many of Indonesia's past action plans were quite successful, while others failed to materialize. Successful ones include the LAPOR! system, which facilitates faster response to public complaints about public services, and the One Map Policy to reconcile conflicting data among government bodies.

In the 2018 OGP Summit in Tbilisi in July, water governance started to receive attention. During the summit, a few organizations tried to push open the government agenda in the water sector.

Nevertheless, water issues have not been the primary focus of OGP action plans. Indonesia was one of the few countries that implemented a water-related commitment and was rated as "marginal", whereas Paraguay's was rated as "major".

Most OGP issues revolve around general governance topics such as corruption, open budgeting, public service, freedom of information, etc. Except for natural resources commitments, which are usually related to extractive industries (excluding water), only a few OGP commitments have a sectoral approach.

The OGP is not widely known yet among water-related groups. Likewise, as OGP civil society organizations (CSOs) are usually working on general governance topics, they do not necessarily engage in conversation with the water groups.

As a platform, the OGP has much potential to advance water governance. Water-related commitments have not been observed in a coherent manner so as to produce targeted outcomes that can substantially contribute to improving water governance.

Those already active on the OGP platform need to engage water groups to enlighten them on OGP mechanisms and potential. In turn, water groups know what agenda they can advance by utilizing the platform.

My latest research in Indonesia's water governance revealed that except for city development planning boards (Bappeda), other technical agencies within the same regional government are often unaware of their municipality's sanitation and water supply planning documents.

Thus, these other agencies do not know their own region's targets and strategies in providing access to water and sanitation and what milestones and funding are required to achieve those targets. Thus, the OGP can provide a platform to foster interagency data-sharing among agencies and CSOs in the same region.

OGP water commitment could also harness existing OGP initiatives such as open budget, open contract, as well as transparency of beneficial owners. As most water projects comprise physical infrastructure, transparency of budgeting, contracting and ownership of water-related projects are urgent.

Therefore, water-related CSOs can work together with CSOs operating on general governance issues. Meanwhile, CSOs operating on general governance issues can gain insight on the details of the water sector from water CSOs.

OGP commitments can be developed into roadmaps and stages with real implications on good water governance. Take the commitment to improve transparency of service levels (what customers are entitled to receive from a utility, like maximum supply interruption within a month, rebates for low water quality, obligation to warn interruptions, etc).

Such commitment can be staged in at least three different commitments: enactment of service levels, publication of service levels and creation of complaints and redress mechanism around such service levels.

Nevertheless, an open government initiative usually won't work without a champion — especially in the government agency implementing the action plan and the CSOs working with them. The benefits of the OGP in improving governance are clear. But the incentives for drafting and implementing OGP action plan for both the individual bureaucrat and their respective agencies must also be carefully contemplated.
***
The writer is the director of the Center for Regulation, Policy and Governance in Bogor, West Java.
Disclaimer: The opinions expressed in this article are those of the author and do not reflect the official stance of The Jakarta Post.

Join the discussions