Telkom's 3S satellite begins orbital journey
Inforial

The Jakarta Post
Jakarta, Indonesia |

Fri, February 17, 2017

| 11:35 am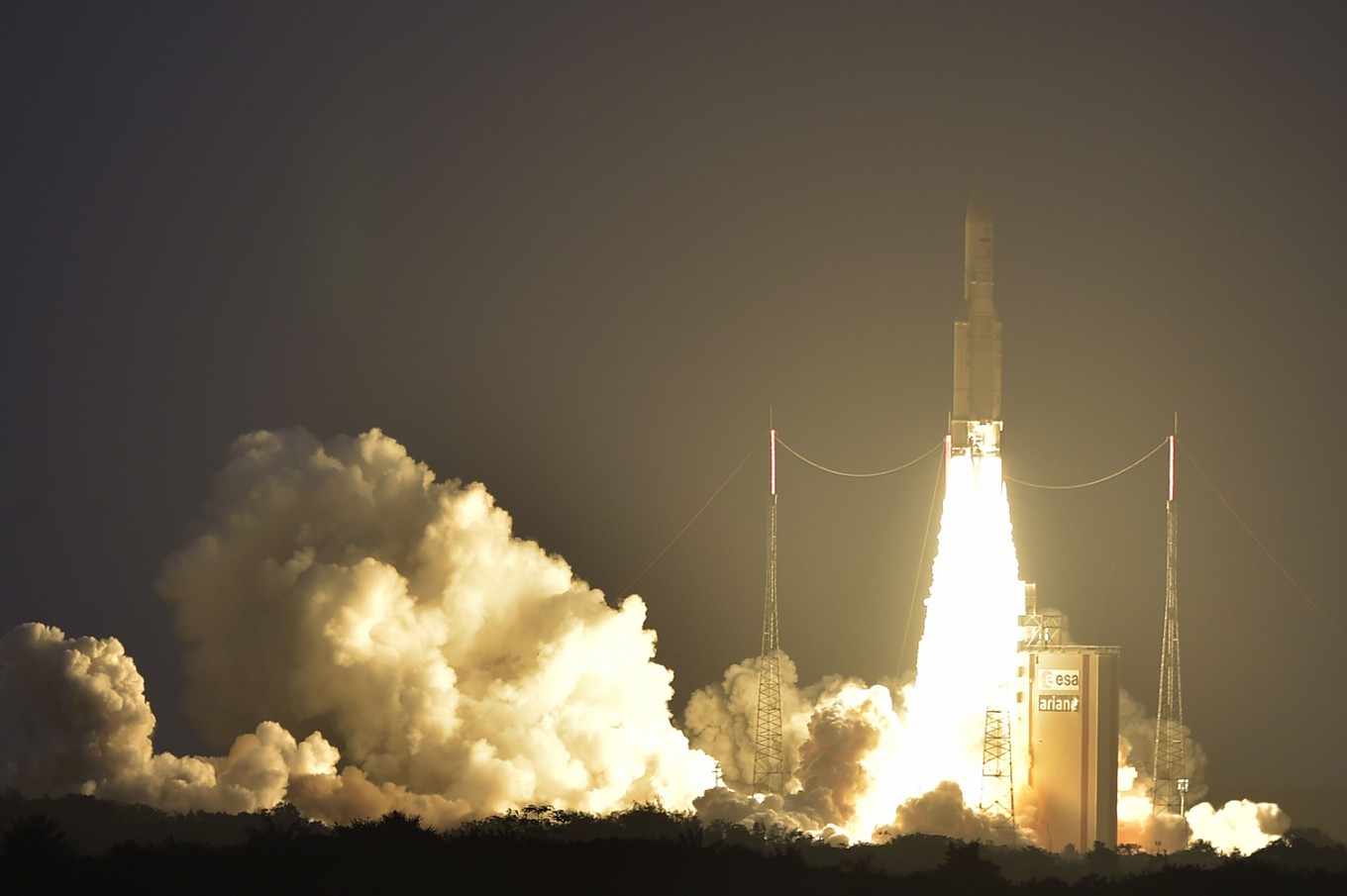 An Ariane 5 VA235 launch vehicle lifts off, carrying the Telkom 3S satelite from Guiana Space Center in Kourou, French Guiana, on Tuesday. (Photo: Courtesy of PT Telekomunikasi Indonesia/-)
The sonic boom of the Ariane 5 rocket that pierced the skies above the Guiana Space Center spaceport in Kourou, French Guiana, at 6:39 p.m. on Feb. 14 local time marked the start of the Telkom 3S satellite's noble journey into orbit.
It will lead the nation as it endeavors to strengthen its digital capacity from its orbital position at 118 degrees east and a height of 35,755 kilometers above the Makassar Strait.
The success of the satellite launch also marks 40 years of PT Telkom Indonesia's telecommunications satellite business and operations.
"I would like to thank God Almighty; because of our prayers and the support from all the people of Indonesia, the launch of the Telkom 3S satellite was a success," said Alex J. Sinaga, Telkom's president director, who watched the launch from the Jupiter Control Room of Guiana Space Center on Feb. 14.
The new Telkom 3S satellite will complement two other Telkom satellites currently in operation, Telkom-1 and Telkom-2. The reach of Telkom 3S will encompass the entirety of Indonesia, Southeast Asia and parts of East Asia.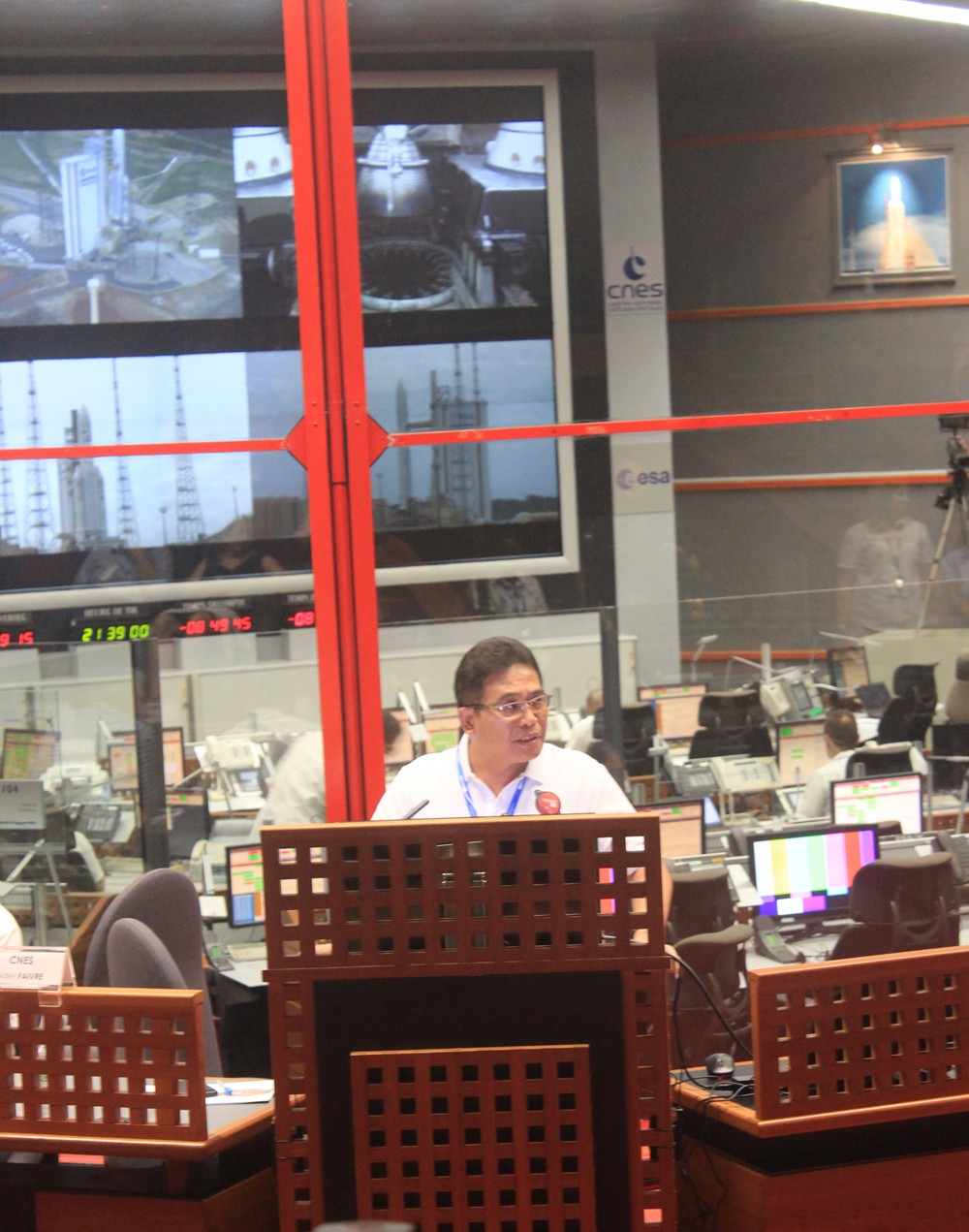 Telkom president director Alex J. Sinaga delivers a speech prior to the launch of the Telkom 3S from Guiana Space Center in Kourou on Tuesday.(Photo: Courtesy of PT Telekomunikasi Indonesia/-)
"The existence of these three Telkom satellites is expected to reduce Indonesia's dependency on foreign satellites and allow the country to supply its own demand for satellites," Alex said.
The satellite, with an investment value of US$215 million covering its construction, launch and insurance, has a 42 transponder capacity, or a 49 transponder equivalent (TPE) that consists of 24 C-Band transponders (24 TPE), eight extended C-Band transponders (12 TPE) and 10 Ku-band transponders (13 TPE).
Aside from reducing the country's dependency on foreign satellites, the Telkom 3S satellite is also designed to increase access to information for all Indonesians, particularly those in the "3T regions" (the frontier, outermost and remote regions) of the archipelago.
As it is the first Telkom satellite equipped with a Ku-band transponder, Telkom 3S is expected to provide higher bit rates and better quality communication systems. The Telkom-1 satellite is only equipped with a C-Band transponder, while Telkom-2 has a C-Band and an extended C-Band.
"By increasing its satellite service capacity, Telkom hopes to play an active role in building the nation's digital capacity so that it reaches all corners of the archipelago and increases the nation's economic strength," Alex said.
You might also like :