Telkom helps MSMEs boost competitiveness and gain access to global market
Inforial

The Jakarta Post
Jakarta, Indonesia |

Mon, March 13, 2017

| 03:25 pm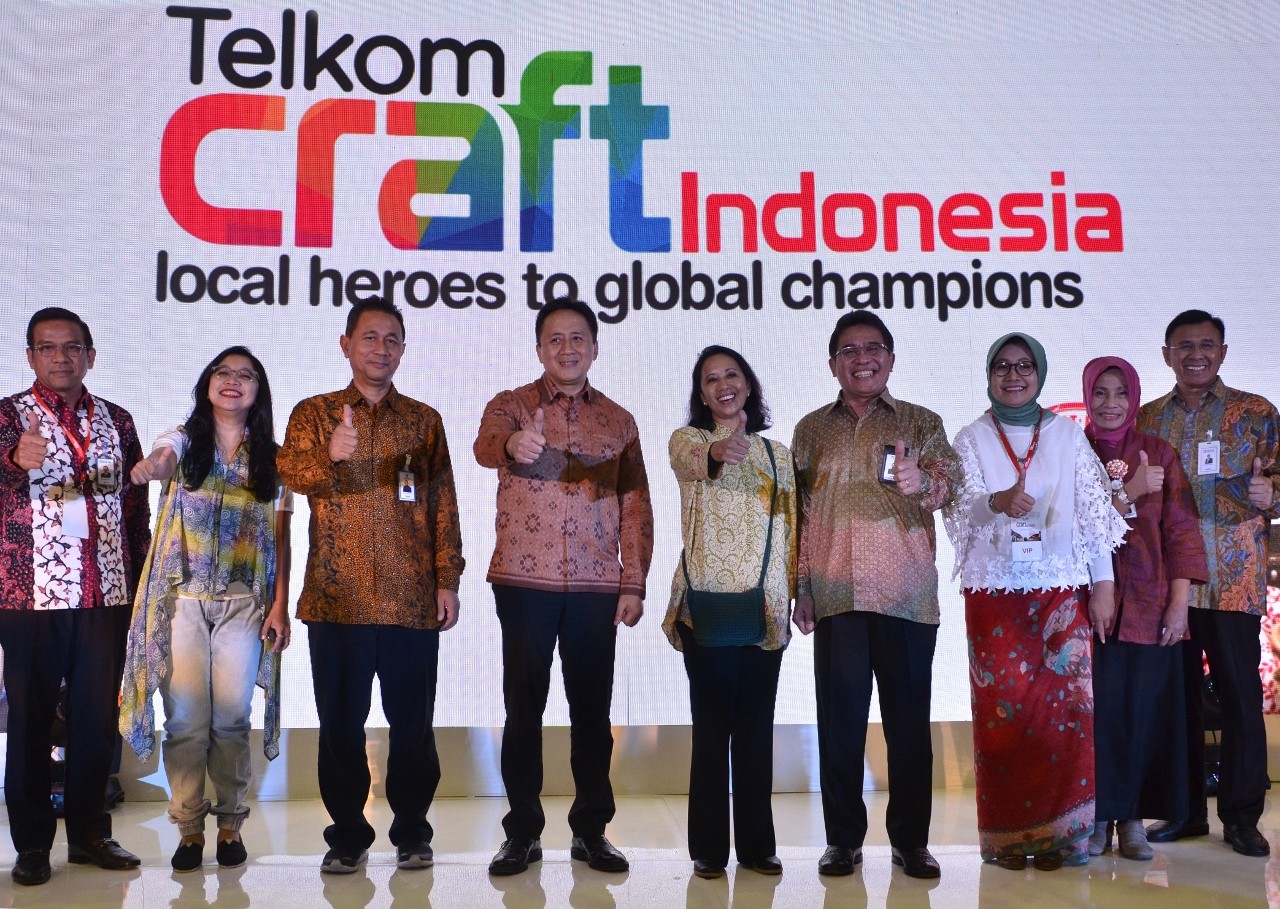 State-Owned Enterprises Minister Rini M. Soemarno (center) poses for a photograph with Creative Economy Agency (Bekraf) head Triawan Munaf (fourth left) and Telkom Group CEO Alex J.Sinaga (fourth right) during the official opening of Telkom Craft, Indonesia's first-ever digital craft exhibition for micro, small and medium enterprises. The exhibition,held at the Jakarta Convention Centerfrom March 10 to 12,was themed"Local Heroes to Global Champions,"and took advantage of the TCashdigital payment system from Telkomsel and blanja.com. (-/Courtesy of Telkom Indonesia)
PT Telkom Indonesia (Persero) Tbk recently held the exhibition "Telkom Craft Indonesia" to further improve the quality and sharpen the competitive edge of Indonesia's micro, small and medium enterprises (MSMEs).
The three-day exhibition was held from March 10 to March 12, 2017 inHall A of the Jakarta Convention Center, Jakarta.
State-owned Enterprises (SOE) Minister Rini M. Soemarno, accompanied by a group of SOE directors, officialy opened the exhibition, themed "Local Heroes to GlobalChampions."
Minister Rini M. Soemarno said in her opening address, "MSMEs still requireassistance and mentoring in term of developing their products, quality, use of technology and management."
"MSMEs also needan access to a broadermarket either through exhibitions or online marketing. No less important is that MSMEsstill need capital support.
"This is why SOE Ministry encourages SOEs to build a strong linksunder the umbrella of RKB, or SOE Creative Home in all cities/regencies in Indonesia and contribute solutions to these issues," the minister explained.
Telkom Craft Indonesia is part of creative houses projects (RKB), a program initiated by SOE Ministry aimed at assisting MSMEs to gain access to competence, commerce and capital. As of late 2016, state-owned enterprises had established100 RKB. Another 514 RKB will be established in cities/regencies across the archipelago and should be ready by the end of 2017.

Rini expressed her hope that with RKB, SOEs can really make their presence and contribution felt by the people, notably micro, small and medium entrepreneurs.
"Kudos to Telkom for initiating this event. I see this event as the implementation of RKB—paving the way for MSMEs to gain access to a broader market through exhibitionsand business digitization,"Rini said.

Meanwhile, Telkom's President Director, Alex J. Sinagaasserted that Telkom would stand by MSMEs in going full digital.

He said that in today's digital era, MSMEs had big potential to be in the driving seat of Indonesia's digital economy.
"Telkom is playing its role in becoming an enabler or facilitator to develop the Indonesian digital community. One of the ways we are doing this is by fully supporting micro, small and medium entrepreneurs, and we can do this with RKB. Telkom is providing mentoring and guidance for the utilization of ICT in MSME business operations," Alex explained.
Global market
As the driving force of the country's economy, MSMEs must be able to compete and step into the global market, as the theme 'Local Heroes to Global Champions' suggests.

Telkom Craft Indonesia is SOEs' response to Nawacita program championed by President Joko Widodo. The program aims todevelopand strengthenmicro, small and medium enterprises, improve their competitiveness in the global market, and make them economically independentby empowering domestic economic sectors.
Telkom Craft Indonesia features 126 MSMEs, selected out of the total125,000 micro, small and medium businesses that Telkom has taken under its wing. The exhibition also features micro, small and medium business that other state-owned enterprises train.
The exhibitors are divided into three categories: Craft, Fashion and Food. Besides showing a wide range of choicesfound among MSME products, the exhibition also hosts other activities, including talk shows, business consultation, as well asfashion shows and tutorials.
Moreover, as the first digital MSME exhibition in Indonesia, Telkom Craft Indonesia has invited visitors to conduct digital transactions using t-cash prepared by Telkomsel and blanja.com.

The SOE Ministry is confident that the simultaneous and fair collaboration between SOE and their trained partners will open the door to an immense business and economic opportunities for regional micro, small and medium enterprises and for the development of creative industry.
"We hope this exhibition can serve as a medium for local MSME craft industries to come up with concrete products and to grow their business not only in Indonesia but also in ASEAN countries and beyond," Rini said.
You might also like :