Relax on memorable, enriching holiday in Sydney
Inforial

The Jakarta Post
Jakarta, Indonesia |

Tue, April 18, 2017

| 03:06 pm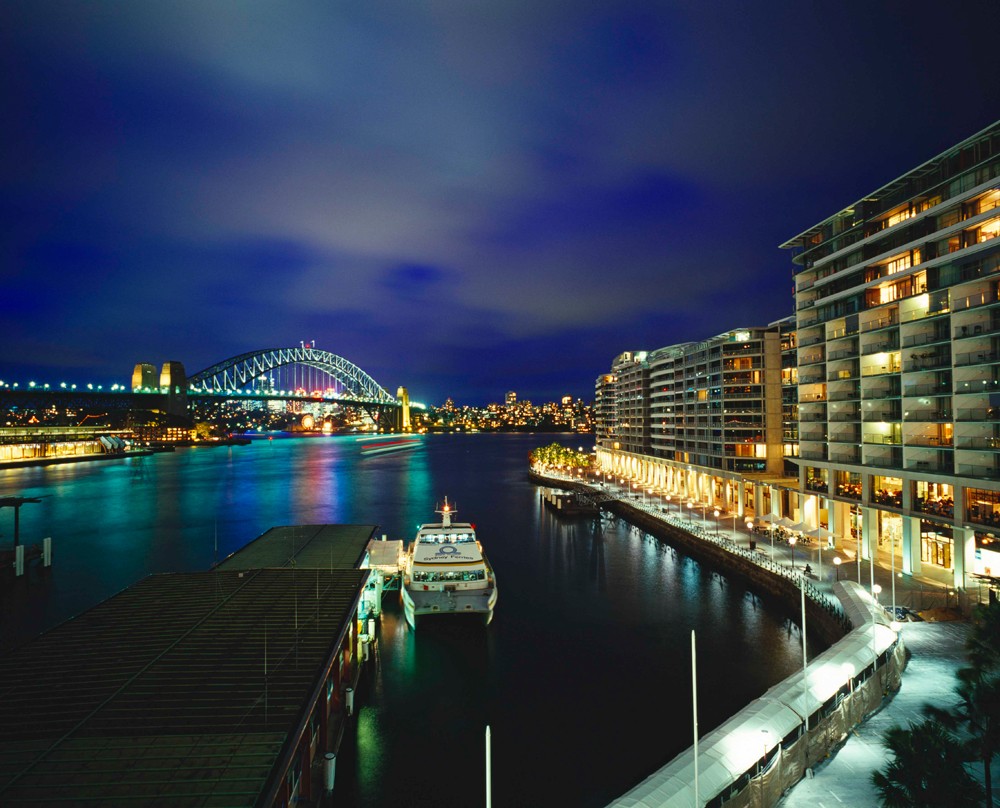 - (./.)
Gaining memorable, unique and life-enriching experiences from a one- or two-week holiday is definitely a dream of many international travelers. Sydney, the capital city of New South Wales in Australia, has become a hit when it comes to holiday destinations.
As Australia's largest city, Sydney has an idyllic balance of architecture, iconic landmarks, a stunning harbor, botanic gardens and an impressive skyline, making it one of the most beautiful cities on the planet.
The number one must-visit destination is the Sydney Opera House, where you will be treated to the amazing sight of this unique feat of architectural design and engineering that adds tremendously to the character of the already scenic Sydney Harbour. The structure was formed out of a rare combination of innovation and creativity — a triumph of modern architecture for which its designer, Danish architect Jorn Utzon, won the Pritzker Price, the field of architecture's highest award, in 2003.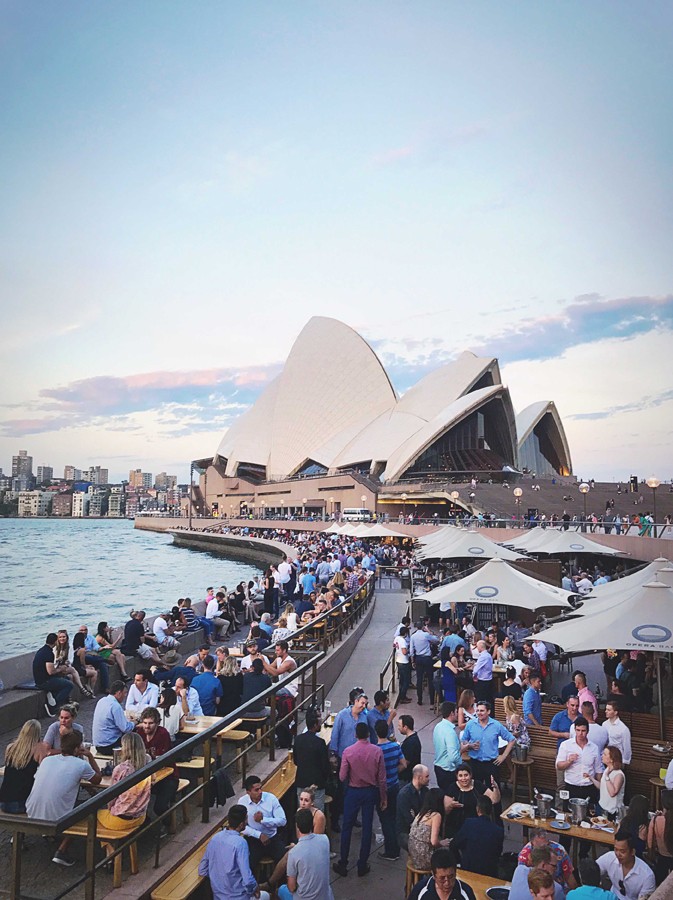 -(./.)
The Opera House is situated in Sydney Harbour's Bennelong Point at the northeastern tip of the Sydney central business district (CBD) and is surrounded on three sides by the harbor. It is often seen in pictures and on postcards along with the nearby Sydney Harbour Bridge, both of which combine to provide an overall representation of the Sydney Harbour panorama.
Here at one of the great iconic buildings of the 20th century, you will have an unprecedented chance to watch a performance that can form part of your unforgettable and life-enriching experience during your holiday in Sydney.
If you are a nature lover who appreciates beauty, you can visit Sydney's botanic gardens. The Royal Botanic Garden is a rarity in that it provides a cavalcade of natural floral beauty while also being very close to the Sydney CBD and the lovely panorama and landmarks of Sydney Harbour.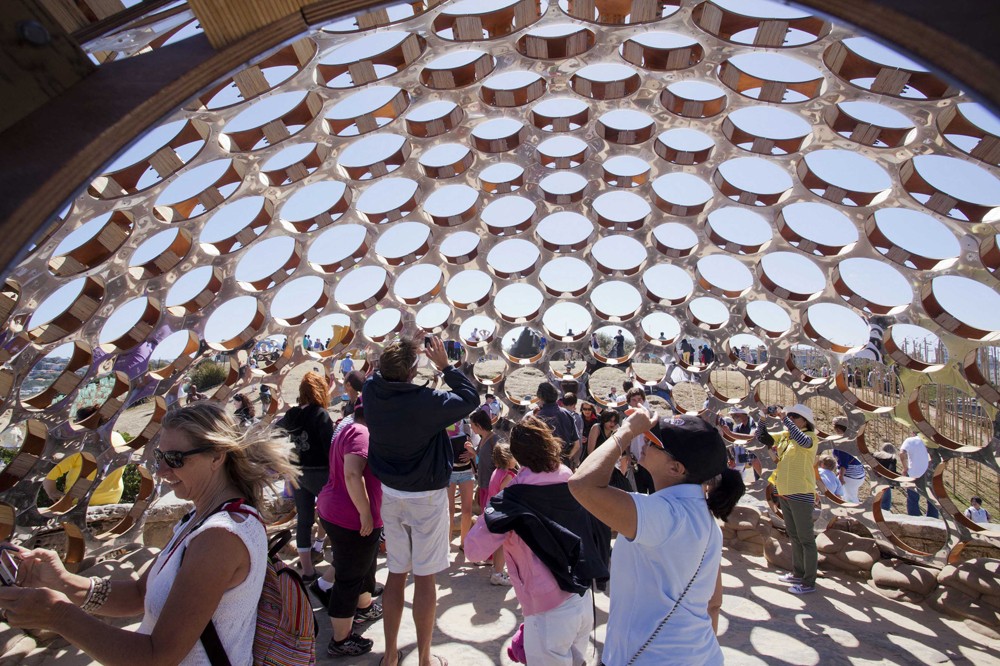 -(./.)
At the botanic gardens you can absorb amazing views of the harbor while walking through the immaculately maintained greenery to view the endless array of plants, trees and more, all of which are accompanied by signs with detailed information about the flora on display.
The gardens' trees are also often filled with birdlife such as cockatoos, as well as sleeping flying foxes hanging from the branches, adding an extra layer of nature to what is already a spectacular facility and a natural oasis with a size of over 30 hectares in total.
The Royal Botanic Garden is located on Mrs Macquaries Rd, Sydney. The gardens can be accessed by train or ferry, with an easy walk from Circular Quay, and bus.
Curious to know what Sydney looks like when viewed from above? Just head to Sydney Tower Eye. It offers magical 360-degree views of the city, giving you not only panoramic scenery to look at but also an idea of where everything is situated, which can help greatly in planning your transportation options for the rest of your trip.
Binoculars are available at the top of the tower free of charge, allowing you to zoom in on points of interest when gazing upon them from afar. As with any viewing tower, be sure to take your camera for some unforgettable snapshots of the view that stretches out to the harbor, the Blue Mountains and beyond.
A visit to the Sydney Opera House, Sydney's botanical gardens and Sydney Tower Eye may be a sensational experience but the truly vibrant city has a constant buzz and is full of energy, with a long list of must-visit destinations.
They include Jenolan Caves, the Blue Mountains, Bondi Beach, Government House Sydney, SEA LIFE Sydney Aquarium, The Queen Victoria Building and the National Maritime Museum, each showcasing their beauty and uniqueness.
A visit to Government House Sydney, for example, will enable you to witness how colonial-style architecture is still well-maintained and well-preserved. Exquisitely crafted furniture and beautiful paintings decorate the building that has been home to 27 governors since its construction in 1837 and is deemed one of the city's true "hidden gems," with an interior that has a hint of gothic influence in its innards.
The Blue Mountains are another essential natural gift in the greater Sydney region. They are a mountain range comprised of a kaleidoscope of contrasts and rich color, with Aussie bushland and wildlife that is always accompanied by a hazy blue horizon.
A trip to the Blue Mountains from Sydney will give you a true escape from the hustle-bustle of the city life and the rush of urban atmospheres while providing a chance to experience a great combination of spectacular scenery, wildlife, plants and the clean freshness of mountain air.
The Blue Mountains are a great getaway destination for honeymooners as well as a cool refuge from the heat of Sydney's summers. There is plenty to see and do in the region along with many small towns, each of which offers various attractions.
Meanwhile, there are plenty of places to shop in Sydney, but if you have a passion for high-end, elegant and gracious shopping, then go to the iconic Queen Victoria Building. There is a huge variety of shopping options. While shopping, you will also be treated to the stunning sight of the building itself, an architectural marvel that adds a touch of class to the proceedings with many fine details in its craftsmanship for the discerning eye to appreciate.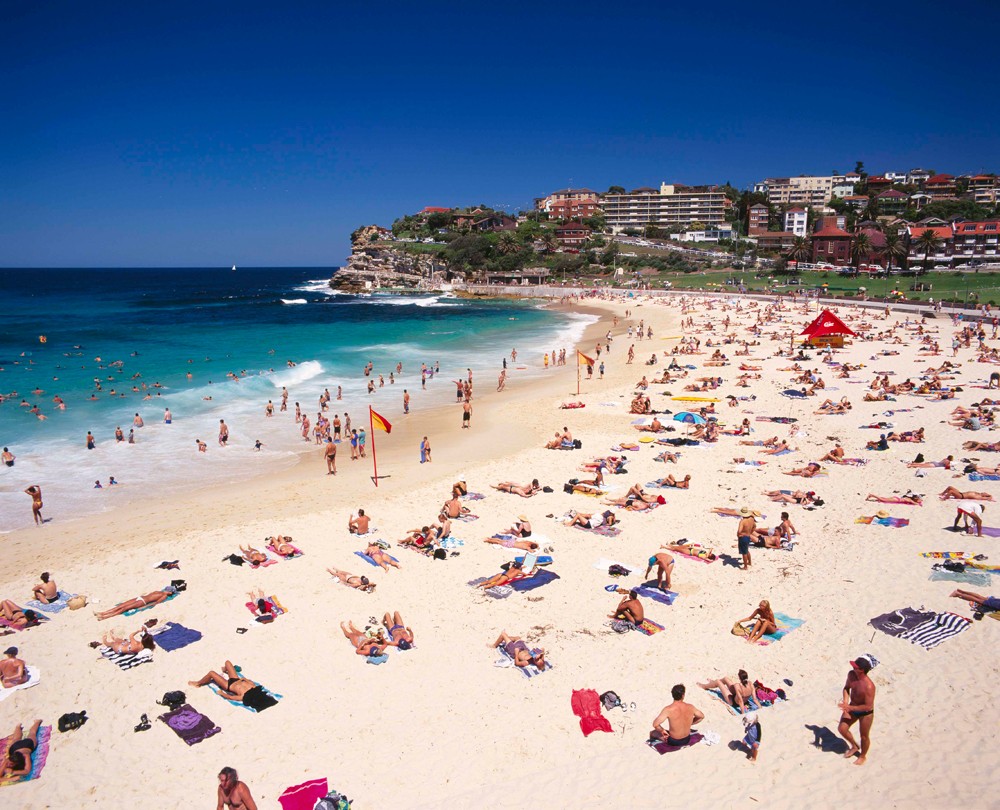 -(./.)
But if going to the beach is your passion, then you can go to Bondi Beach, one of Australia's top 10 beaches.
Situated close to the affluent eastern suburbs of Sydney, Bondi owes its popularity not only to its location but also to its great sand and clean water, all while sitting close to the largest population center in all of Australia.
While relaxing and enjoying the city's flora and fauna and breathtaking landscapes, you can also try out "glamping," which stands for "glamorous camping." The increasingly popular type of holiday allows you to have all the luxuries and conveniences of home inside a very fancy tent (often adorned with fairy lights) without having to bother carrying any camping gear.
Through glamping, you will be entrenched in nature, including waking up to the sound of birds singing or watching kangaroos go by. Sydney offers ideal glamping spots for travelers to experience, each with its own unique elements, depending on the landscape you are eager to enjoy. If a spectacular view of Sydney Harbour is your preference, then you may choose a glamping spot close to the harbor.
After an enjoyable visit to a place of interest or being engaged in a culinary trip during the day, you may ask how to spend the evening. Time is worth spending in Sydney. There are a range of performances in the evening, from musical concerts, plays or opera to ballet and comedy. The varied arts shows are part of the city's year-round calendar of events.
With plenty of places to visit and events to discover, you can experience the vibrance of Sydney!
To make your dream of a unique, memorable and life-enriching holiday come true, national flag carrier Garuda Indonesia, in collaboration with Tourism Australia, is offering special deals for Indonesians eager to visit Sydney. Visit www.garuda-indonesia.com/australia.
Topics :
You might also like :