MedArbId to host 3rd Annual Symposium for Mediators and Arbitrators in Jakarta
Inforial

The Jakarta Post
Jakarta, Indonesia |

Fri, April 21, 2017

| 12:00 am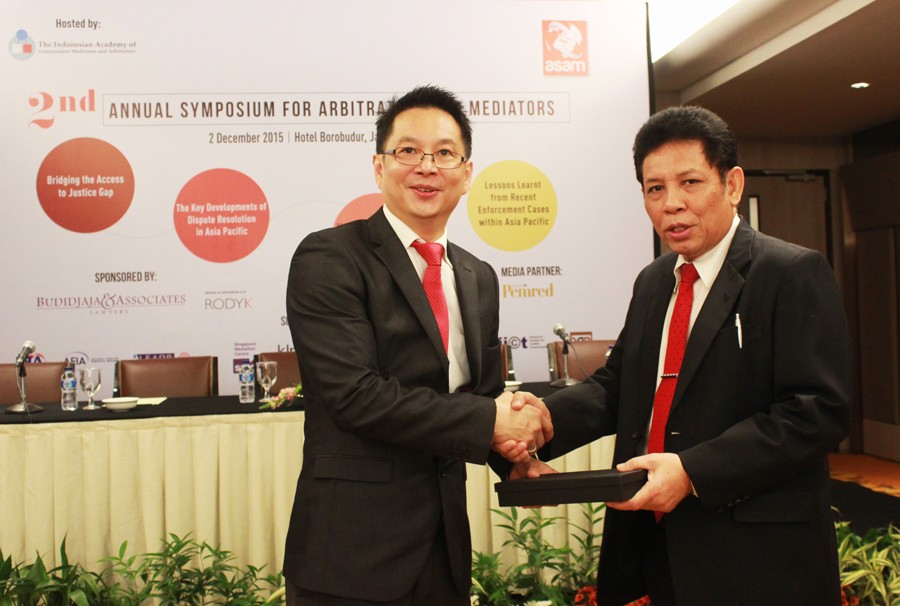 . (./.)
Hundreds of domestic and foreign legal officials, practitioners, corporate counsels, corporations, arbitrators and mediators are expected to join vigorous discussions for the enhancement of arbitration and mediation practices in the whole Asia-Pacific region.
The 3rd Annual Symposium for Arbitrators and Mediators (3rd ASAM), hosted by the Indonesian Academy of Independent Mediators and Arbitrators (MedArbId), will be held in Jakarta on April 26, 2017.
MedArbid was created on 17 August 2015 with a vision to be the Indonesia's leading and largest association of independent mediators and arbitrators.
ASAM brings together experienced dispute resolution professionals, relevant government officials, judges, and business community to build relationship and discuss issues that are critical for improving access to justice.
Themed 'Collaboration between National Courts and Dispute Resolution Professionals,' the 3rd ASAM will be the largest and most important symposium on arbitration and mediation in Indonesia as it is supported by various prominent arbitration and mediation institutions in the region, such as the Singapore International Arbitration Centre (SIAC), Kuala Lumpur Regional Center for Arbitration (KLRCA), Asia Pacific Forum for International Arbitration (AFIA), Resolution Institute, Hong Kong International Arbitration Center (HKIAC) and International Chamber of Commerce (ICC).
"For dispute resolution professionals, ASAM is a very rare opportunity for mutual interaction and an building an international network. For the business people, it a forum to acquire greater knowledge of the role of mediators, arbitrators, and judges in the resolution of disputes", said MedArbId's chairman Tony Budidjaja.
the enhancement of arbitration and other alternative dispute resolution practices. The 3rd ASAM will feature speakers from around the world tackling different issues: 'The Rising Presence of Dispute Resolution Professionals in Indonesia and Asia Pacific Region', 'The Role of National Courts in Assisting Parties throughout and beyond the Arbitration and Mediation Process', 'Emerging Issues and Challenges in International Arbitration' and 'How They May Affect Future Practice', 'Trends and Technologies Likely to Impact the Practice of Mediation and Arbitration in the Future'. Keynote speakers will include Prof. Dr. H. Muhamad Hatta Ali, S.H., M.H., the Chief Justice of the Indonesian Supreme Court, Coordinating Political, Legal, and Security Affairs Minister Indonesian Military Gen. (Ret.) Dr. H. Wiranto, S.H., and Attorney General Drs. H. Muhammad Prasetyo, S.H., M.H. The symposium is further supported by various prominent organizations, such as the Singapore International Arbitration Centre (SIAC), Kuala Lumpur Regional Center for Arbitration (KLRCA), Asia Pacific Forum for International Arbitration (AFIA), Resolution Institute, Indonesian Capital Market Arbitration Board (BAPMI), Hong Kong International Arbitration Center (HKIAC) and International Chamber of Commerce (ICC-Asia). For more information, please visit http://medarbid.org/en/event/upcomingevents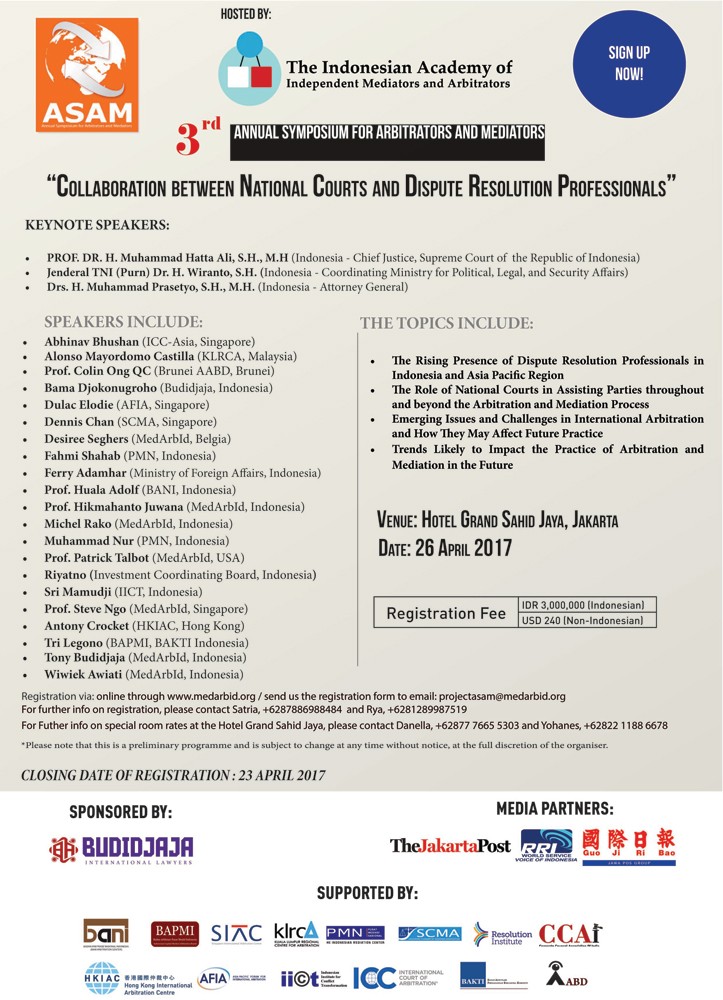 .(./.)
Topics :
You might also like :