Foreign currency investment promises prosperous results
Inforial

The Jakarta Post
Jakarta, Indonesia |

Mon, May 15, 2017

| 12:00 am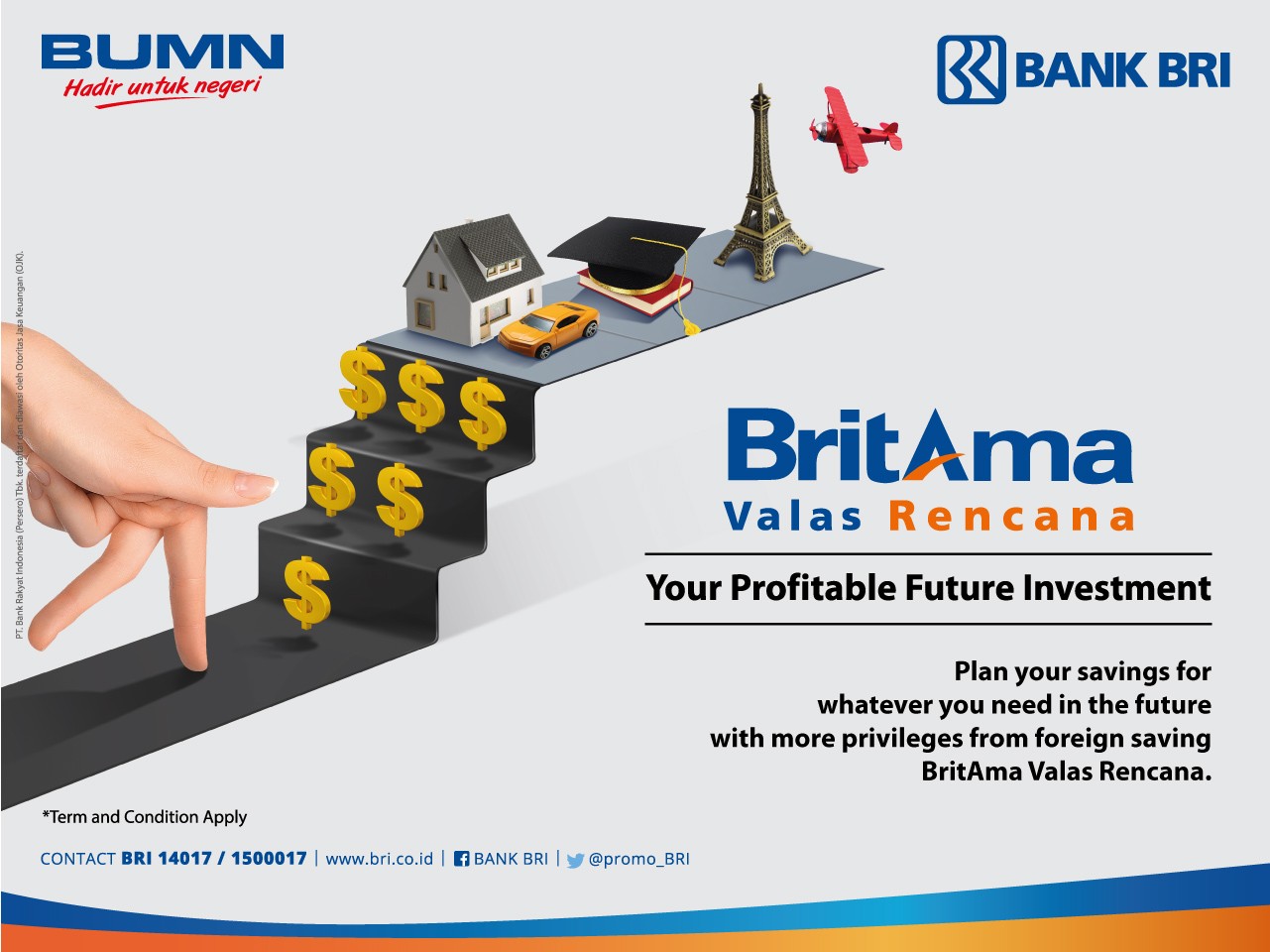 . (-/-)
Financial investments are becoming increasingly popular among Indonesians as this helps them gain profits. Aside from investing in Rupiah-based financial products, investors have another option now: investing in foreign currency, including the United States Dollar (USD). This latter option could be a convenient type of investment, especially if you earn your income in foreign currency.

With foreign currency investments, investors gain investments from the margin of exchange rate between Rupiah and the foreign currency when you buy and sell the currency.

For example, when the 1998 crisis hit Indonesia, the exchange rate of Rupiah to USD suddenly plunged to Rp 20,000 per $1. This means, if you have a savings amounting to $100, the value of your money would increase dramatically from Rp 200,000 to Rp 2,000,000, according to the fluctuation of the exchange rate itself.

In line with this investment trend, Bank Rakyat Indonesia's (BRI) recently launched BritAma Valas Rencana installment savings account. It will bring you a number of time-bound benefits, of which you are entitled to when you open an account. You can make use of the new savings account to get the most out of your USD installment savings.

The program was launched in April this year. For its regular monthly deposits, the bank will automatically withdraw money from customers' BritAma Valas accounts.

The account has two main benefits. The first is financial planning; the account helps bank customers with future financial plans, like education funds, holidays, religious tourism, medications and much more, saved in USD.
Meanwhile, for investments, the account's benefits can be found, mainly, in its relatively high interest rates, compared to the general foreign currency savings account. For this reason, the program could be the right choice for your investments in USD currency.
Other features and advantages of the account include:
Free monthly administration fees
Higher interest rates compared to the general BritAma foreign currency savings account, with a foreign deposit interest rate of 12 months minus 0.10 basis points
Monthly deposit time frame and schedule as well as automatic withdrawal date determined by customers when they open their accounts, which adjusts to their specific financial needs and investment plans
Affordable minimum monthly deposit of $10
Flexible monthly deposit time frame, which can be adjusted to customers' private needs
Monthly deposits withdrawn automatically from customers' accounts so they do not have to go through the hassles of going to a BRI branch for fund deposit purposes
Customers can make extra deposits in addition to the routine monthly deposits
All BritAma Valas customers get a chance to join the BritAma Valas Rencana holiday program by accumulating token points through these methods:
Opening a BritAma Valas Rencana Holiday account: 5 points
Activating BRI internet banking account: 2 points
BritAma Valas transfer through internet banking: 2 points
Accumulate as many token points as you can to get a chance to win prizes, including nine travel vouchers to Europe, five travel vouchers to Australia, 10 gold bars weighing 10 grams each or 15 gold bars weighing five grams each. The offer is valid from April 1 to Aug. 31, 2017.
Topics :
You might also like :