Telkomtelstra, Microsoft launch hybrid cloud solution
Inforial

The Jakarta Post
Jakarta, Indonesia |

Fri, August 11, 2017

| 12:00 am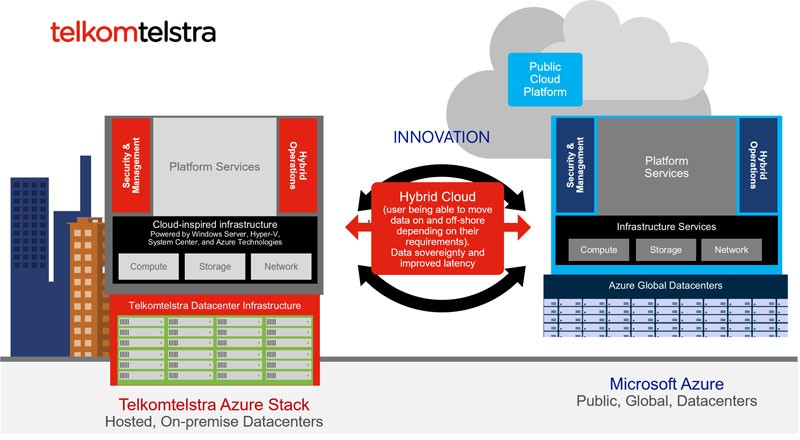 Photo: Courtesy of Telkomtelstra (-/-)
Managed services provider PT Teltranet Aplikasi Solusi (telkomtelstra) announced on Aug. 8 its launch of the first Azure Hybrid Cloud with Azure Stack Platform in Indonesia, in partnership with PT Microsoft Indonesia (Microsoft Indonesia).
This is a joint effort to tap into Indonesia's growing cloud services market, helping companies to comply with the local data residency policy, lower latency and better access performance, and trusted local support to implement cloud strategy into their business.
The hybrid cloud solution enables customers to store some applications or data in a traditional non-virtualized environment, while other applications or data are stored in a private cloud and a public off-premises cloud.
"In order to keep up with market demand, business in the digital era should be powered by cloud technology, because that can help improve efficiency by reducing cost, enabling innovation by increasing revenue and existing assets, and transform your business with new business models," said Erik Meijer, telkomtelstra's president director.
"With Azure Stack Platform, telkomtelstra will present the first hybrid cloud in Indonesia powered by Microsoft, a leader in cloud technology, and at the same time provide customers with a trusted and an innovation-driven way to support business."
In addition, telkomtelstra also integrates other telkomtelstra services to create better cloud services, such as business productivity applications, network services, security services and professional services.
The adoption of cloud technology is increasing in Indonesia and is becoming a building block for enterprises to create and manage new business services for their customers.
With telkomtelstra's public cloud, customers can save up to 40 percent on Windows Server virtual machines in Azure, have the flexibility to scale up or down anytime, collaborate in developing and operating processes with automation and scheduling and deliver more purpose by storing data in the cloud in a simple and reliable way.
"IT leaders in Asia Pacific are making firm steps towards transforming their approaches to complement their organization's digital transformation requirements despite having to also manage legacy IT infrastructure. Forty-eight percent of IT leaders in the region are prioritizing hybrid cloud over public-only or private-only cloud solutions for their organizations in the near future," said Tony Seno Hartono, national technology officer of Microsoft Indonesia.
"The next few years will be critical to all IT leaders as they execute on plans for a transition to a modern cloud-based IT infrastructure needed to serve their digital business needs. Therefore, together with telkomtelstra, Microsoft is also committed to helping enterprise customers in Indonesia accelerate their digital transformation."
Microsoft Azure is a cloud platform for digital transformation across a customer's business. Microsoft provides a platform of technologies that enable users to accelerate application innovation through rapid application development and agility in the cloud.
It delivers integrated data and intelligence, data for rich insight into intelligence embedded within applications. It is open and flexible, where customers can use the tools and technologies they already have and would like to use.
Azure Hybrid Cloud is available in 38 regions around the world and it is continuously investing in the latest infrastructure technologies, focusing on high reliability, operational excellence, cost-effectiveness, environmental sustainability, and a trustworthy online experience for customers and partners worldwide. Moreover, Azure is a trusted platform to protect customers' business assets.
As customers expect more digital experiences, it is inevitable that they also expect advanced data protection.
To provide an initial phase of experiencing the benefits of implementing the Azure Hybrid Cloud, telkomtelstra offers customers a Proof of Concept (PoC) package to install the Azure for one month at no charge. This PoC package showcases the Azure Stack and stimulates the real operating and support environment of telkomtelstra managed services.
A number of telkomtelstra customers have experienced the benefits of using the Azure Hybrid Cloud, including PT Indo Karya Optima.
"Having the Microsoft Azure with telkomtelstra as our web server and database server is such a satisfactory experience. The installation steps are easy to understand and user friendly. The experience of using it for our first month trial was seamless as if having our server on premise with no issues on bandwidth and speed. Overall, the service from telkomtelstra is also great, as they have been very supportive, quickly responsive and helpful," said Eric Hernawan, director of PT Indo Karya Optima.
The partnership between telkomtelstra and Microsoft Indonesia provides a complete solution offering of Azure Public Cloud with services such as Azure Back Up (simple and reliable server backup to the cloud), Azure Apps Service (create web apps for any platform and any device) and Azure SQL Database (manage relational SQL database-as-a-service).
Moreover, the services include Public Azure Managed Service and Azure Public Service. Public Azure Managed Service is created for businesses that would like to leverage the Microsoft Azure Public cloud, supported by a managed service with level 1/2/3 support, where telkomtelstra will register customer details and subscriptions.
Azure Public Service is created for businesses that are just looking to purchase Azure Public licenses. Telkomtelstra will configure the Azure Portal to meet the customer's cloud service requirements.
Topics :
You might also like :