Sinar Mas Land hosts Young Architect Competition 2017
Sinar Mas Land

The Jakarta Post
Jakarta, Indonesia |

Tue, October 31, 2017

| 12:05 am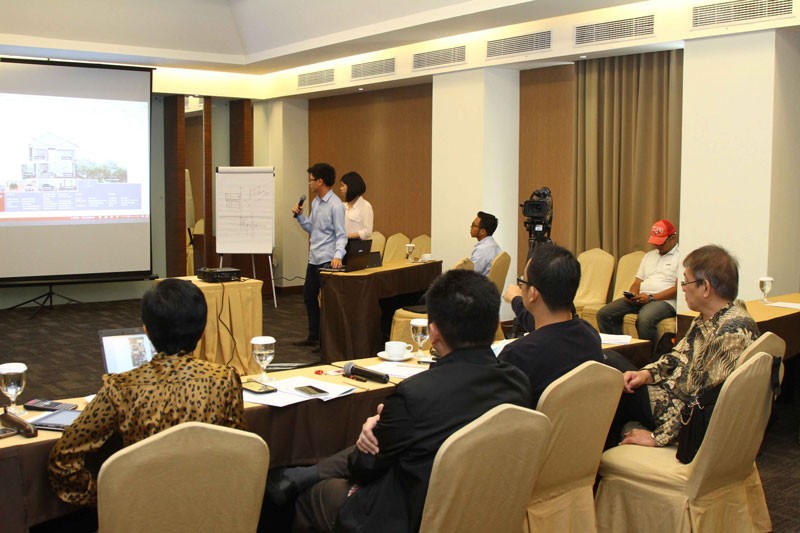 . (Photo courtesy of Sinar Mas Land/.)
Property developer Sinar Mas Land is inviting young architects throughout the country to take part in its third Sinar Mas Land Young Architect Competition 2017 (SMLYAC).
The competition is open from Sept 17 to Nov 12. Sinar Mas Land is also collaborating with the Indonesian Architects Association (IAI) to inspire young architects to innovate and realize their potential in building the country.
From this contest, Sinar Mas Land hopes to see the emergence of young talented architects who will become the backbone of architectural development in the country.
Aside from using SMLYAC 2017 as a way of demonstrating its support for education in the country, the contest also promotes Sinar Mas Land's tagline of "Building for a Better Future".
"We're holding this competition as a way of digging up potential talent of young architects in Indonesia. We're confident that Indonesian architects can compete with renowned architects from around the world. That's why we are providing a platform for local architects to show off their best works," Sinar Mas Land corporate communication head Panji Himawan said.
This contest is divided into three categories: commercial development, residential development and digital working space development. A total of Rp 450 million in prize money is on the line for SMLYAC 2017.
The commercial and residential categories are for architecture undergraduate students who are at the very least in their seventh semester. It is also open to fresh graduates no older than 26 years of age, while the digital working space development category is exclusively for professional architects or IAI members no older than 30.
Each of these three categories will require participants to submit designs for different areas in the rapidly developing BSD City in Tangerang.
For the commercial development category, contestants will be designing business lofts and apartments in the northern part of the city. The residential project focuses on an upper class premium residential zone with integrated facilities.
Meanwhile, the digital working space category involves creating a facility for the city's Digital Hub area that will serve as the heart of communal activities and as a media center.
The overall evaluation method by judges is based on each submission's planning and designing, sense of eco-friendliness and design expressiveness.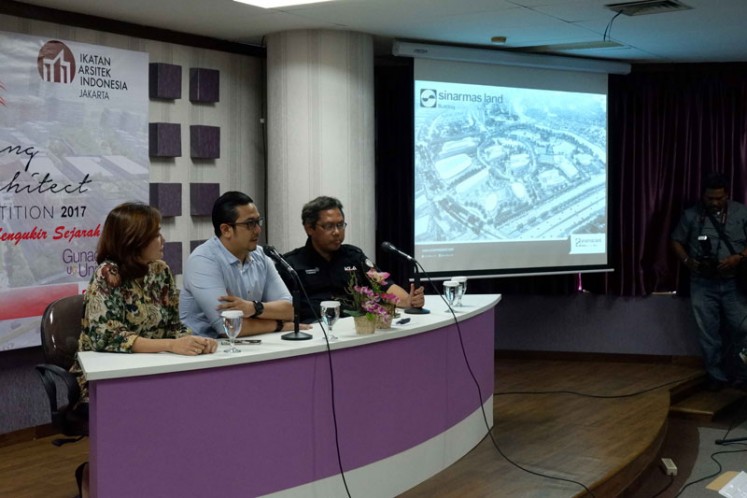 . (Photo courtesy of Sinar Mas Land/.)
Each category also comes with its own specific set of judging criteria. For example, when it comes to submissions for the digital working space development category, judges will be looking for a low-rise building and a mix of communal facilities, office environments and commercial spaces.
Does it provide a closed drop-off space? Is there natural lighting? Is it accessible? Does it provide good circulation for the easy spread of information? These are some of the specifics judges will be looking for when evaluating the digital working space.
"The best works must be in accordance to applicable contest requirements," said Asdarianto Asmoeadji, one of SML YAC 2017's judges. "They particularly have to promote 'the hope of the world', which is green living, meaning lots of gardens and open spaces."
Five finalists will be chosen from each of the three categories. Each of these finalists will be required to give a presentation on their submissions to judges.
During the last phase, judges will choose three winners for the residential and commercial development categories and two for the digital working space category, with prize money ranging from Rp 25 million to Rp 100 million.
Aside from the prize money, the top winners in each category will also get a chance to do an internship with Sinar Mas Land.
To promote this competition, Sinar Mas Land and IAI are conducting a road show that involves visiting 10 different institutions of higher education in Jakarta and Bandung to familiarize SMLYAC 2017 to students and potential contestants.
IAI, as organizers of the road show, has expressed hopes that this contest can help prepare students and young architects for life in the professional world of architecture.
"The world of architecture is a hard world. The process of looking for clients and projects is filled with healthy competition," said Rachmad Widodo, competition division chief at IAI. "We hope this competition can guide participants in their professionalism and help them face competition. We at IAI welcome positively this competition as it helps progress the world of architecture."
Taking part in more than one contest category is allowed. Each participating individual or group is allowed to take part in more than one contest category and send more than one submission, provided they do so with a separate registration account.
Submissions can be made until Nov. 12. Prospective contestants can visit smlyac.com for more details.
You might also like :