Riau farmers successfully increase goat population by 195%
APP Sinar Mas

The Jakarta Post
Jakarta, Indonesia |

Wed, November 15, 2017

| 12:19 am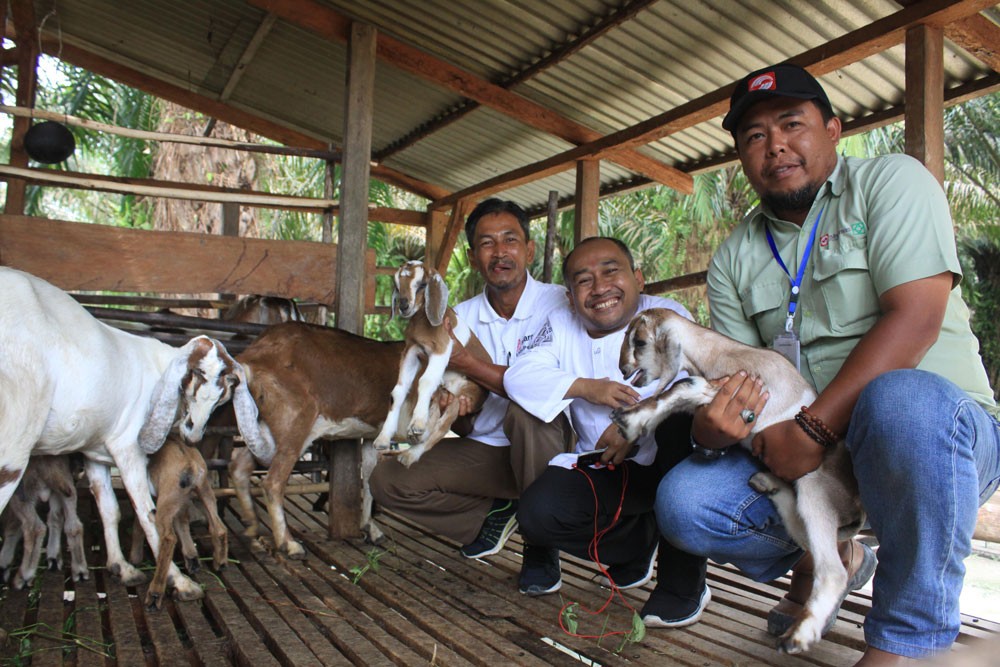 . (./.)
A group of farmers from Kesuma village in the remote corners of Pelalawan regency in Riau province has managed to successfully get their livestock of goats to breed, reproduce and sell it to the point where the population has increased 195 percent, from 40 to 118, in just a year.
"The breeding of goats has improved. From just 40 goats, we now have 118 in one year. The local residents even held a thanksgiving event and sacrificed three of those goats," Kesuma Abadi Foundation chief Tuharno said to Antara reporters at Kesuma Village.
Kesuma village is located around 160 kilometers away from the city of Pekanbaru. It consists of five hamlets with a total population of about 8,000 family heads. The residential settlements are located in remote areas, where the infrastructure in the majority of places still consists of dirt roads. The village is partly located within Tesso Nilo National Park conservation grounds. Other parts of it are within the concessional areas of a PT Arara Abadi forestry industrial zone. PT Arara Abadi is a subsidiary of APP Sinar Mas.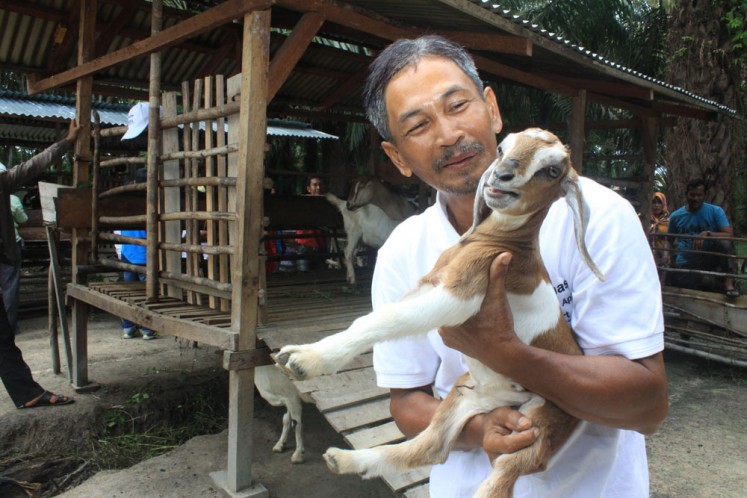 . (./.)
Tuharno said the local residents had spearheaded this goat breeding effort with assistance from PT Arara Abadi through a program called "Desa Makmur Peduli Api (DMPA)." The company's aid has been rolling since Nov. 4 in 2015, and was specifically delivered with the goat cultivation program in mind, which started off with 40 goats.
Participating farmers at the village were divided into eight pairs. Each pair received training and assistance, as well as aid in the form of five goats (one buck and four does) for better livestock breeding.
According to 53-year-old Tuharno, the success of this breeding program cannot be separated from the farmer's excellent selection of quality goats and their hard efforts to cultivate and care for the goats.
"Some of the first does that came in were already pregnant, which meant that the does that were selected were already good. Four of the does ended up having two offspring each, and not long after that there was a doe that had five more offspring," said Tuharno, who now has 18 goats.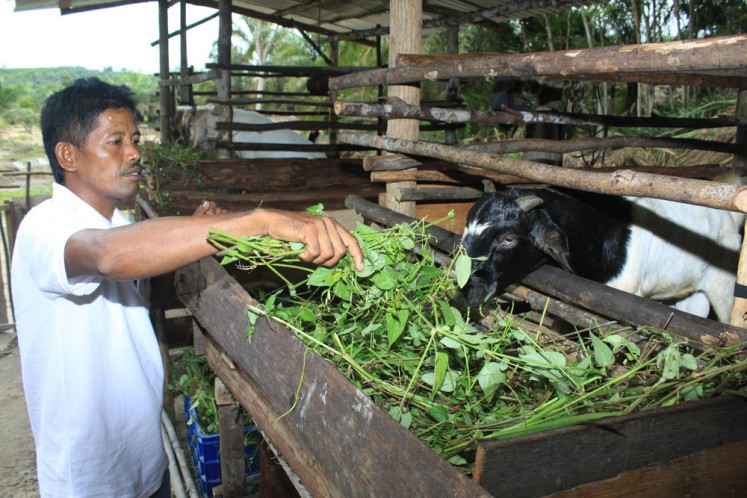 . (./.)
He now takes turns with another farmer to take care of the 18 goats by doings things like cleaning their cages and looking after the grass that the goats are fed. He feels grateful as a large chunk of the villagers now have promising forms of employment.
"The residents now have savings in the form of goats. Some have slowly been able to build their own homes from the profits of selling goats," said Tuharno, who used to do odd jobs before becoming a goat breeder.
Another goat farmer by the name of Misiran said the profits the locals had received came not only from the selling of goats, but also from goat feces, as it is a popular form of fertilizer.
"From selling the goat feces, I've totaled at about Rp 2 million in profits," Misiran said.
Misiran is among the farmers that have benefited and now has 17 goats. Misiran can now even lend some of his goats as aid to form other groups. This is part of a DMPA program stipulation that requires farmer groups to lend six goats to help spread the benefits and allow even more villagers to enjoy aid.
"We are very grateful to the company because I previously held odd jobs. Now nearly every day I cut grass and there is always income," Misiran said.
Previously, the Villages, Disadvantaged Regions and Transmigration Ministry signed a memorandum of understanding with APP Sinar Mas to work together to accelerate the development of more than 100 villages. The ministry and APP Sinar Mas have mapped out more than 100 villages that will be targeted for this partnership.
You might also like :