PPP names Romahurmuziy new chairman
Erika Anindita Dewi

The Jakarta Post
Jakarta |

Sun, April 10, 2016

| 12:40 pm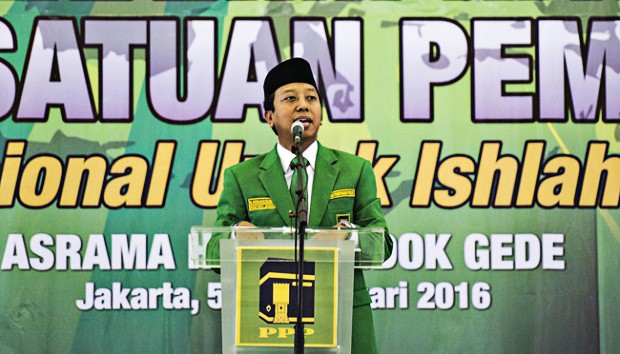 New leader – Muhammad Romahurmuziy speaks during a recent United Development Party (PPP) event. He was elected the new PPP chairman by acclamation during the party's eighth national meeting in Jakarta on Saturday. (Antara/-)
The United Development Party (PPP) declared Muhammad Romahurmuziy its new chairman during its eighth national congress (Muktamar) at Pondok Gede Haj Dormitory in East Jakarta on Saturday.
In the sixth plenary meeting of the Muktamar, Romahurmuziy, who previously served as secretary-general of the PPP leadership group formed at a 2011 Muktamar in Bandung, was elected by acclamation.
According to the congress rules, the election of the party's chairman or central executive board (DPP) chairman must take place in an agreed forum. During the process, the forum leader will ask for approval from all party members on one chairman candidate.
At the meeting, the PPP's DPP deputy chairman Suharso Monoarfa announced Romahurmuziy as the party chairman candidate, drawing applause from over 1,000 PPP members from 33 regional executive boards.
"Do you trust me, who has been involved in the PPP's conflicts over the last one-and-a-half years, to be the real chairman?" Romahurmuziy asked congress participants in his acceptance speech.
"We do!" they replied in unison, showing their agreement with the result of the quick vote.
Speaking after his win, Romahurmuziy said he aimed to get more votes in the upcoming legislative election. In 2014, the PPP obtained 8,157,488 votes (6.53 percent of the total) and 39 seats (7 percent).
The three-day meeting was hosted by PPP leaders elected at the Bandung Muktamar. In 2011, then religious affairs minister Suryadharma Ali was appointed party chairman, alongside Romahurmuziy as secretary-general.
The eighth Muktamar was held following the Law and Human Rights Ministry's decision on Feb. 16 to reactivate a decree that recognized the party's leadership elected at the Bandung Muktamar. The PPP is set to compose new rules and bylaws in the eighth Muktamar, which ends on Sunday. (ebf)
Topics :
You might also like :
Comments