W.Kalimantan resident hands over slow loris to conservation agency
Severianus Endi

The Jakarta Post
Pontianak, West Kalimantan |

Thu, May 5, 2016

| 12:18 pm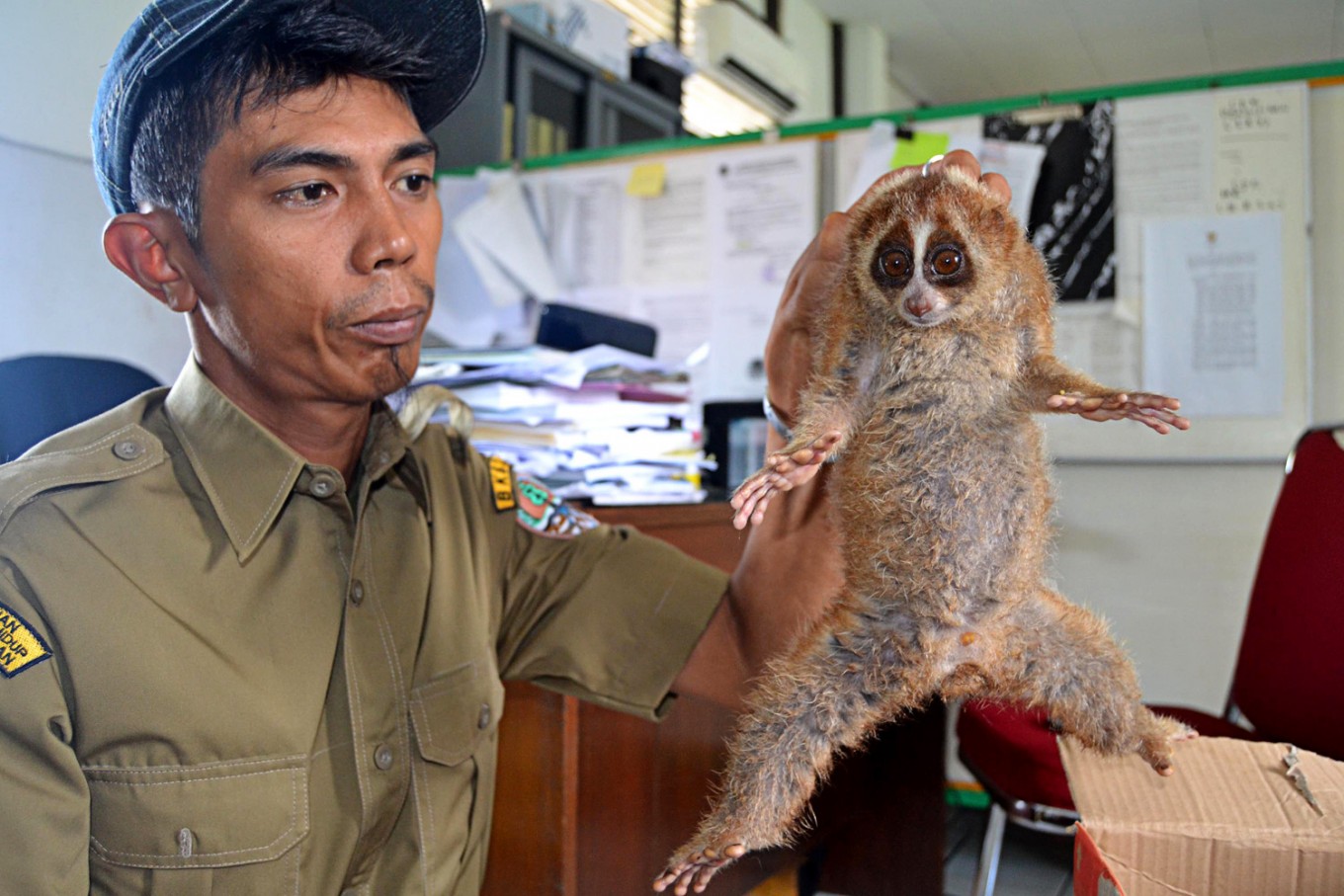 Protected species – An officers at the West Kalimantan Natural Resources Conservation Agency (BKSDA) shows a female Bornean slow loris handed over by a Kubu Raya resident on Monday. As of April 2016, the BKSDA had rescued five slow lorises. (thejakartapost.com/Severianus Endi)
A resident of Kubu Raya regency, West Kalimantan, has handed over a Bornean slow loris she had been taking care of for two weeks to the province's Natural Resources Conservation Agency (BKSDA).
Mistiani claimed she found the female Bornean slow loris swinging from branches of a mango tree in front of her house. She then caught the animal, known locally as a kukang, and kept it in a cage she previously used to keep a rabbit.
"I didn't know what animal it was. I kept it for two weeks and gave it bananas. I then decided to hand it over to the government because I saw on television that this is a protected species," Mistiani told thejakartapost.com at the BKSDA West Kalimantan office on Monday.
The Bornean slow loris is a protected species. Its attractive physical appearance has led many people in West Kalimantan to keep them as pets although it is prohibited.
Mistiani handed over the loris in a cardboard to the BKSDA West Kalimantan's forest ranger division unit Azmardi.
Azmardi suspected that the loris was a pet, which had escaped from its cage. The animal normally lives in forests rather than urban areas. He said the loris would undergo observation for several days before it would be sent to a conservation shelter in Ketapang.
Azmardi explained that the slow loris was a shy animal, which played an important role in the forest ecosystem. Slow lorises not only serve as pest controllers but also spread plant seeds as they consume fruit.
As of April 2016, the BKSDA West Kalimantan had rescued five Bornean slow lorises. All of the lorises have been rehabilitated in a shelter belonging to conservation group Yayasan Inisiasi Alam Rehabilitasi Indonesia (YIARI) in Ketapang regency.
During that period, the BKSDA also rescued one Malayan sun bear, 12 Bornean orangutans and one forest cat.
The YIARI shelter is an orangutan rehabilitation center but it also handles rehabilitation treatment for several other mammals. Since it first opened in 2009, the shelter has rehabilitated 160 orangutans, 50 of which have been released back to their natural habitat. (ebf)
Topics :
You might also like :
Comments