Carbon-free transport initiative launched to help tackle climate change
Elly Burhaini Faizal

The Jakarta Post
Leipzig, Germany |

Fri, May 20, 2016

| 03:26 pm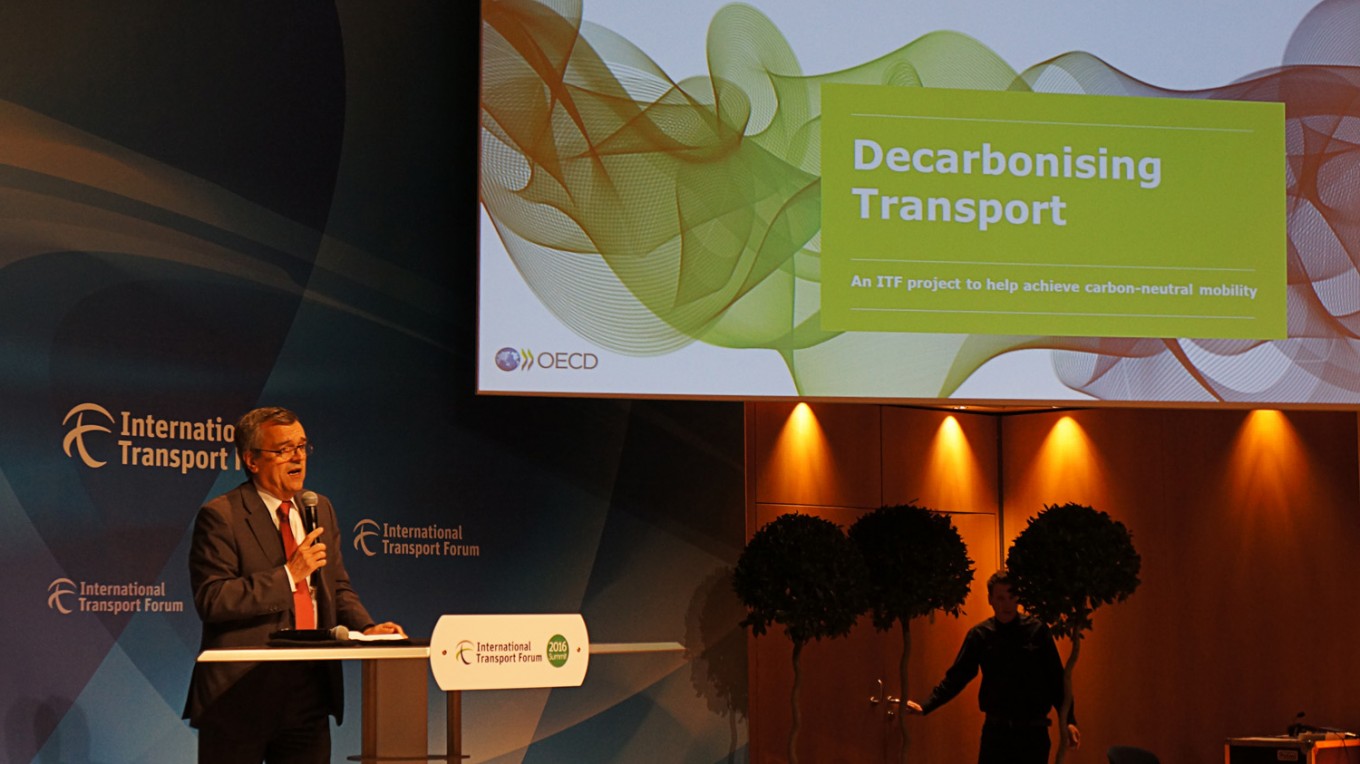 Climate neutrality – International Transport Forum secretary general José Viegas speaks during the launch of the Decarbonising Transport Project at the Annual Summit of transport ministers in Leipzig, Germany, on Thursday. (thejakartapost.com/Elly Burhaini Faizal)
The International Transport Forum (ITF) at the Organisation for Economic Co-operation and Development (OECD) on Thursday launched a global initiative to help combat the environmental impacts of the transport sector.
The Global Decarbonising Transport project aims to reduce carbon emissions from transport activity, which currently contributes 23 percent of global CO2 emissions from fossil fuels, a share that is expected to continue to grow.
"The COP21 Paris Agreement created a political pathway for global CO2 mitigation efforts. The key is to close the gaps between commitments and delivery. It is now up to the transport sector to demonstrate how carbon-free mobility can be achieved. That is why we are launching today the Decarbonising Transport project," ITF secretary general José Viegas said during the launch of the initiative on the sidelines of the Annual Summit of transport ministers in Leipzig, Germany, on Thursday afternoon local time.
The Decarbonising Transport project is set to provide a common assessment tool, to translate roadmaps into initiatives that deliver results, and to achieve the UN Sustainable Development Goals.
The common assessment tool is considered crucial to get "clarity, transparency and understanding" of Intended Nationally Determined Contributions as required by the Paris Agreement, a framework to achieve carbon neutrality agreed on during the COP21 six months ago. The tool will allow ITF and its partners to evaluate the impacts of different sets of measures on carbon reduction. Expected to last four to five years, the carbon-neutral transport system project is set to deliver its first results after two years, in time for the first round of reviews of the COP21 decarbonisation targets in 2020.
"This is a very ambitious project. But ambition is what the world needs to stop climate change. Ambition is also something that has characterized the transport sector throughout its long history of innovation," Viegas said.
"Our challenge is to reduce transport CO2 without sacrificing the access and opportunities offered by transport, keeping our societies together and making our economies turn," he added.
In her video message screened during the launch of the project, UN Framework Convention on Climate Change (UNFCCC) chief Cristiana Figueres expressed her support of the initiative, which aims to help the transport sector find a path toward carbon-free mobility.
"We know that demand for transport will soar as the population grows, and we know that emissions must come down to fulfill the goals enshrined in last year's Paris Climate Change Agreement," she said.
"Governments must have the tools to understand whether or not policy is working as intended, and robust, responsive tools give policymakers a better sense of what can be accomplished."
The preliminary results of the Decarbonising Transport project will be presented at the next ITF Summit in May 2017.
Topics :
You might also like :
Comments