Jakarta set to develop waste-to-energy plants
Callistasia Anggun Wijaya

The Jakarta Post
Jakarta |

Fri, May 20, 2016

| 04:04 pm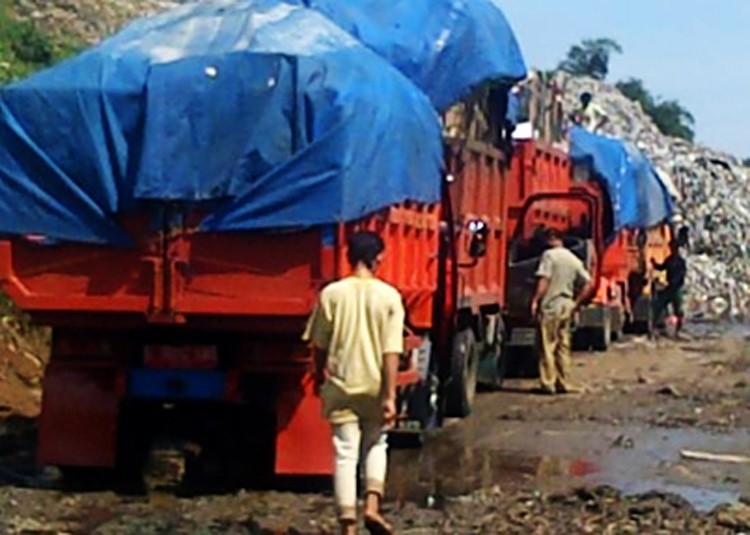 Garbage trucks queue to dump trash from Jakarta at the Bantar Gebang garbage treatment facility in Bekasi, West Java. Jakarta is ready to construct waste-to-energy plants in four areas to reduce dependency on Bantar Gebang. (Wartakota via tribunnews.com /Ichwan Chasan)
Jakarta is ready to construct intermediate treatment facilities (ITF) to process waste into energy in four areas in the capital, as part of efforts to reduce dependency on the Bantar Gebang waste treatment facility in Bekasi, West Java.
The four plants are set to be constructed in Sunter and Marunda in North Jakarta, Cakung Cilincing in East Jakarta and Duri Kosmabi in West Jakarta.
The Jakarta administration is waiting for technical direction from the Office of the Coordinating Maritime Affairs Minister regarding the construction of the ITF, said Jakarta Sanitation Agency head Isnawa Adji.
"After receiving the direction, we will break ground in Sunter before October this year. The construction will occur within one or two years," Isnawa told thejakartapost.com in a recent interview.
The ITF will use incinerating machines to produce thermal energy. Isnawa said the ITF in Cakung Cilincing and Marunda would be developed by PT Jakarta Propertindo, while the ITF in Sunter and Duri Kosambi would be developed by the Jakarta Sanitation Agency.
"The ITF construction will be funded by investors and the city administration will pay back the construction cost through a tipping fee. Therefore, it won't affect the regional budget," Isnawa said without revealing the companies involved.
The tenders for the projects were offered in 2012 and foreign companies were selected to handle the projects in cooperation with local companies. However, no winners have been announced until now because of the change of leadership in the city.
Currently, the city administration pays Rp 133,000 (US$9.77) for every ton of waste that is processed at Bantar Gebang, with the city producing 6,600 to 6,700 tons of garbage per day.
According to the 2012- 2023 master plan for garbage management in Jakarta, the city must develop at least three waste-to-energy plants. The one in Sunter will have the capacity to process 1,000 tons per day, while the plant in Cakung Cilincing will have capacity for 1,500 tons per day and Marunda capacity for 2,500 tons per day. (bbn)
You might also like :
Comments