Activists take to streets to commemorate 18 years of Reform Era
The Jakarta Post

The Jakarta Post
Jakarta |

Sat, May 21, 2016

| 08:25 pm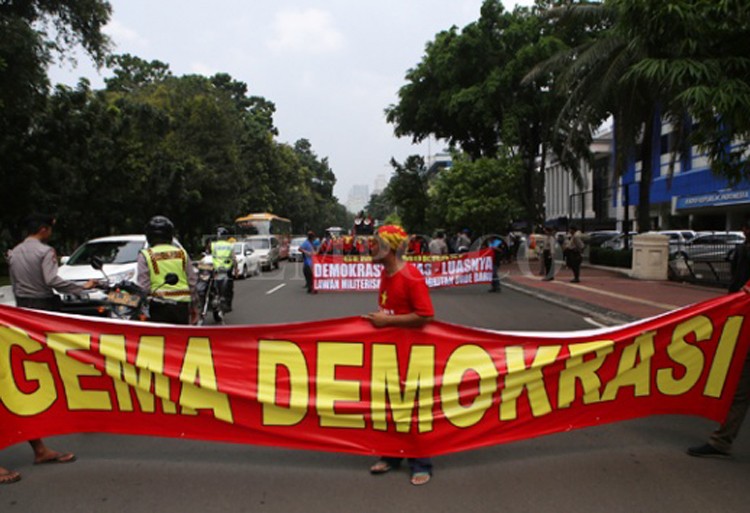 Democracy activists gather on Saturday to commemorate the 18th anniversary of reform by expressing their concern over the return of militarism to public life. (tempo.com/Aditia Noviansyah)
Hundreds of democracy activists on Saturday commemorated the 18th anniversary of reform by expressing their concern over the return of militarism to society.
The activists' spokeswoman, Nining Elitos, said the event was held because the activists had learned of the systematic use of the military to repress people by those in power, while the government had also failed to improve people's welfare.
"Democracy and people's movements are repressed," Nining said on the sidelines of the demonstration, as reported by tempo.co.
She gave several examples of the military's role in dealing with people's affairs, such as in evictions, labor demonstrations and raids on booksellers.
About 500 people gathered on Jl. MH Thamrin near the National Monument (Monas) park at 11:15 a.m. on Saturday before moving along Jl. Medan Merdeka Barat, expressing their aspirations in front of the Defense Ministry and the Office of the Coordinating Political, Legal and Security Affairs Minister and ending outside the State Palace.
The activists dubbed the event the Voice of Democracy to remind all parties about the demands of protesting students who tried in 1998 to force then president Soeharto to end his 32-year regime, along with eliminating corruption, collusion and nepotism (KKN) and putting a stop to the military's role in politics and public life.
Among the organizations that supported the event were the Alliance of Independent Journalists (AJI), Indonesia Legal Aid Institute (LBHI), Commission for Missing Persons and Victims of Violence (Kontras), Union of Journalists for Diversity, Institute for Policy Research and Advocacy, the Reform Committee, Impartial, the International NGO Forum on Indonesian Development and the International People's Tribunal on 1965 (IPT '65).
Soeharto was forced to step down from his 32-year rule on May 21, 1998, after the nationwide protests by university students who also managed to occupy the House of Representatives complex. He was replaced by then vice president BJ Habibie. (bbn)
Topics :
You might also like :
Comments