Damri buses to serve airport-hotel routes
News Desk

The Jakarta Post
Jakarta |

Thu, June 9, 2016

| 01:49 pm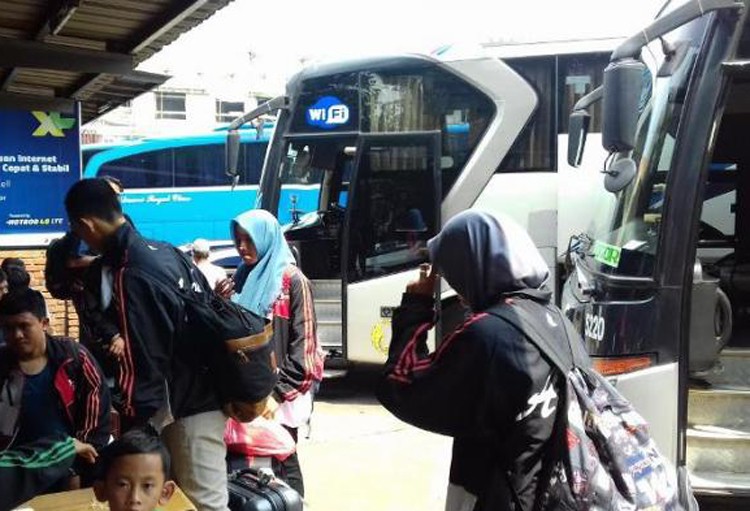 Residents of Bogor, West Java, wait for bus at the city's Botanical Square that will transport them to Soekarno-Hatta International Airport . ( tribunnewsbogor.com/Damanhuri )
The Transportation Ministry will deploy state-owned public transportation operator PT Damri buses to serve routes between Soekarno-Hatta International Airport in Tangerang and major hotels in Jakarta as part of an effort to encourage airplane passengers to use public transportation.
Soekarno-Hatta, which is already one of the world's busiest airports, will be even busier soon after the opening of Terminal 3 Ultimate on June 20, Greater Jakarta Transportation Agency head Elly Adriani Sinaga said as reported by kompas.com on Thursday.
"In many of the world's cities, it is common for buses to serve passengers to and from airports. But here, they are served by taxis," she said, adding that so far Damri had transported nearly eight million passengers from Soekarno-Hatta airport to several points in Jakarta and its satellite cities.
Private bus operators that also offer services from the airport are Agra Mas, Hiba Utama, Primajasa, Sinar Jaya, and Megah Langgeng, but with limited routes.
Damri's safety and service director Gede Pasek Suardika said his company was currently in the process of deploying more buses from the airport to try to encourage people to not use their private cars to reduce traffic congestion.
So far, he added, his company was only allowed to serve passengers from the airport to bus terminals that are inconvenient for airplane passengers with large baggage.
The plan for the expanded routes will be finished late this month and implemented soon, said Gede, adding that in the future, buses would also pass shopping malls, train stations and bus terminals.
Damri currently serves five routes from the airport. They are:
Soekarno-Hatta airport - JW Marriott Hotel - Manhattan Hotel - Park Lane Jakarta -Hotel Grand Melia.
Soekarno-Hatta airport -Hotel Mulia, Ritz-Carlton Hotel- Crowne Plaza.
Soekarno-Hatta airport - Intercontinental Mid Plaza - Sahid Jaya Jakarta - Le Meridien Hotel - Four Seasons Hotel - Hotel Shangri-La.
Soekarno-Hatta airport - Grand Hyatt Jakarta, Hotel Kempinski, Hotel Sari Pan Pacific -Hotel Milenium.
Soekarno-Hatta airport - Hotel Borobudur -Hotel Arya Duta Tugu Tani - Hotel Alila. (bbn)
You might also like :
Comments