Ahok expects 20 percent fall in traffic from odd-even policy
Callistasia Anggun Wijaya

The Jakarta Post
Jakarta |

Mon, July 25, 2016

| 12:14 pm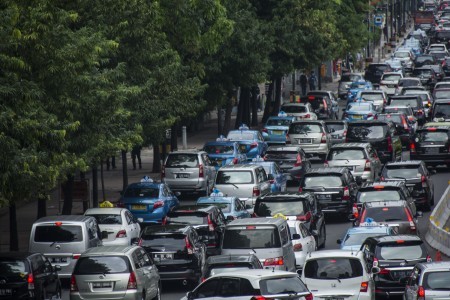 Vehicles stuck in traffic on Jl. MH Thamrin in Central Jakarta on June 20. The Jakarta administration is to being implementing a month-long trial of an odd-even license plate policy next month before fully implementing it in August in a bid to ease worsening traffic congestion. (Antara/Aprilio Akbar)
Jakarta governor Basuki "Ahok" Tjahaja Purnama says he hopes the implementation of an odd-even plate number policy, effective starting July 27, will reduce traffic congestion in the capital by 20 percent.
"The reduction in congestion may not be too significant, because the most effective way to combat traffic is through ERP, which could reduce it by 80 percent," Ahok said at City Hall on Monday.
Jakarta plans to implement Electronic Road Pricing, or ERP, in 2017.
[Read also: Jakarta optimistic about odd-even license plate policy]
Under the even-odd scheme, only vehicles with odd license plate numbers can enter three major thoroughfares in Jakarta— Jl. M. H. Thamrin, Jl. Sudirman and Jl. Gatot Subroto - on weekdays on odd dates, and those with even numbers on even dates. The policy, which will be trialled from July 27 to August 26, has drawn criticism as it could encourage people to buy more vehicles to outsmart it.
The city administration has asked the police to manage the new system, with those who violate the rule given verbal warnings only for the first month, Ahok said. (ary)
Topics :
You might also like :
Comments