W. Kalimantan man imprisoned for selling protected animal parts
Severianus Endi

The Jakarta Post
Pontianak |

Sat, September 17, 2016

| 12:43 pm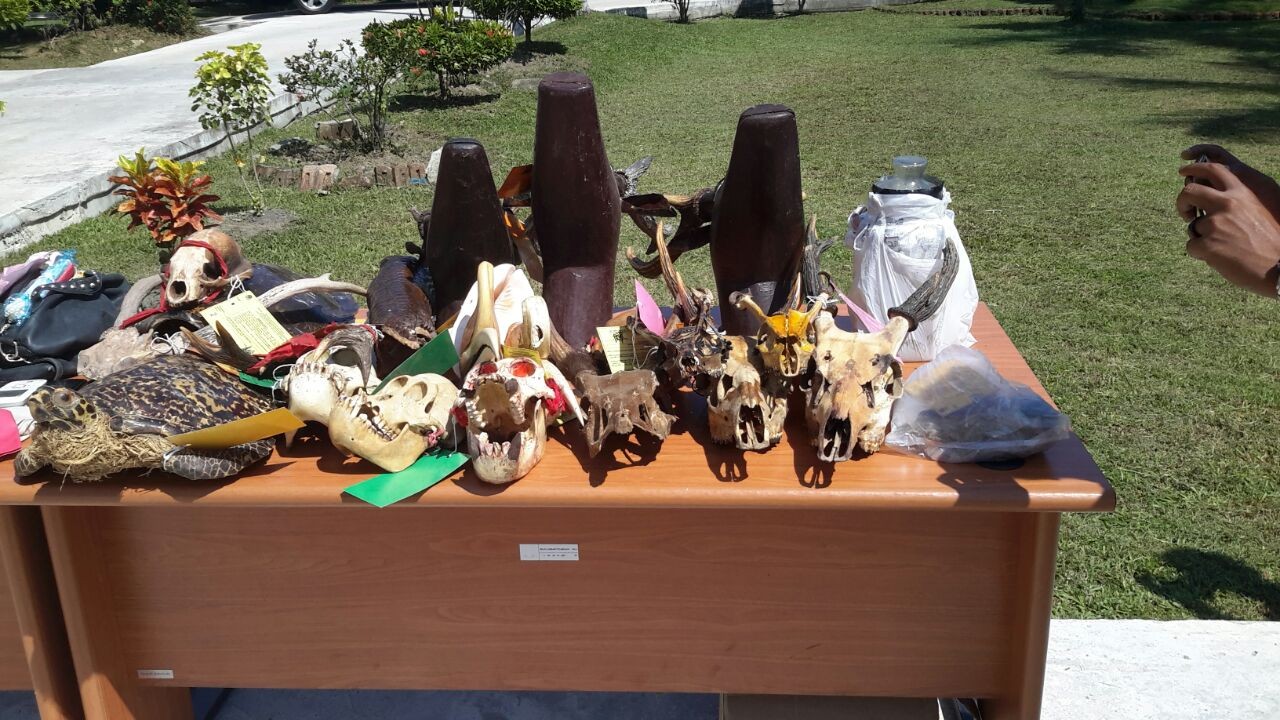 Several pieces of evidence such as orangutan skulls, antlers and other animal parts are handed over to the West Kalimantan Natural Resources Conservation Agency (BKSDA) after the owner was sentenced to nine months in prison for owning and selling the body parts of protected animals. (Photo Courtesy of West Kalimantan Natural Resources Conservation Agency (BKSDA)/File)
The Singkawang District Court has sentenced a souvenir seller in Singkawang, West Kalimantan, to nine months and 10 days in jail and ordered him to pay a Rp 50 million (US$3,795) fine for owning and selling body parts of protected animals.
The seller, whose name was not revealed, was arrested on April 21 in a joint operation between the West Kalimantan Police special crimes directorate and West Kalimantan Natural Resources Conservation Agency (BKSDA) after it was discovered that the seller was selling animals body parts, BKSDA chief Sustyo Iriyono said on Saturday.
"Souvenir stores selling parts of rare animals are always accepted by the public because there is a certain prestige in owning preserved animals. We hope the verdict will provide a deterrent effect."
The court found the seller guilty of owning and selling three orangutan skulls, two sun bear skulls and sun bear fangs and nails, nine antlers, two beaks of helmeted hornbills, a number of preserved pangolins, porcupine thorns and preserved turtles. The seller admitted that he received his products from many parts of Kalimantan.
West Kalimantan World Wildlife Fund (WWF) manager Albertus Tjiu welcomed the sentence as previously perpetrators for similar cases had only received two to five-month prison sentences. (rin)
You might also like :
Comments