Central government urged to protect Sawu Sea against blast fishing
Djemi Amnifu

The Jakarta Post
Waingapu, East Nusa Tenggara |

Mon, September 19, 2016

| 08:57 am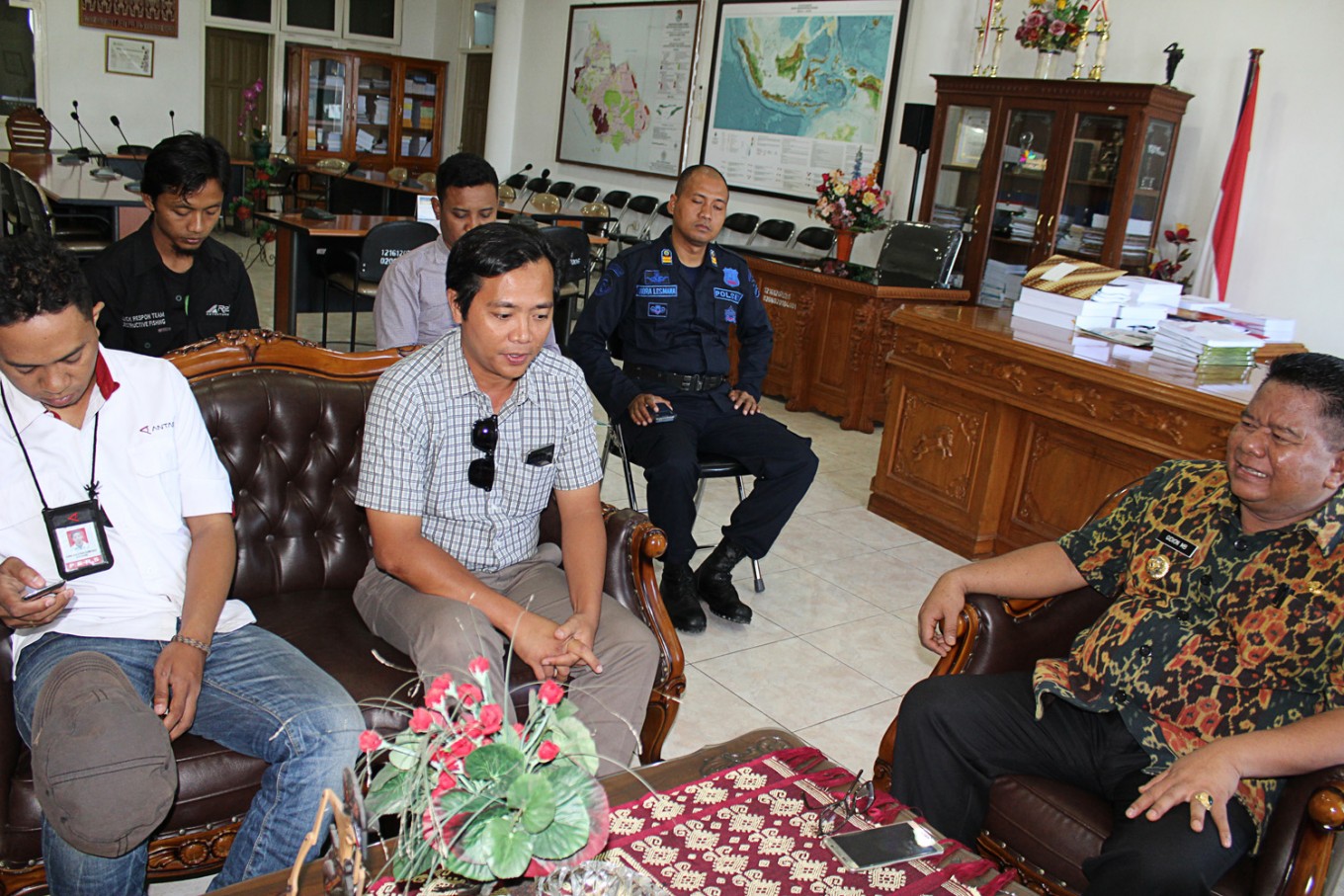 Sharing concerns – East Sumba regent Gidion Mbilijora (right) explains how destructive fishing techniques affect maritime habitats of the regency at a meeting with the Destructive Fishing Response Team from the Kupang National Conservation Area Agency (BKPPN) on Friday. (JP/Djemi Amnifu)
East Sumba regent Gidion Mbilijora has blamed excessive blast fishing for destroying parts of the Sawu Sea National Park (TNP) in East Nusa Tenggara, leading to a rapid decline in fish populations.
"We want the central government to pay closer attention to this matter. The interests of fishermen living in the area should not be neglected," he told journalists on Friday.
The regent added that he fully supported the government's decision to name the TNP Sawu Sea a conservation area in a bid to sustain its ecosystem.
"Therefore, tighter security and monitoring are needed to protect the TNP Sawu Sea, so it will not be damaged," Gidion said.
Blast fishing, sometimes called fish bombing, has grown rapidly in East Sumba, particularly in Tanjung Sasar, Saluran and Manggudu waters and in Napu.
"The fish bombing is committed by people from outside [the area], namely from Sumbawa [in West Nusa Tenggara]," said Gidion.
He said traditional communities living in 15 districts across East Sumba regency, which has 443 kilometers of coastline, were fully aware of the importance to conserve maritime and coastal areas. Apart from working as fishermen, they also depended on seaweed farming for their livelihoods.
"They truly understand that catching fish with bombs and potassium will kill small fish and destroy coral reefs," said Gidion.
"We cannot do anything to prevent destructive fishing in our area, because we don't have the necessary supporting facilities and infrastructure. We don't have vessels [for sea patrols], for instance. We have put in a request with the Fisheries and Maritime Affairs Ministry but received no response yet," he said. (ebf)
You might also like :
Comments