Thousands of Indonesian sailors work as slaves in global waters: Minister
News Desk

The Jakarta Post
Jakarta |

Thu, September 29, 2016

| 04:22 pm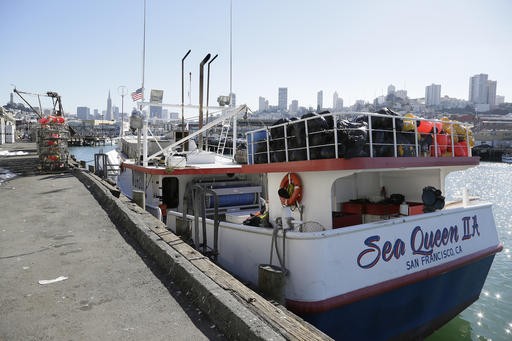 The Sea Queen II is docked at Fisherman's Wharf in San Francisco in November 2015. Indonesian fishermen Abdul Fatah and Sorihin, who escaped from slavery aboard the tuna and swordfish vessel when it lay in San Francisco, are suing the boat's owner for forcing them into dangerous jobs they say they weren't allowed to leave. Attorneys for the fisherman said in a lawsuit filed in a US court on Sept. 22 that they had been recruited in Indonesia years ago to work in Hawaii's commercial fishing fleet without realizing they would never be allowed onshore. (AP/Eric Risberg)
Maritime Affairs and Fisheries Minister Susi Pudjiastuti has expressed concern over the fate of hundreds of thousands of Indonesian crewmen that she said lived in slave-like conditions in waters across the globe.
"We predict there are around 300,000 Indonesian crewmen, who are not officially registered [as sailors]," she said on Thursday, as reported by news agency Antara.
Those unregistered crewmen were enslaved and forced to work hard in the global fishing industry, Susi said, adding that they faced threats of being thrown overboard if they refused to comply.
Most of the Indonesian sailors are working in the Bering Sea of the Pacific Ocean and in African waters, according to the ministry.
Furthermore, ministry data showed that some 700,000 crewmen were involved in illegal fishing activities across the globe, Susi said, adding that she believed most of them came from Indonesia.
Susi has pledged to eradicate illegal employment or slavery in the fishing sector and has urged private companies to help prevent such practices.
"This is dangerous for [the global image of] Indonesian fisheries. This issue receives worldwide attention [following] the slavery case in Benjina," she said, referring to a case of human trafficking and slavery in Benjina of Aru Islands in Maluku last year.
According to a report by the Associated Press, thousands of migrant fishermen, mostly from Myanmar, Cambodia and Laos, were recruited in Thailand and brought to Indonesia to work for now-closed fishing company Pusaka Benjina Resources. The fishermen were tortured and locked up in prison-like cells. (rin)
You might also like :
Comments