One-fuel price policy will create social justice in Papua: Jokowi
Ayomi Amindoni

The Jakarta Post
Jakarta |

Tue, October 18, 2016

| 08:01 pm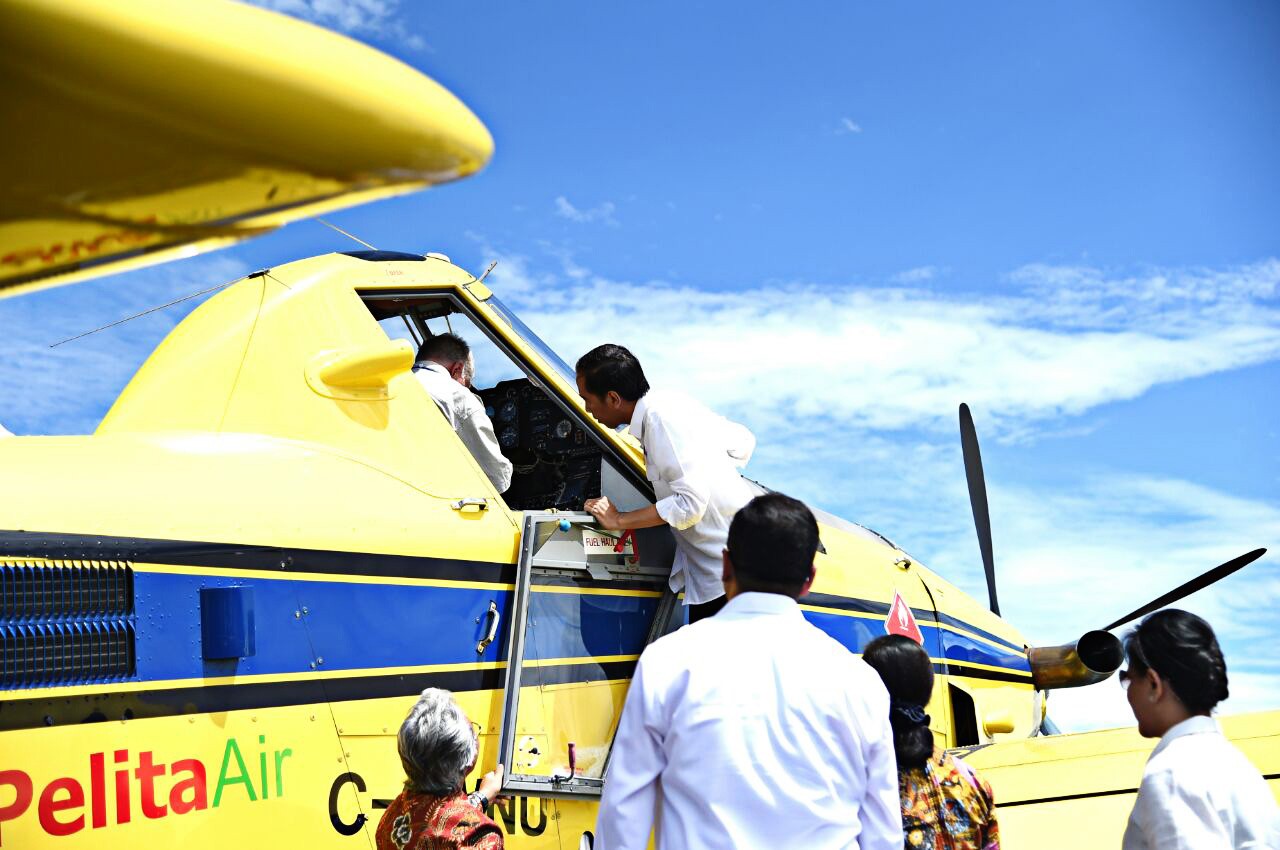 All set: President Joko "Jokowi" Widodo (center) checks the readiness of the Air Tractor AT-802, an aircraft capable of carrying 4,000 liters of fuel, which will be used for the government's one-price fuel policy launched in Yahukimo, Papua, on Oct.18. (Courtesy of the Presidential Office/Rusman)
President Joko "Jokowi" Widodo has said the government's one-price fuel policy in Papua and West Papua aims to bring social justice to all Indonesians.
During the launch of the program at Nop Goliat Dekai in Yakuhimo, Papua, on Tuesday, Jokowi said the government should not let injustice in Papua continue. With this program, he said, people residing in the country's easternmost provinces could enjoy fuel sold at the same price in western and central parts of the country.
"The premium [fuel] price is now Rp 6,450 [49 US cents] per liter. All this time, for decades, premium was selling at Rp 50,000 per liter, and sometimes even as high as around Rp 60,000 to 100,000 per liter," Jokowi said as quoted in a Presidential Press Bureau's press statement.
Jokowi said he had instructed State Enterprises Minister Rini Soemarno and state-run energy firm Pertamina to immediately implement the one-price fuel policy, which was also aimed at boosting economic growth in Papua and West Papua.
"Both transportation and logistics costs will be cheaper, so commodity prices will drop. This is indeed a 'step-by-step' process," he went on.
To implement the program, Pertamina's subsidiary Pelita Air Service, which operates the Air Tractor AT-802—an aircraft with a capacity of 4,000 liters—will use the aircraft specifically to distribute fuel to remote areas. Pertamina has also designated nine fuel distribution agents in 8 regencies in Papua and West Papua.
With the one-price fuel policy, premium is now priced at Rp 6,450 per liter while diesel and kerosene are sold at Rp 5,150 and Rp 2,500 per liter respectively. (ebf)
You might also like :
Comments