No ASEAN meeting to discuss Rohingya
Tama Salim and Agnes Anya

The Jakarta Post
Jakarta |

Sat, November 26, 2016

| 07:57 am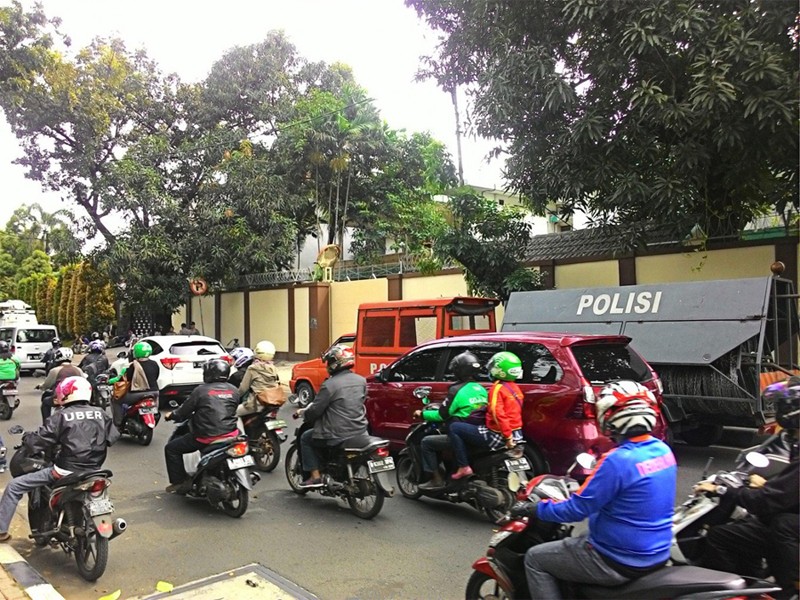 On alert – The Jakarta Police deploy personnel and prepare security equipment in front of the Myanmar Embassy in Gondangdia, Menteng, Central Jakarta, in anticipation of possible exigencies during a Rohingya solidarity rally expected to take place after Friday prayers on Nov. 25. (JP/Safrin La Batu)
Indonesia has no plans to call an emergency meeting of ASEAN member states following a UN statement accusing Myanmar of seeking the "ethnic cleansing" of Rohingyas from its territory.
The statement came from John McKissick of the UN refugee agency, who is based in the Bangladeshi border town of Cox's Bazar.
McKissick told the BBC that Myanmar troops were "killing men, shooting them, slaughtering children, raping women, burning and looting houses, forcing these people to cross the river" into Bangladesh.
The Rohingyas, who number about 1 million, are seen by many of Myanmar's Buddhist majority as illegal migrants from Bangladesh.
However, Indonesian Ambassador to ASEAN Rahmat Pramono said Friday that the "ethnic cleansing" comment was not entirely accurate, as it largely discounted hurdles the Myanmar government currently faced.
He said ASEAN had always championed dialogue as a means of resolving the issue, and such efforts were ongoing.
When asked if there was a plan for ASEAN to convene in response to the UN statement, Foreign Ministry spokesperson Arrmanatha Nasir simply said "no" and instead questioned the United Nations High Commissioner for Refugees (UNHCR)'s comments.
Dina Wisnu, the Indonesian Representative to the ASEAN Intergovernmental Commission on Human Rights (AICHR), said she was "watching intensively and had started communication with relevant actors at home and in AICHR on the matter".
She acknowledged there was a need to question the statement. "In [the] AICHR mandate, we can ask for information when something important like this comes up," she told The Jakarta Post on Friday.
Meanwhile, experts said ASEAN would continue to seek informal ways to address the situation in Rakhine, saying it was unlikely the bloc would depart from its non-interference policy that restricts member states from meddling in others' affairs.
ASEAN is ill-equipped to respond as its adoption of the UN Declaration of Human Rights offers a caveat that its implementation "depends on the socio-cultural context of the country in question".
"We have to admit that in terms of human rights, [ASEAN] is spineless," said Evi Fitriani, a senior international relations expert from the University of Indonesia (UI).
She said there was still a humanitarian imperative for ASEAN to act on the recent incidents in Rakhine, albeit without the shrill tone of megaphone diplomacy.
"We cannot decry Myanmar like a UNHCR representative in Bangladesh, who may be used to the Anglo-Saxon approach," said Evi, who heads UI's international relations department.
"It definitely doesn't work and it doesn't help. We don't embarrass [other countries], that's counterproductive."
Instead, she urged ASEAN stakeholders to take a more personal approach in handling the matter.
The head of the Habibie Center's ASEAN Studies Program, Ibrahim Almuttaqi, conveyed similar thoughts, saying that while there was cause for alarm, the situation "must be handled with cool heads".
The plight of the Rohingyas should be an issue of concern for ASEAN, as Myanmar's counterinsurgency operations have created an influx of displaced people and might have propelled the radicalization of stateless Rohingya Muslims pushed beyond desperation, he said.
On Monday, the ministry's director general for Asia-Pacific and African affairs, Desra Percaya, spoke with Myanmar Ambassador U Aung Htoo to express concern over the latest security situation in Rakhine state.
The violence in Rakhine has caught the attention of Indonesian civil society, as roughly 500 people from various Islamic groups staged a rally in front of the Myanmar Embassy in Central Jakarta on Friday.
The protesters demanded that Naypyidaw stop killing the long-persecuted minority and urged Indonesia to cut ties with Myanmar.
At the same time, the London-based Burma Human Rights Network sent Kyaw Win to the region to spread the word on violence committed by the Myanmar security forces after Rakhine was put under lockdown.
Topics :
You might also like :
Comments