JAD most dangerous terrorist organization: BNPT
Safrin La Batu

The Jakarta Post
Jakarta |

Tue, December 6, 2016

| 06:52 pm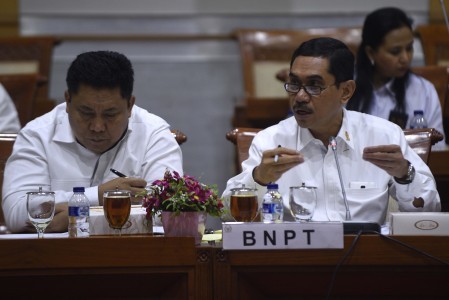 National Counterterrorism Agency (BNPT) chief Comr. Gen. Suhardi Alius (right) speaks at a hearing with the House of Representatives' Commission III overseeing security affairs on Thursday. Suhardi on Tuesday referred to Jamaah Ashar Daulah as the most dangerous terrorist organization. (Antara/Puspa Perwitasari)
Jemaah Anshar Daulah (JAD), which allegedly has connections with the Islamic State movement in Iraq and Syria, is the most dangerous terrorist organization in the country, the National Counterterrorism Agency (BNPT) said on Tuesday.
"JAD is the [terrorist group we are the] most cautious about but there are still other networks too. But the one that has a direct connection with global [terrorist] networks is JAD," BNPT head Comr. Gen. Suhardi Alius said at a seminar in Central Jakarta.
(Read also: Samarinda church attack fails to provoke tensions)
National Police chief Gen. Tito Karnavian said JAD was more radical than terrorist organization Jemaah Islamiyah (JI), the group that orchestrated the first Bali bombing in 2002, since the former targeted not just non-Muslims and the West but also Muslims not following their tenets.
Tito said JI had a direct connection with Al-Qaeda in Afghanistan while JAD, which was led by firebrand cleric Amman Abdurrahman—who is serving a nine-year prison term for terrorism—has a connection with the IS.
"The IS is more powerful than Al-Qaeda," Tito said, adding that although Amman was being held in prison, ideologues in the organization could still plot terrorist attacks.
A number of terrorist attacks in the country have been alleged of having a link with JAD, including a series of attacks near Sarinah Shopping Mall in Central Jakarta in January and an attack at Oikumene Church in Samarinda, East Kalimantan, last month. (jun)
You might also like :
Comments