Nabire regent bans Wings Air because he thinks service too poor
Nethy Dharma Somba

The Jakarta Post
Jakarta |

Wed, December 7, 2016

| 06:21 pm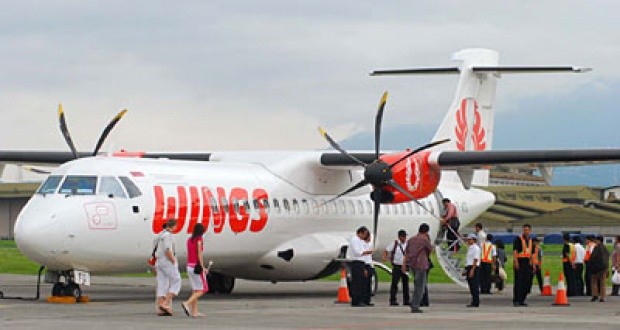 A Wings Air plane. (Tempo/Prima Mulia)
Nabire Regent Isiais Douw issued a letter on Tuesday saying he is prohibiting Wings Air from flying to and from Nabire starting Dec. 10 because of the "less than comfortable service" the airline provided.
"Regarding the less than comfortable service by PT Wings Air in Nabire, which leads to passengers being unsatisfied after using the service, we order the management of PT Wings Air to not operate in Nabire regency starting Dec. 10 and for an indefinite time," the letter said.
The letter was sent to Wings Air management and a copy was sent to the Directorate General of Air Transportation of the Transportation Ministry in Jakarta.
Wings Air's parent company, Lion Air, will be sending a Papua manager, Agung Setio Wibowo, to Nabire to meet the regent. "I'm flying there [Wednesday morning]," he said.
Wings Air serves Jayapura-Nabire with roundtrip flights every day with an ATR-72. Besides Wings Air, Garuda Indonesia and PT Trigana Air Service also fly into the airport.
Papua Transportation Agency head Djuli Mambaya said he would send a team to Nabire to end the ban because it did a disservice to the public. "We hope the ban could be ended because Nabire people needed air transportation badly," he said.
This is the second time Regent Isias has banned an airline from operating in Nabire. On Dec. 10, 2010, he banned Susi Air from flying to Nabire, saying that the airline never reported to the Nabire regency office and its existence did not contribute to the regency. The ban was met with a protest by then Paniai regent Naftali Yogi, who said Nabire airport also served as a transit point for six other regencies including Paniai and the ban disrupted the services to them. The following day the ban was revoked and Susi Air continued operating as usual. (evi)
Topics :
You might also like :
Comments