Protection sought for Leuser ecosystem, Sumatran orangutans
Hasyim Widhiarto

The Jakarta Post
Jakarta |

Fri, December 9, 2016

| 12:51 pm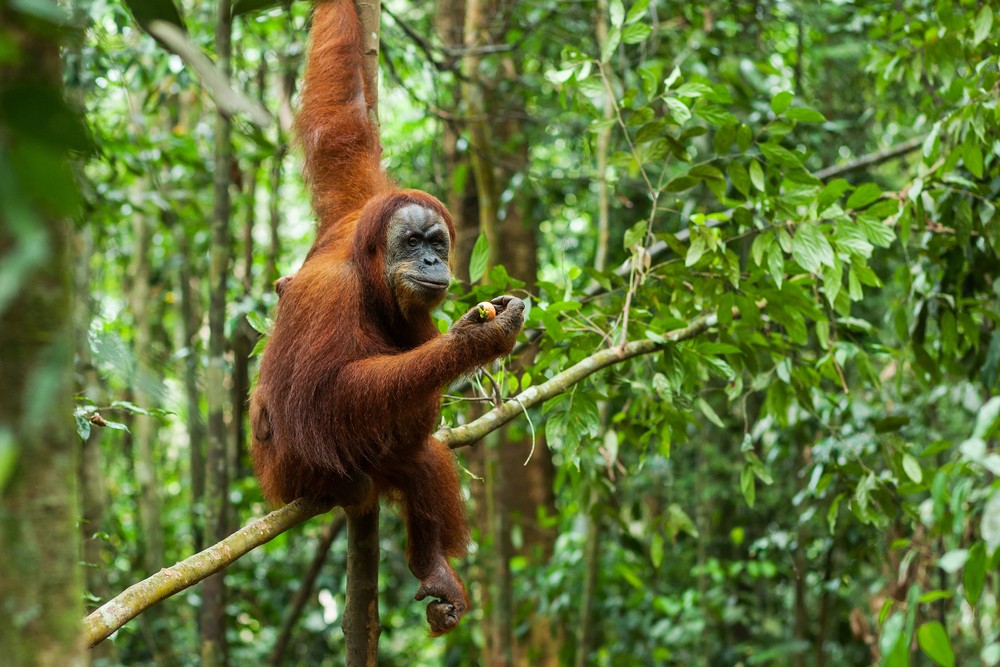 Rare view: An Orangutan sits in a tree in the forests of Sumatra. (Shutterstock/File)
Coordinated efforts by stakeholders to protect Indonesia's Leuser ecosystem are becoming more crucial to help save the heritage site and its endangered species, a United States-based environmental organization has suggested.
Referring to the newly updated International Union for the Conservation of Nature (IUCN)'s Red List of Threatened Species, the San Francisco-based Rainforest Action Network (RAN) said Friday that conservation of the Leuser ecosystem would help the Sumatran orangutan (Pongo abelii), a critically endangered animal according to the list, to survive.
"The IUCN's message is clear: Indonesia's Leuser ecosystem must be protected, otherwise the Sumatran orangutans will become extinct," RAN's Leuser ecosystem campaigner Chelsea Matthews said in a press release.
The Leuser ecosystem is a UNESCO world heritage site that covers thousands of hectares of protected forest in Aceh and North Sumatra.
In its report, the IUCN said that the illegal spatial land-use plan being implemented by the Aceh provincial administration ignored the Leuser ecosystem's status as a National Strategic Area, designated for its environmental function.
"Moreover, modelling based on different land-use scenarios and their likely impacts predicts that an additional 4,500 Sumatran orangutans could be lost by 2030 as a direct consequence of this spatial plan and related developments," it said.
Topics :
You might also like :
Comments