Ahok sheds tears, saying he never intended to insult Quran
Callistasia Anggun Wijaya

The Jakarta Post
Jakarta |

Tue, December 13, 2016

| 12:23 pm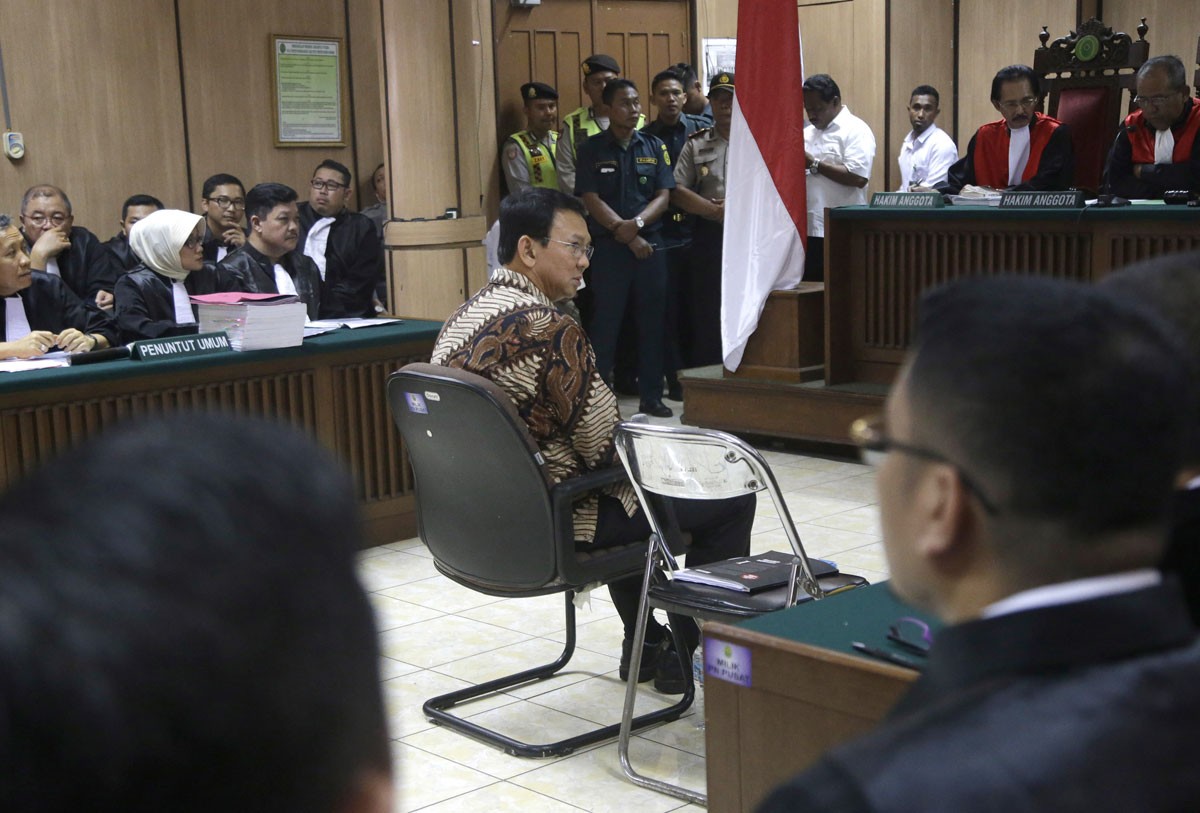 Jakarta Governor Basuki "Ahok" Tjahaja Purnama sits on the defendant's chair at the start of his trial hearing at North Jakarta District Court in Jakarta on Tuesday. Ahok is on trial for a blasphemy accusation following his remarks about a passage in the Quran. (AP/Tatan Syuflana, Pool)
Jakarta Governor Basuki "Ahok" Tjahaja Purnama could not hold back his tears when he read out his exception before a judge panel during his first blasphemy trial at the North Jakarta District Court on Tuesday.
The non-active governor told the judges he had never intended to insult the Quran in his remarks during his working visit to Thousand Islands on Sept. 27.
"I did not intend to misinterpret Surah Al Maidah 51 nor commit blasphemy nor insult ulemas. In my statement, [in Thousand Islands] I referred to certain politicians who had misused Surah Al Maidah 51 to avoid fair competition prior to upcoming regional elections," Ahok told the judges.
Citing his book entitled Finding Protection Behind Holy Verses, Ahok said he had been learning Surah Al Maidah 51 since the beginning of his career in politics as a local leader in East Belitung.
He said many politicians had used the Quranic verse to influence voters not to choose a non-Muslim as a politician, encouraging them not to make 'infidels' into leaders.
"When I asked my [Muslim] friends, they told me that the verse was given when there were Muslims who wanted to kill Prophet Muhammad by conspiring with Christians and Jews," Ahok said, in his first trial, which heard the reading of his indictments..
"It is clear that the verse was not intended for the appointment of a head of an administration, especially in Indonesia, in which the head of an administration does not serve as a religious leader."
Reading out the indictments, lead prosecutor Ali Mukartono stated Ahok had intentionally cited a Quranic verse during his working visit to influence voters.
He further said Ahok had attempted to encourage residents to set aside the Quranic verse during the 2017 Jakarta gubernatorial election. "It is the suspect himself who used the Quran to deceive the residents," Ali said. (ebf)
Topics :
You might also like :
Comments