House lawmakers need extra time for Terrorism Law revision
Margareth S. Aritonang

The Jakarta Post
Jakarta |

Tue, December 13, 2016

| 05:41 pm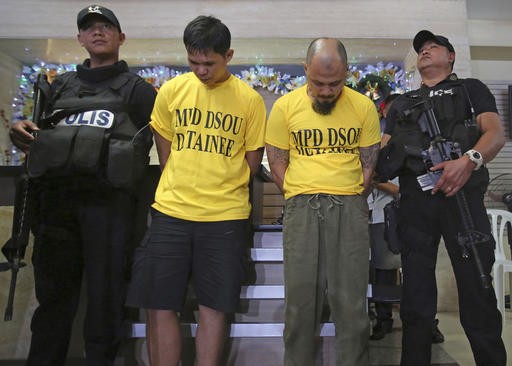 Police secure suspected bombers Jiaher Guinar (center left) and Rashid Kilala (center right) as they are presented to reporters at police headquarters in Quezon city, north of Manila, Philippines, on Thursday. The suspects, thought to be local sympathizers of the Islamic State group, allegedly tried to detonate a bomb near the US Embassy, prompting authorities to issue a terror alert in Manila and southern Philippines. (AP/Aaron Favila)
The Indonesian House of Representatives (DPR) has asked for extra time to review the 2003 Terrorism Law due to its failure to effectively assist in meeting the targets expected by the DPR.
Lawmaker Supiadin Aries Saputra said Tuesday the DPR had only two weeks left this year to deliberate the complicated issue of terrorism in Indonesia before entering the recess of the current year of service.
"We don't have to be in haste to talk about such complicated issues," Supiadin said, adding that the special committee designed to amend the law, of which he is a part of, had time to meet up only twice a week to discuss such matters.
Another committee member Tubagus Hasanuddin said more room was needed for the lawmakers to set up regulations regarding the developments of the Islamic State (IS).
"The IS has spread to different parts of the world, including the Asia-Pacific. We've heard that the IS is setting up a base in the Philippines as well so we must, of course, take this into consideration while deliberating the bill," said the politician from the ruling Indonesian Democratic Party of Struggle (PDI-P).
The DPR established the special committee to amend the existing Terrorism Law in April this year. The committee had yet to establish a deadline as the members said they would take as much time as needed to discuss the matter comprehensively. (dan)
Topics :
You might also like :
Comments